Fundraiser on Jan. 29 supports Ben's Backpacks, a charity that assists children in Mexico
Ben's Backpacks was started in memory of Ben Kirby of Albion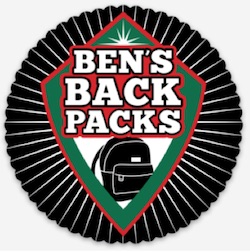 BROCKPORT – A concert on Jan. 29 at the Brockport High School Auditorium will be a fundraiser for Ben's Backpacks, a program that provides school supplies for children in Mexico.
Ben's Backpacks is named in memory of Ben Kirby of Albion. He was 21 when he was killed in a car accident on Nov. 6, 2017, on Route 531 in the Town of Gates. Ben was a student at the Rochester Institute of Technology in his senior year majoring in software development.
His mother Wendy Kirby is now retired as a teacher at Brockport. She started the charity as a tribute to her son and also to help children in the rural area of Oaxaca, Mexico go to school by covering the costs of uniforms, books, and other school supplies – which is about $30 a year per child.
"Many families in this area cannot afford to send their children to school without our support," Mrs. Kirby said. "What better way to help the area out of poverty than to educate the children."
Mrs. Kirby taught ESL classes with students from the region in Oaxaca, which is in the southern part of the country near the Guatemalan border. It is one of the poorest areas of Mexico where many families cannot afford to send their children to school.
"I had a high school student in Brockport who was living here with her grandparents," Kirby said. "Her family could not afford her schooling if she lived in Mexico. She was looking for a job so she could pay for tuition, transportation, books, etc. when she returned to her family in Mexico."
The 7 p.m. concert on Jan. 29 will feature the Brockport Dance and Performing Arts. The Brockport National Honor Society is helping to organize the event. There is no admission fee but donations will be accepted.
"We are so grateful for their support to this great cause," Kirby said. "Not only does it honor our Ben but all the money we raise supports children in Mexico so they can attend school."
Tax deductible donations to Ben's Backpacks also are accepted. Checks (please note Ben's Backpack in memo) may be made out to Salmon Children's Foundation P. O. Box 187 Albion, NY 14411 or donate online (click here).