Friends and family pay tribute to motorcyclist who died a week ago in Albion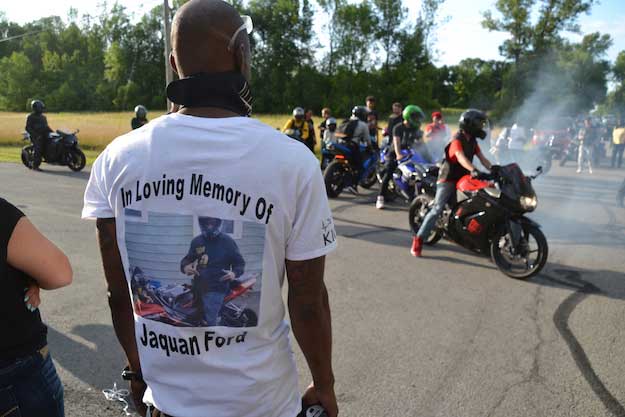 Photos by Tom Rivers
ALBION – Benjamin Bloom of Medina watches a motorcyclist burn rubber at the intersection of Brown Road and East Bacon Road, the spot where Jaquan Ford of Rochester was fatally injured in an accident a week ago.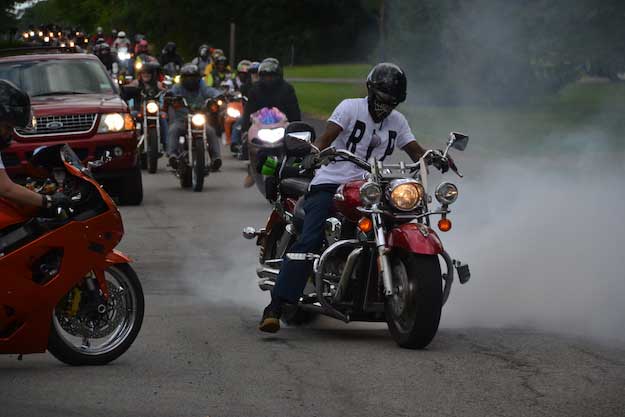 Bloom, wearing the RIP shirt with Ford's image, led a contingent of more than 100 motorcyclists from Rochester to pay tribute to Ford, who was 28.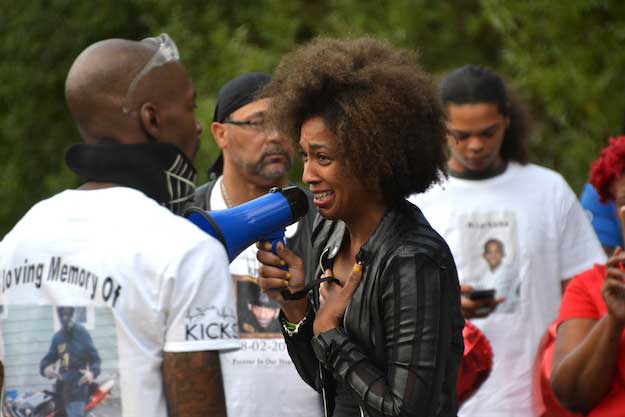 Savanity Davis is Ford's older sister. She thanked the motorcyclists for supporting the family during their loss. Davis said her brother was quiet and served as a "connecter" for the family. She lives in Brooklyn and didn't realize how much her brother grew to love riding motorcycles. Jaquan played hockey when he was a kid.
"Together we have lost someone who has left a very large footprint," she told the group gathered.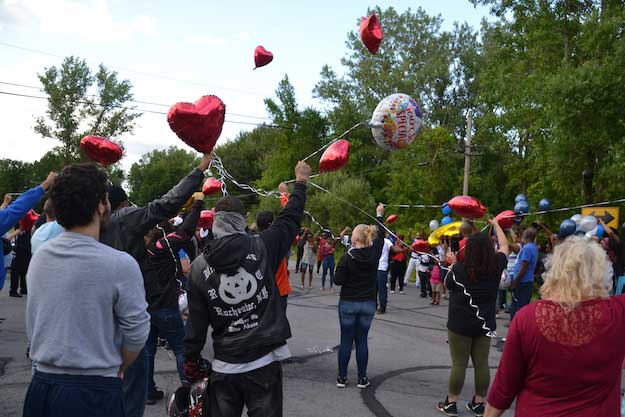 The friends and family of Jaquan Ford pause for a moment of silence and hold balloons up high.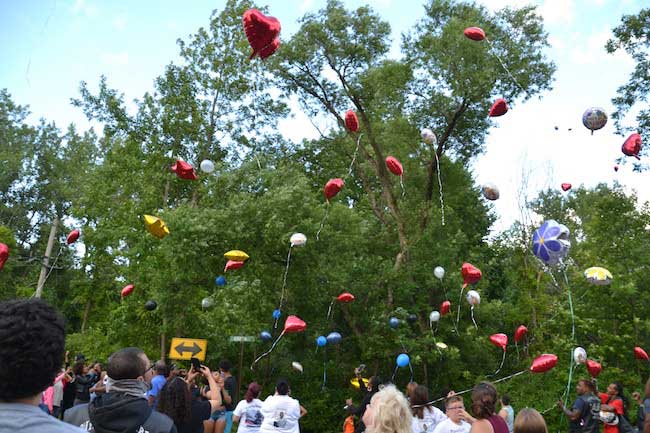 Many balloons were released for Ford.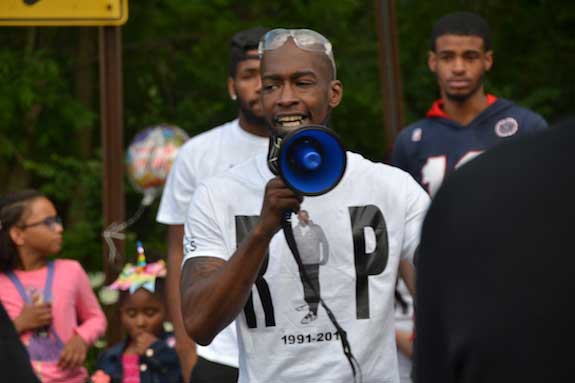 Ben Bloom addressed the group this evening. Bloom was riding just ahead of Ford a week ago. They were on their way to Caroline Street in Albion to visit a friend.
Bloom drove back after a few minutes and saw Ford laying in the intersection after a collision with a pickup truck.
The two had been riding together for about 5 years and were best friends. Bloom said Ford worked 9 to 5 and used part of wages to pay his brother's college tuition.
Bloom said Ford enjoyed the family feeling among the motorcyclists. Bloom appreciated the big turnout of riders who made the trip to Orleans County today.
"Family, this is what Quan would have wanted," Bloom told the assembled crowd. "This means the world to me."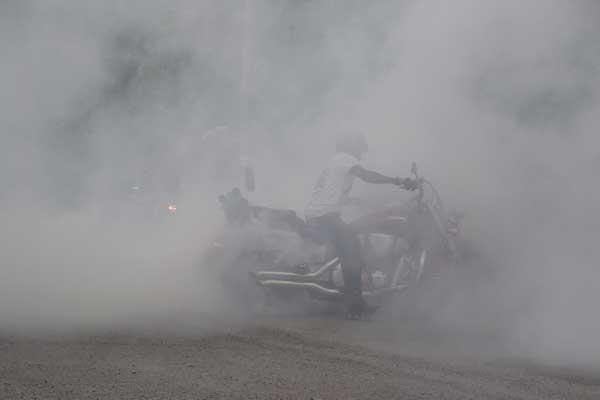 Bloom was one of the first to get to Albion on the ride this evening from Rochester. He burned a tire at the crash site to leave a mark for Ford.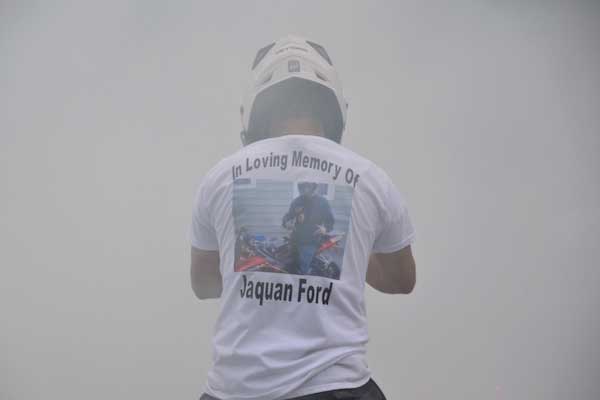 A loved one of Ford's is shrouded in smoke while a rider burns rubber at the intersection.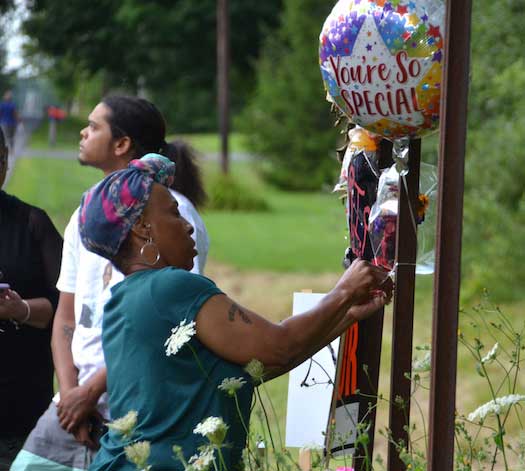 Family and friends tied balloons at a makeshift memorial for Ford at the intersection.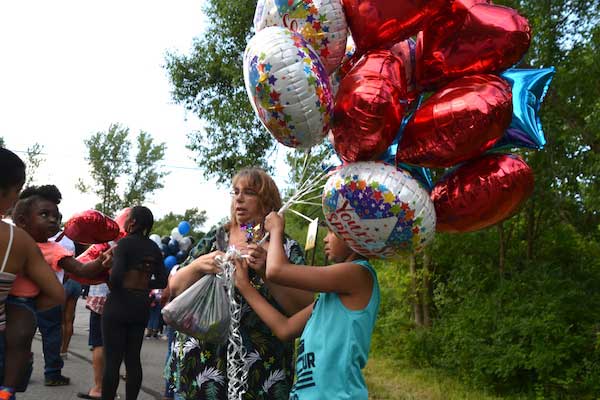 Chris Baxter and her son, Ezra Bloom, brought balloons to the memorial gathering for Ford.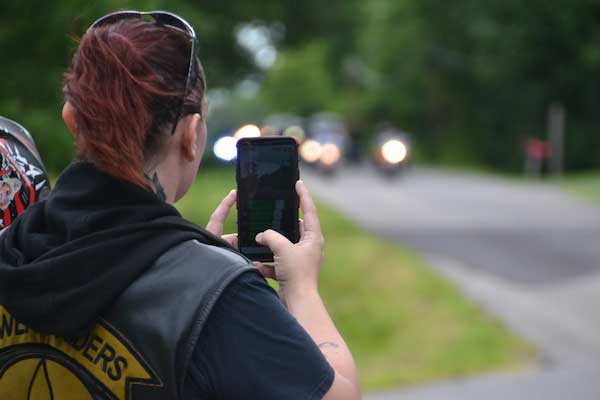 Eliza Banks, 27, of Holley takes a video of the long line of riders arriving in Albion along Brown Road just after 6 p.m. Banks has been riding for three years.
"Any time a fellow rider passes away, we do a ride together," she said. "We all have love for each other."
She said Ford was a member of the Lower 9 Motorcycle Club in Rochester, which has members from Orleans County.
She said it is difficult and frustrating to ride in the city of Rochester, with the frequent stops and busy traffic.
In Orleans County, the roads are open and it feels safer for the riders, she said.
Banks said the motorcyclists rally around each other. There was a benefit on Monday in Rochester for Ford and more than 100 riders attended and donated to his family.
Banks said riding a motorcycle is a great stress reliever.
"The minute on get on them it's my escape," she said about riding. "The minute you get on them you're free. If you're having a bad day, you get on the bike and it goes away."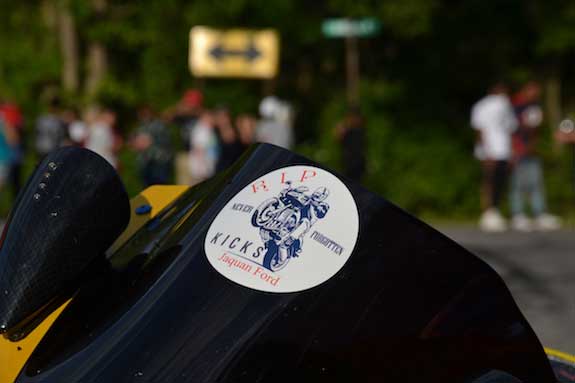 A rider keeps a sticker on his motorcycle to honor the memory of his friend, Jaquan "Kicks" Ford.