Fran Gaylord honored for 50 years as very active Holley firefighter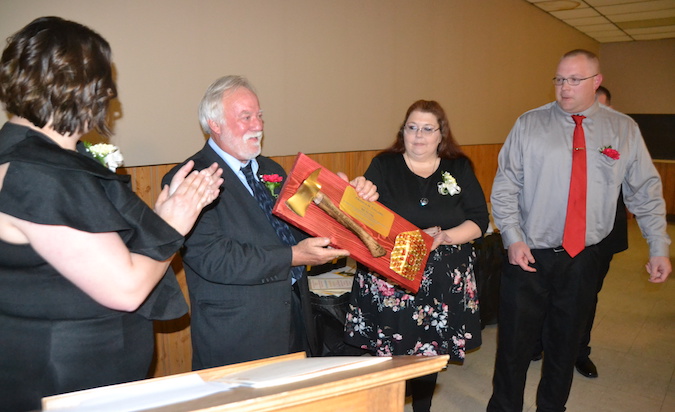 Photos by Tom Rivers
CLARENDON — Fran Gaylord holds a plaque with a ceremonial ax in honor of his 50 years of a service as a member of the Holley Volunteer Fire Department. He was recognized on Saturday night during the department's annual banquet. He is joined up front by from left: Erin Reed, a trustee with fire company and EMS lieutenant; Tina Reed, vice president of fire company; and Kevin Dann, a trustee and past chief.
The fire department also recognized Dennis Piedimonte and AJ Gifaldi for their 50 years as members. Both were unable to attend Saturday's banquet at the Clarendon Rec Hall.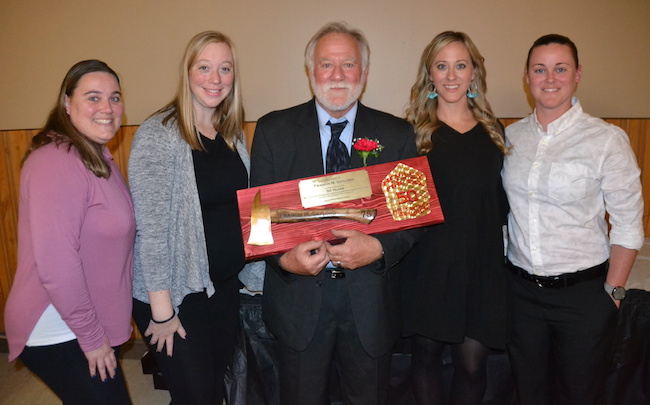 Fran Gaylord is shown with his four daughters, from left: Amy, Shelby, Lindsay and Courtney.
Gaylord acknowledged his family for their understanding over the years, when he would often step out from family dinners, birthday parties and other events to respond to call.
"Thank you for supporting me and making this possible," Gaylord told his family.
Gaylord, 69, remains very active as a firefighter, responding to about 300 calls for the Murray Joint Fire District, Clarendon and Kendall. He has twice served terms as Holley fire chief in 1991-93 and 1997-99 and has been a deputy emergency coordinator for the county the past 22 years.
He is retired as the transportation coordinator for the Holley school district and continues to work part-time for the Geneses-Orleans Ministry of Concern as a driver for the furniture program, picking up and making deliveries.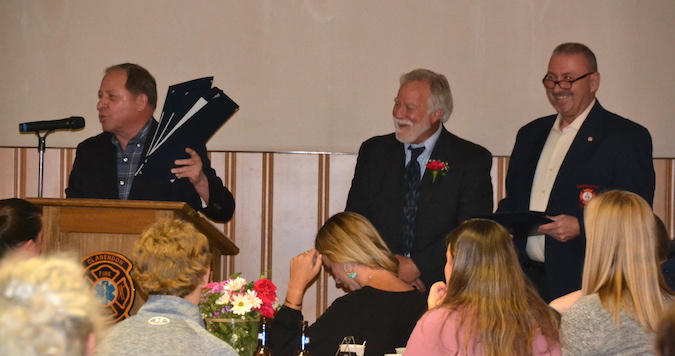 Assemblyman Steve Hawley presents a commendation to Fran Gaylord for his 50 years of service as an active Holley firefighter. Dale Banker, right, is the county's emergency management coordinator. He presented a certificate of commendation to Gaylord on behalf of the Firefighters Association of New York State. The commissioners for the Murray Joint Fire District also presented a gift of appreciation to Gaylord.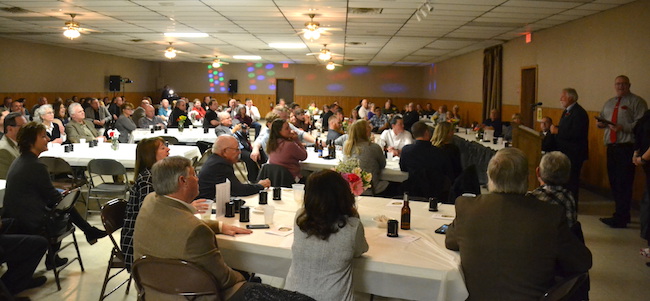 Fran Gaylord addresses the group of firefighters and local officials during the banquet that was held at the Clarendon Rec Hall. It was the department's first banquet in two years.
Gaylord said he was grateful to be a firefighter in the Holley community. He followed the example of his father Fran and uncle Ross in joining the fire department. Gaylord was 18 at the time and he said many people couldn't wait to be 18 so they could be firefighters.
Now, it's difficult to find dedicated volunteers. He remains committed to going to fire and emergency calls and last year was the top responder in the Murray Joint Fire District, which includes the Holley and Fancher-Hulberton-Murray districts.
Gaylord said he has made many great friends through the fire service. He cited the example of another long-time firefighter, Ron Meiers, who often is right there with Gaylord as among the first to get to the fire hall for a call.
"This is very family oriented," Gaylord said about the fire department. "Everybody gets along and wants to help everybody."
Gaylord said serving as a volunteer firefighter is much safer now with better turnout gear and fire trucks, as well as much more training.
The group gave Gaylord a standing ovation.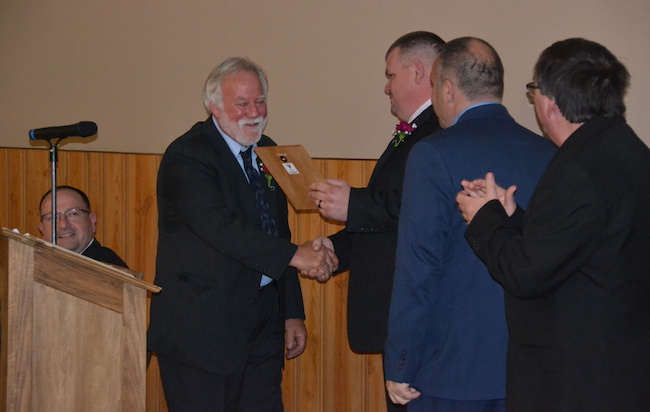 Fran Gaylord accepts the award as the top responder in the Murray Joint Fire District in 2021 from Fire Chief Harris Reed.
"Fran Gaylord, you are the epitome of a volunteer," said Mark Porter, chairman of the board of commissioners for the Murray Joint District.
Porter praised Gaylord for being a mentor to so many firefighters over the years.