Former diesel tech student has advice for students
Press Release, Orleans/Niagara BOCES
MEDINA – Jacob Jurs is a former student in the Diesel Technology Program at the Orleans Career Center. Being a former student he knows how important it is to support the class and offer his expertise.
Mr. Jurs of Barre works for LandPro Equipment in Oakfield, which is a John Deere full-service dealership and he is also a member of Diesel Technology Advisory Committee.  The Advisory Committee gives assistance to teacher, Mr. Wallace, in giving their time and advice to help his prepare his students for careers or college once they graduate from the Orleans/Niagara BOCES program.
Recently Mr. Jurs visited the classroom and brought along a tractor and dyno (Dynamometer) to demonstrate horsepower testing for the senior students. He instructed the students on how to do a pre-inspection on the tractor in the shop by checking for the proper fluid levels and making sure there are no major leaks. Once the class determined the tractor was in good working condition the dyno was brought in and hooked up to the Power Take-Off (PTO) shaft.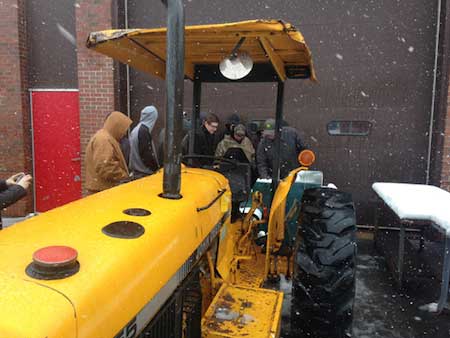 Mr. Jurs asked the students to assist him in the hook up by lining up and connecting the dyno to the tractor. The dyno measures the PTO horsepower output of the engine and once the students had everything in place they ran a test.
"The dyno creates a load on the tractor, such as if it were out in the field. It duplicates engine torque and speed," explained Mr. Jurs. "Doing this test allows the service technician to manipulate a 'load applied' and actually check the engine's performance."
After his demonstration Mr. Jurs went over a PowerPoint about some of the repairs and service calls he has been on and opened a question and answer to the students who asked questions regarding their agricultural equipment.
"The whole visit was a great benefit to the class," says Mr. Wallace.  "He not only discussed careers that the students can get into right out of high school, but also encouraged anyone looking to further their education to consider the SUNY Cobleskill John Deere Program. I am very glad he came by to share his knowledge and experience with the students."