Former Clarendon historian worked for U.N., served with Women's Auxiliary Army Corps in WWII
Irene Gibson also wrote book on early historic sites in Orleans County
"Illuminating Orleans" – Vol. 1, No. 22
Catherine Cooper, Orleans County Historian
CLARENDON – At the recent Orleans County Historical Association Tour of Hillside Cemetery, Melissa Ierlan, Town of Clarendon Historian, referenced a remarkable lady who is buried there.
Irene Gibson (1898-1994) graduated from Holley High School in 1914. She received a Regent's scholarship and a Cornell University competitive scholarship. She majored in foreign languages. She taught French and Spanish at Lynchburg College in Virginia from 1920-23 and then studied for a master's degree at Denison University, Ohio. She joined the editorial staff of the Silver-Burdett Company, a textbook publisher, where she was modern languages editor and social studies editor from 1925-1941.
She enlisted in the Women's Auxiliary Army Corps in 1942. She instructed French cadets in navigation, instructing them in French on how to read flight charts, and draw wind-drift diagrams. She attended Officer Candidate School in 1945 and became a Second Lieutenant in July of that year. After the war, she worked for the United Nations, and by 1956 was head of the U.N. Division of Foreign Affairs which prepared printed documents for the Economic and Social Council.
She returned to Holley in 1958 to care for her mother and sister. She taught French and Spanish at Holley High School from 1960-1965. She was particularly interested in history and soon was involved with the Orleans Chapter, Daughters of the American Revolution (DAR), and served as chairman of the Orleans County Historical Association (OCHA).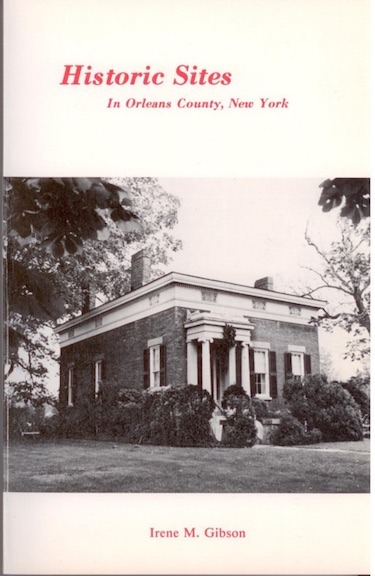 In 1979, the OCHA and the DAR published her book "Historic Sites in Orleans County, New York", a listing and description of sites "that have historic connections with the Revolution or with the first twenty-five years of existence of Orleans County, the period before 1850." Remarkably, there are fifty such sites. Arranged by town, they are as follows:
CLARENDON: Farwell's Mills marker, Universalist Church, Lemuel Cook grave, Robinson Burying Ground, Clarendon stone store, Colonel Shubael Lewis residence
MURRAY: Smith-Pierce Cemetery, Murray marker, Baptist Church, Holley, Stone House, Holley, Budd-Phillips House, Hulberton, Balcom's Mills marker, Transit Line marker
KENDALL: Norwegian Sloopers' marker
CARLTON: Kenyonville Methodist Church, Stebbins Homestead
GAINES: Gaines Cemetery, First Church building in Orleans County marker, Gaines Academy marker, Cobblestone Church, Childs, School House, Childs, Bullard-Lattin House, Eagle Harbor Methodist Church
ALBION: Courthouse Square, Christ Episcopal Church, Swan Library, Presbyterian Chapel, Warner-Phelps House, Blott-House, Tousley-Church Home, Joseph Hart Home, Ebenezer Rogers House
BARRE: Barre Center Presbyterian Church, Elisha Wright House, Old Lime Kiln, Cobblestone School House, Pine Hill
SHELBY: Millville Academy, Quaker Meeting House, Fort Shelby, Iroquois National Wildlife Refuge, Cone-Dewey Cobblestone House
RIDGEWAY: Oldest barn in Orleans County, Servoss House, Culvert Underpass, Masten-Cardone Stone House, St. John's Episcopal Church, Hunt-Sentiff House
YATES: Mudgett-Weld Homestead, Cobblestone House, Main St., Tarbox Six-sided House.
As one would expect, given her military experience and publishing background, the book is thorough and meticulous. The details, connections and stories she includes help bring the early years in Orleans County to life, as she populates it with people rather than just names and dates.
One such example is her account of the Clarendon Stone Store, a familiar but overlooked building at the corner of Routes 237, 31A and the Upper Holley Road in Clarendon. Built in 1836 by David Sturges, "a self-made man, who, had he lived would have been one of the millionaires of the country," the lower floor housed a dry goods and grocery store and was a place for settlers to warm themselves by the fire and exchange news. An open room on the second floor was used for early church assemblies and lively political meetings. Ownership of the building passed by marriage to the Copeland family. A son, David Sturges Copeland, completed the "History of Clarendon" in 1889, having thoroughly explored its "groves and swamps…. meadows and dales."
This book would be an ideal guide for a leisurely exploration of these sites, on a fall afternoon drive during Heritage Season perhaps? It is available from the OCHA, or the Historian's Office for the modest sum of $10.