Football is a strong brotherhood for Purple Eagles
Players have own routines in gearing up for 'Friday Night Lights'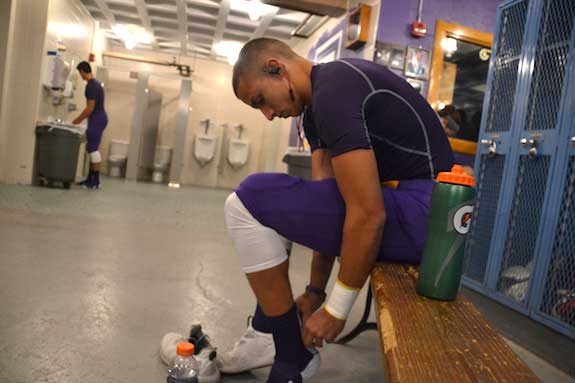 ALBION – Orleans Hub stopped by the locker room before Friday's home opener to talk with some of the players and coaches before the game against Springville.
Players arrived at the school at 4:30 to get ready for the game, which started at 7 p.m. Matt Kovaleski, a junior who plays wide receiver and safety, gets his shoes on in the locker room.
Matt has been playing football since he was in fifth grade, starting with AYSAP (Albion Youth Sports Athletic Program). Matt said he most enjoys the camaraderie in football.
"The family that we build as a team, you don't get that in other sports," Matt said.
His pregame routine includes listening to rap music.
"You feel the pressure, but a little pressure never hurt anyone," Matt said about playing before the home crowd. "I like the pressure."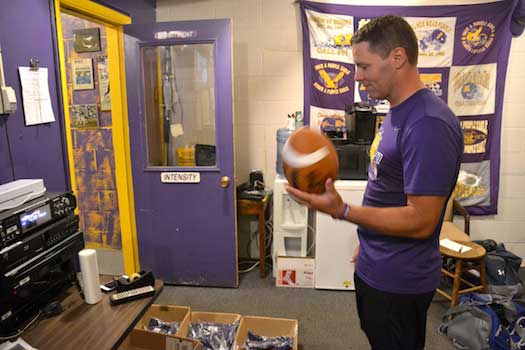 Adam Krenning is the new head football coach for the varsity team. Krenning played tight end and defensive end for the Purple Eagles, with his last season in 1992.
"It's a surreal experience," he said about leading the team 25 years after he played.
Two other Albion alumni, Ocie Bennett and David Skrip, are assistant coaches for the team.
Krenning admitted he didn't sleep the previous night. He was encouraged by many supportive texts and messages from community members, including many positive words when he went to the grocery store early on Friday.
Ocie Bennett, the offensive coordinator, was a star running back for Albion. He graduated in 1994. The team was a perennial powerhouse when Bennett and Krenning played more than two decades ago, but has struggled in recent years to have a winning record.
Bennett said the teams in recent years were competitive, but needed an extra push to close out the games. He stresses the mental discipline and "fight" needed to win the tough games.
"We're in a new era now and we're in a dogfight," Bennett said in an interview. "Are we the dogs that will lay down or are we the dogs that will bite back?"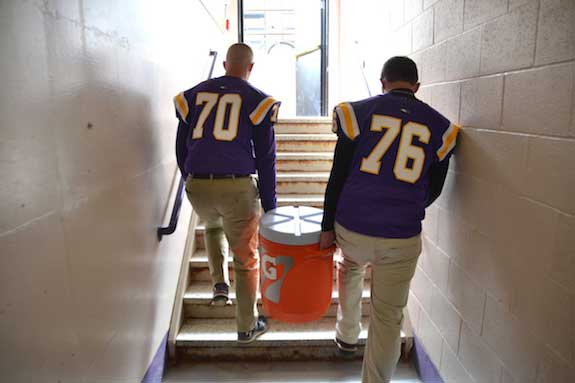 Ryan Grandy, number 70, and Ryan Croft, number 76, carry water up the stairs out of the locker. Both are currently inactive for game day and are eager to play. Croft recently moved to the school district from Pennsylvania. Grandy has a hand injury and hopes to be cleared soon to play.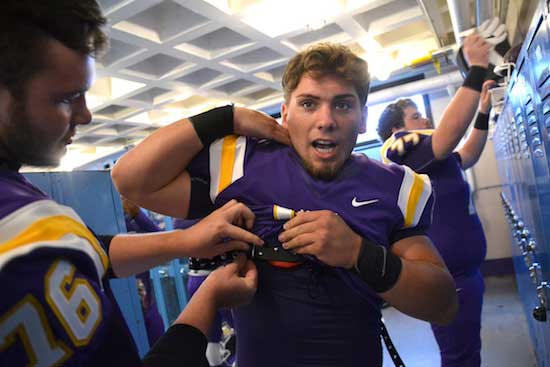 Ben Restivo, a junior starting lineman, gets suited up for the game. Ben was a first team all star for the B East Division as a sophomore. He typically is lined up for about 120 plays a game. He jogged on the school campus before the game to try to loosen up his calves. For his pregame routine, Ben said he usually listens to slow R & B music for a half hour, but switches to rap as the game gets closer.
"I like being part of a team – and I like to hit," he said.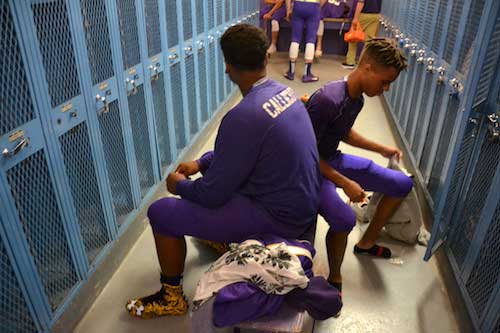 Isaiah Callicutt (left), a junior, and Brilliance Johnson, a sophomore, get dressed for their first varsity game. Isaiah, a linebacker and fullback, said he was excited to play under the lights before the home crowd.
Brilliance, a running back and defensive back, said he wanted to score a touchdown. (He would score on a 10-yard run in the third quarter against Springville. He also had a crucial interception in the waning seconds of the game.)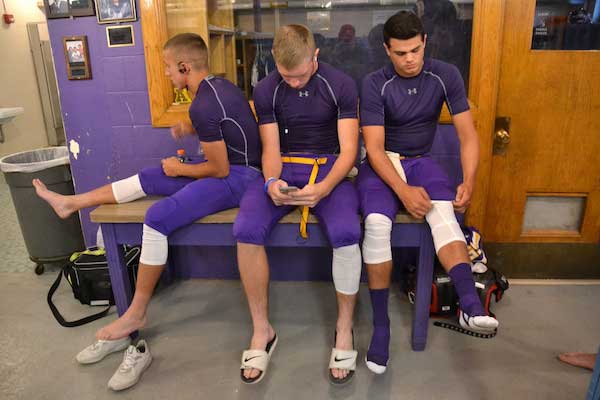 Matt Kovaleski, Nate Moore and Bryce Pritchard wait to get taped up before the game. Charlie Palmer, the school's athletic trainer, taped up the ankles for about 20 players, and put tape on some of their forearms to give extra support for when they're blocking.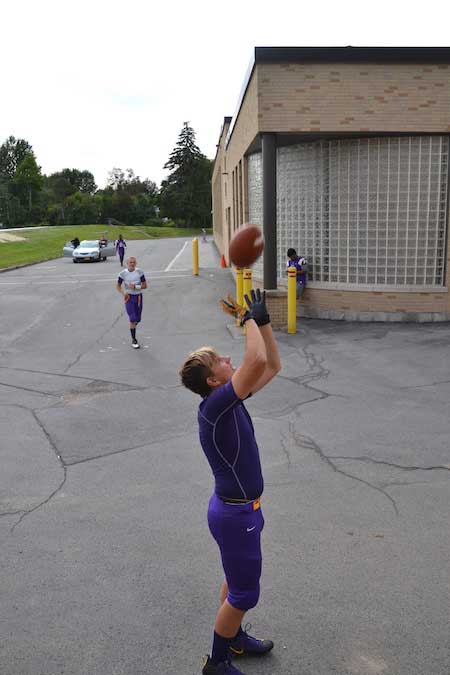 Jerrico Chudy, a senior who plays wide receiver, throws the ball up to himself, getting his hands used to catching the ball. He also played catch with other teammates. Jerrico played youth football but then didn't as a freshman and sophomore. He returned as junior.
"I really missed the game," he said. "It's a different feeling under the lights."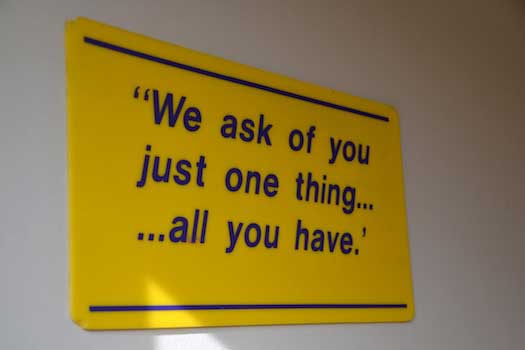 This sign hangs near the front door, leading to the locker room for the football team.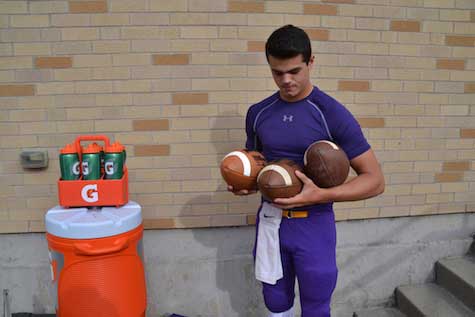 Bryce Pritchard, the starting quarterback, checks the pressure with the footballs. Bryce started as quarterback as a sophomore last year. It took some adjusting to the varsity level, where he said the game is fast and the players often hit hard. (He threw two touchdowns against Springville.)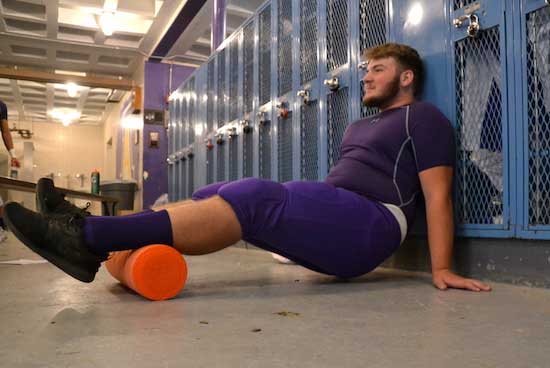 Brennen Hughes, a junior who plays center and defensive tackle, tries to stretch out his calves. He has been playing football since he was 6, including quarterback in youth football. Brennen also wrestles for Albion.
"The brotherhood is a big thing with football," he said. "If it's gonna work, you have to have a brotherhood."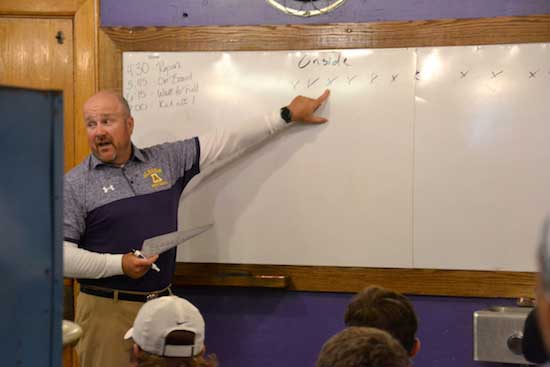 Bruce Blanchard, an assistant coach, goes over positioning and some of the plays before the game. Blanchard switched from coaching the girls varsity soccer team to coaching football this year.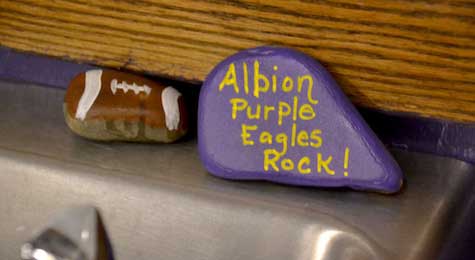 Someone left these rocks outside the locker room. Kenning appreciated the gesture and set them on the drinking fountain where everyone would see them.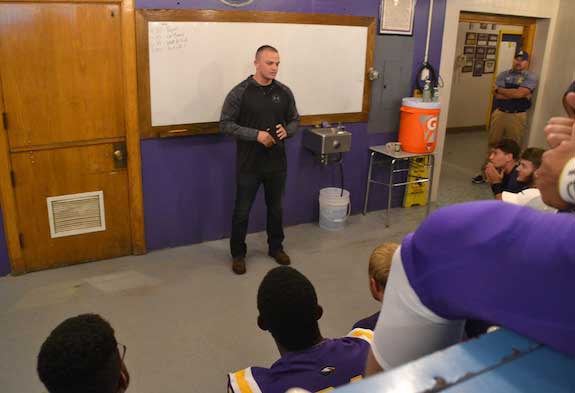 The team welcomed Thomas Kovaleski as an honorary captain. (He is Matt's older brother.) Thomas graduated in 2012 and played football for Albion. He is now a combat engineer for the U.S. Army, based at Fort Riley, Kansas.
"Everything I learned came from this room," he told the team. "It's hard work and dedication."
He also learned the importance of teamwork while playing football.
"Just like being a soldier, you're only as good as the guy on your left and the guy on your right," Kovaleski said. "Everyone needs to block and do their job. If one person doesn't do their job, the whole team suffers."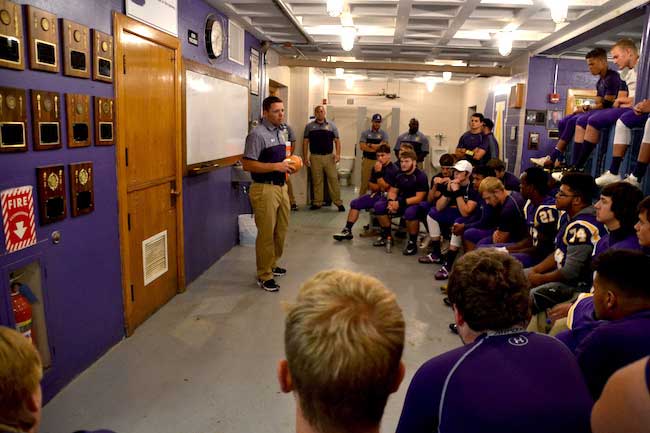 Adam Krenning addresses the team before they leave the locker room. Krenning told the team he is pleased with their effort in practice, including at a scrimmage the week before. He told them many of the pollsters have Albion ranked low in Western New York, but the team has the talent and drive to shock the league and WNY.
He shared with them the many positive words and feedback from the community.
"Albion football is back," Krenning told them.
Editor's Note: Albion and Springville played a back-and-forth game on Friday with Albion coming from behind to win, 40-34.
"We bent but didn't break," Krenning said after the game. "I'm just really proud of them. They did a phenomenal job."