Foodlink's Curbside Market adds Holley to help ease void of losing grocery store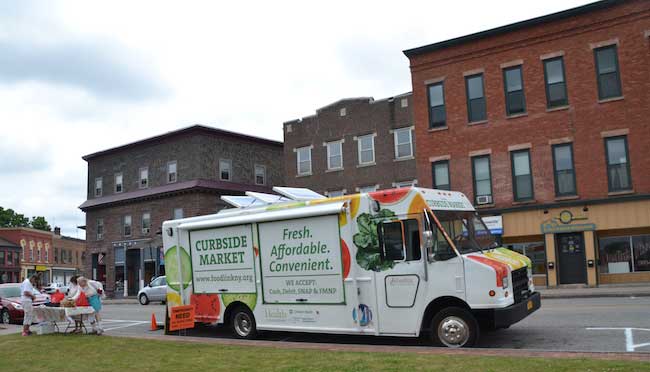 Photos by Tom Rivers
HOLLEY – Foodlink's Curbside Market, a food truck with fruits and vegetables, made its first stop in Holley today.
The Curbside Market has been making stops in Albion and Medina. Foodlink decided to include Holley to help fill the void in the community from the closing of its only grocery store, Save-A-Lot, last Sept. 17.
The Curbside Market sells fruits and vegetables at discounts. It is open to everyone, and accepts cash, Debit, EBT and FMNP.
The market stops every other Wednesday in Orleans County. The schedule the next three months includes the second and fourth Wednesdays each month. The Medina stop is from 10:15 to 11 a.m. at Ricky's Place: Maple Ridge Estates; outside the Main Street Store on Main Street in Albion from 11:30 a.m. to 12:15 p.m.; and at the Public Square in Holley from 12:45 p.m. to 1:30 p.m.
Foodlink started the Curbside Market in 2013 and has three trucks on the road in the Rochester region.