Food distribution resumes with long line of vehicles
Albion may shift next distribution to Bullard Park to ease congestion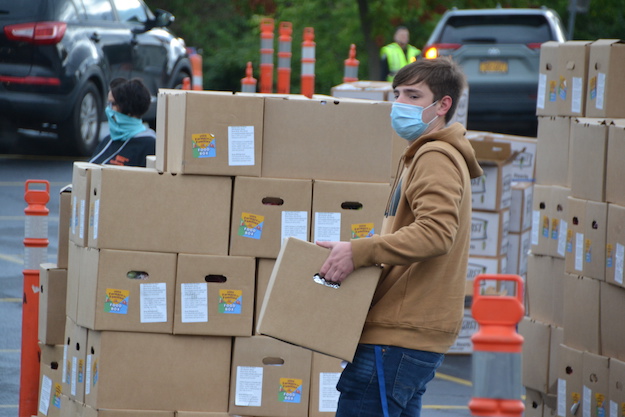 Photos by Tom Rivers
ALBION – Andrew Dreschel, a senior at Holley, volunteered this morning in Albion with a food distribution at the Main Street Store parking lot.
Today the number of boxes per vehicle was reduced from three to 1, with each vehicle also given additional bags of peppers and romaine lettuce.
The boxes contained about 30-40 pounds with 10-12 pounds of produce, 5-6 pounds of dairy, 5-6 pounds of meat and a gallon of milk.
The schedule for the rest of October includes:
Friday, October 9th – no delivery this week
Friday, October 16th – New location at Clarendon Fire Hall, behind the Fire Hall at 16169 E. Lee Road (Route 31A). No lines before 8 a.m., line up to the east on 31A-north side of 31, if needed, north on Hulberton Road.
Friday, October 23rd – Ridgeway Fire Department, 11392 Ridge Road, Medina – no lines before 8 a.m. The entrance will be on Horan Road and the line will be facing north towards Ridge Road. Exit will be on to Ridge Road
Friday, October 30th – May be at Bullard Park on Route 31 or Community Action Main Street Store, 131 S. Main Street.