Food boxes were in demand at fairgrounds today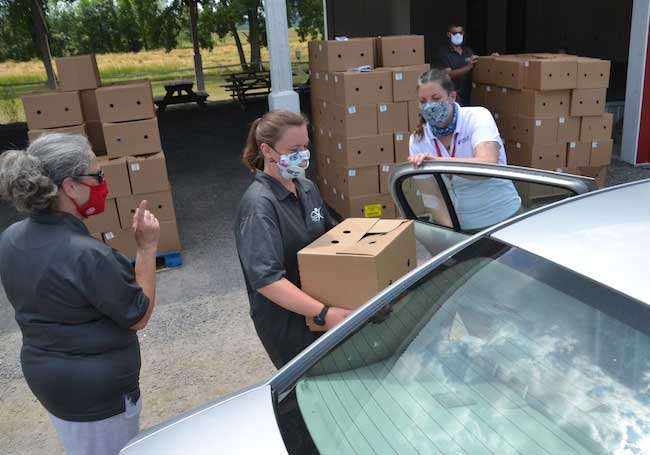 Photos by Tom Rivers
KNOWLESVILLE – This group distributed 20-pound boxes of produce today at the Orleans County 4-H Fairgrounds.
From left include Kristina Gabalski, Orleans County CCE 4-H program coordinator; Natalie Mrzywka, a 4-H administrative assistant at the Cornell Cooperative Extension in Orleans County; and Jessica Capurso, director of outreach, education and marketing at Community Partners. Robert Batt, Extension executive director, is in back.
The Extension distributed 1,200 boxes of produce, and also was able to offer 450 boxes each of dairy and meat. The dairy and meat was a big draw with cars lined up before 8. The distribution was advertised to start until 10 a.m. Batt said the line of cars was the longest he'd seen since the first distribution on May 29 and for two last month.
The distribution was a USDA farmers-to-families produce initiative. James Desiderio Inc. of Buffalo serves as the distributor of the produce.
The July drive-through distribution schedule includes:
July 10: Community Action's Main Street Store in Albion, across from Hoag Library – 9:30 to 11:30 a.m.
July 17: Medina Calvary Cupboard with new location at Medina Central School District – 9:30 a.m. to 11:30 a.m. (Enter off of West Oak Orchard Street from Main Street or West Avenue. Entry is at the Oak Orchard Elementary School, signs will be posted. No lines before 8 a.m.)
July 22: Produce distribution at 4-H Fairgrounds in Knowlesville – 10 a.m. until gone
July 24: Community Action's Main Street Store in Albion – 9:30 to 11:30 a.m.
July 31: Holley at a location to be determined – 9:30 to 11:30 a.m.
Editor's Note: All of these distributions may start sooner than advertised if the food is delivered and ready.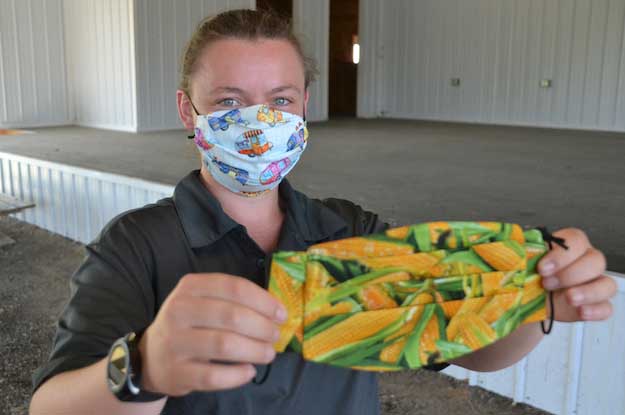 Natalie Mrzywka holds one of the face masks she made and gives away free to 4-H members, Extension volunteers and farmers. Mrzywka has made 500 masks with her grandmother Sue Lear.
Mrzywka has her own embroidery machine. She researched a design for the masks and has made them in many different fabric designs. She is wearing one with a camping theme. She also has made dog-themed masks, many with corn and several other designs. It takes her about 15 minutes to make the masks, which are adjustable.
"We do it because we know people need them," Mrzywka said.