FMC adds 17 positions to Middleport facility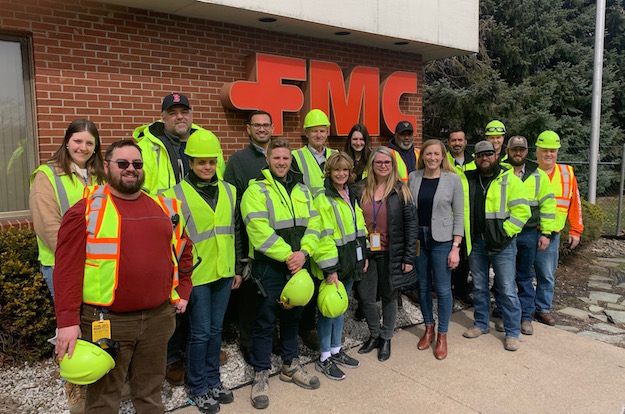 Photo and information from FMC
MIDDLEPORT – FMC celebrates its most recent new hires at the Middleport plant and welcomes personnel from FMC sites in Brazil, Puerto Rico, Alabama, and Delaware who are supporting new hiring training, daily site operations and sharing process improvements.
To accommodate growing business, the plant has added 17 new positions over the past four months and filled vacancies for Environmental, Health and Safety (EHS) manager, EHS specialist and supervisors.
Participating in the celebration are (from left to right first row): Chris Reuther, EHS manager; Roberta Magalhaes, Improvement engineer – FMC Uberaba Plant, Brazil; Eli Richards, EHS Rep. II; Kimberly Jurewicz – Label Master data specialist; Gina Dempsey – Corporate Global EHS Audit manager – FMC Philadelphia; Katie Russell, FMC Middleport Plant manager; Tom Giroir, supervisor – Alabama; Todd Manuel, supervisor – Alabama; and Al Hoysradt, maintenance supervisor. (Second row left to right) Leah Clark, Production Run engineer  Brandon Brinley, production supervisor; Carlos Medina, engineer II – FMC Plant Manati, PR; Bryan Papp, FMC Retiree contractor – NJ; Monica Vallerio, Corporate Sr. HR generalist – FMC Philadelphia; Otis Thomas, production supervisor; Clyde Jones, PSM coordinator – FMC Mobile, Alabama; and Don Dunner, associate engineer – FMC Stine, Delaware.