Fly fishermen return for annual tournament at Archery Club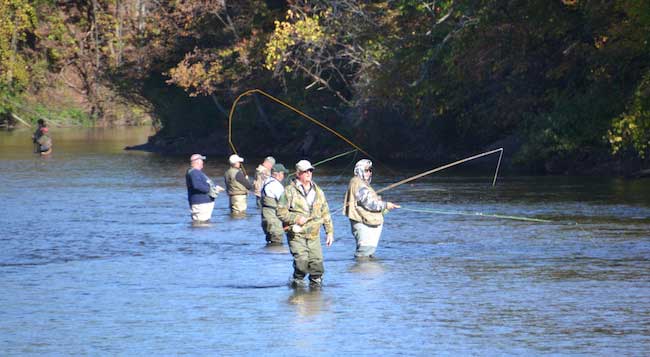 Photos by Tom Rivers
WATERPORT – The St. Mary's Archery Club on the Oak Orchard River has welcomed about 50 participants in the club's annual fly fishing tournament from today through Friday.
The fishermen include Joe Harkay, front, who made a 400-mile trip from New Jersey to fish in the tournament. Harkay, 79, is a past champ of the event.
He has been a regular at the Oak Orchard River the past decade. He used to go to the Salmon River at Pulaski, but Harkay said the crowds are big and it's much more costly to fish up there.
"They're all gentlemen here," he said about the fishermen. "This is pure fishing."
The Oak Orchard is deeper than usual and that has made it tougher to catch fish because they are harder to see in the water and they are more elusive. Harkay likes the challenge.
"The fish have a better chance," he said. "At the (Waterport) Dam the fish are corralled. The fishermen there are meat hunters."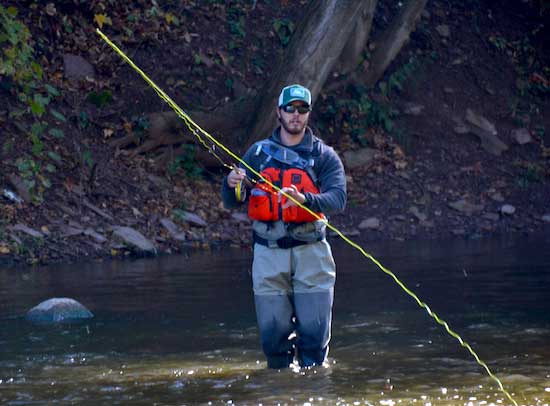 The Archery Club runs a catch-and-release tournament with prizes for the biggest Chinook salmon, brown trout, Atlantic salmon and steelhead.
Out-of-state participants have come from Pennsylvania, Ohio, New Jersey, Maine, Connecticut and two from South Korea.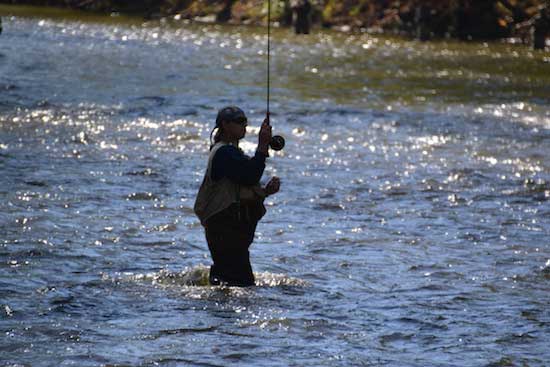 It is a beautiful day to be on the river with the sun shining and high temperatures at about 70.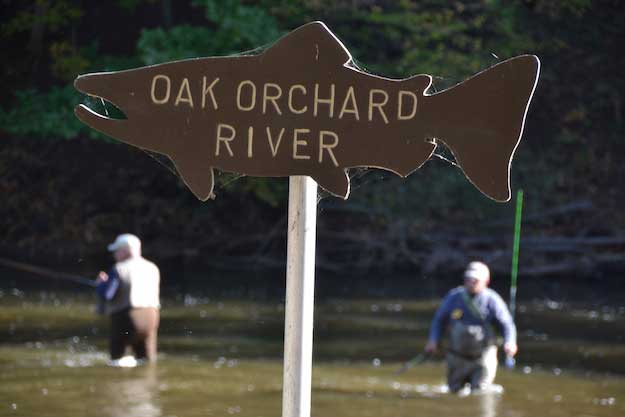 The Oak Orchard River is a popular spot in the fall with anglers trying to catch big salmon and trout.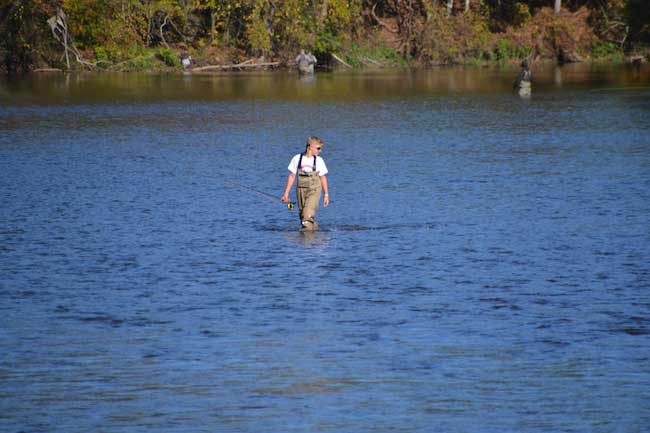 Ben Smith, 12, peers into the water, trying to see a salmon. Ben was fishing with his father and two younger brothers. They traveled about 300 miles from near Harrisburg, Pa.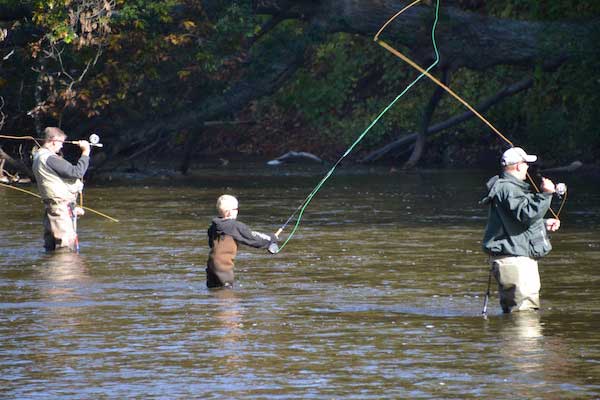 Shane Smith, right, fishes with his youngest son, Beckett, 7. Shane is the father of Ben Smith, in the above photo. Ben's other brother, Brayden, is 10. The three brothers had a friendly rivalry to see who could catch the biggest fish.
Shane has been fishing at the Oak Orchard for nearly 30 years, first going with his father. Now it's a three-generation trip for the family.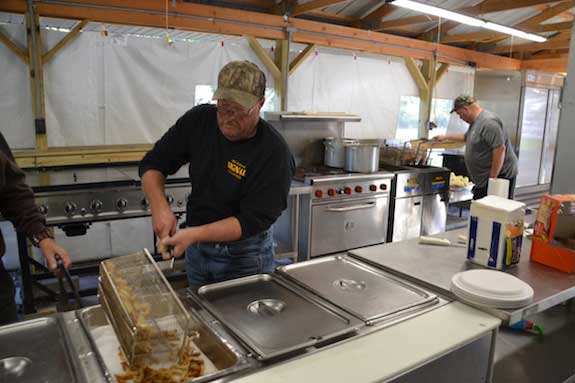 Duane Putnam, a member of the Archery Club, has a batch of French fries ready for the fishermen. Jeff Holler, in back, checks on chicken. The Archery Club is serving breakfast and lunch daily through Veterans' Day on Nov. 11. There is a cost for the meals, and a $10 fee to park at the club to go fishing.
The club last year built a new pavilion to extend the kitchen. Putnam and Holler said the extra space has made it much easier to have food ready for the fishermen.