Flags lowered in honor of state trooper killed Monday in Steuben County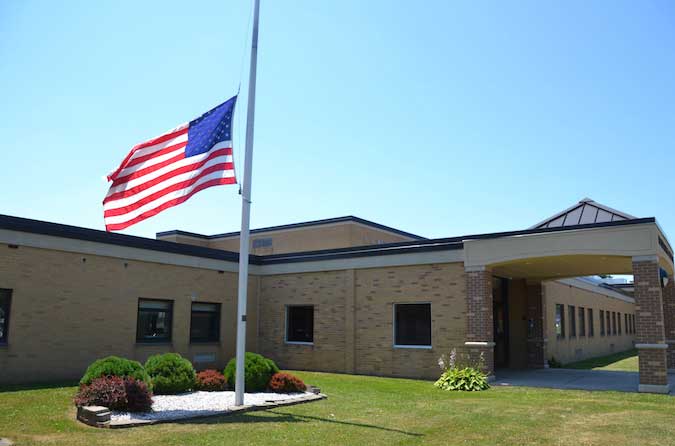 Photo by Tom Rivers
LYNDONVILLE – The American flag by the entrance to Lyndonville Central School is lowered in honor of Nicholas Clark, a state trooper killed on Monday in Steuben County.
Clark responded early in the morning on Monday to a 911 call about a domestic incident. He was shot by Steven Kiley, the principal at Bradford Central School. Kiley also died from a gunshot wound.
Clark served as a state trooper for nearly three years.
Governor Andrew M. Cuomo directed that flags on all state government buildings be flown at half-staff in honor of Clark until his interment.
Calling hours will be held from 1 to 6 p.m. on Saturday at Alfred University, where Clark graduated in 2011. His funeral will be Sunday at Alfred University beginning at 11 a.m.
"To the Clark family, to his mother, his father, his brother, we hope you find peace in this senseless act of violence," Cuomo said during a news conference on Monday. "A 29-year-old trooper, a stellar trooper with an extraordinary record, his whole life before him. Great athlete. Well accomplished. He wanted to do one thing which was help people."