Flag from Navy destroyer given to local Veterans Service Agency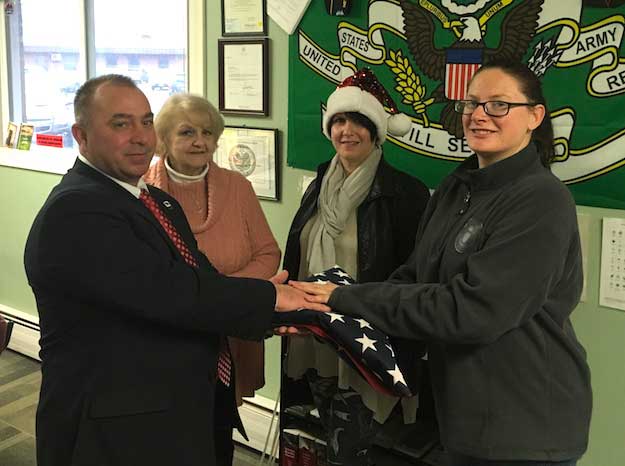 Provided photo
ALBION – Earl M. Schmidt, director of the Orleans County Veterans Service Agency, received a surprise this morning. He was presented with a flag that flew on Veterans Day, Nov. 11, on the USS Shoup (DDG 86), a Navy destroyer named for Medal of Honor recipient General David M. Shoup.
Schmidt, left, is joined by Marcia Bowles, wife of William Bowles, an Orleans County resident who served in the Vietnam War. Next to Bowles, second from left, is her daughter, Kristine Junot. Mary Fran Manfredi, right, is a family friend and U.S. Navy quartermaster, third class.
Manfredi presented the Veteran Service Agency  with a flag that flew on the ship when it was in the waters of the Pacific Ocean.
The family told Schmidt they appreciated his service in helping them to obtain veterans' benefits that they were unaware of and that William Bowles earned.
"I accepted the flag in honor of the Orleans County Veteran Service Agency with the promise that it will be visible in the office for others to see and follow the examples of hard work and dedication to our veterans and their families," Schmidt said.