First-time Farmer's Feast on closed off street in Albion is a sold-out success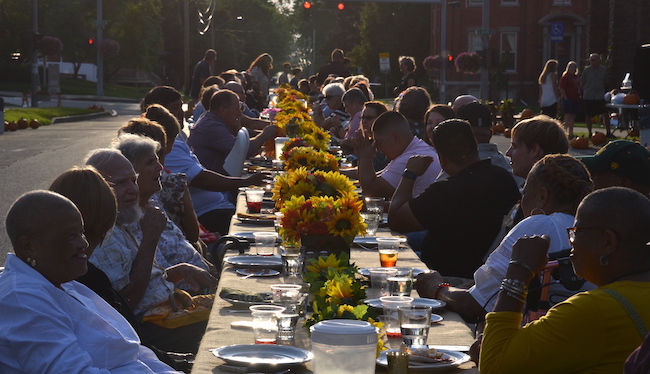 Photos by Tom Rivers
ALBION – People enjoy a barbecue and lots of conversation on a closed off part of East State Street in front of the Orleans County Courthouse this evening.
The Albion Merchants Association organized the debut event. All 100 tickets sold for $50 each.
"It couldn't have gone better," said Linda Smith, one of the lead organizers of the event. "It was a perfect day."
She was thankful for great weather, even a harvest moon.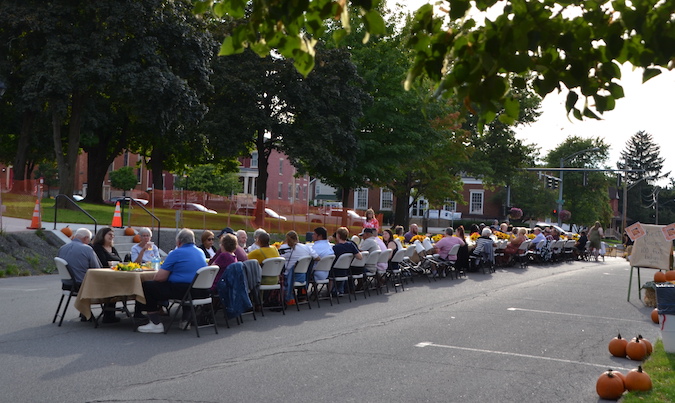 Tables stretched along much of East State Street, between Main and Platt Street. The tables were decorated in a fall foliage theme with sunflowers. There were many pumpkins to create a fall festival feeling.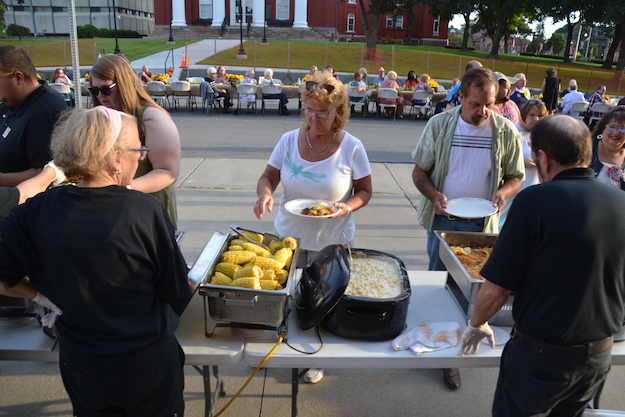 Liz Groat is ready for a meal catered by Chap's in Elba. The vegetables came from local farms, Rush's in Carlton and Torrey's in Elba.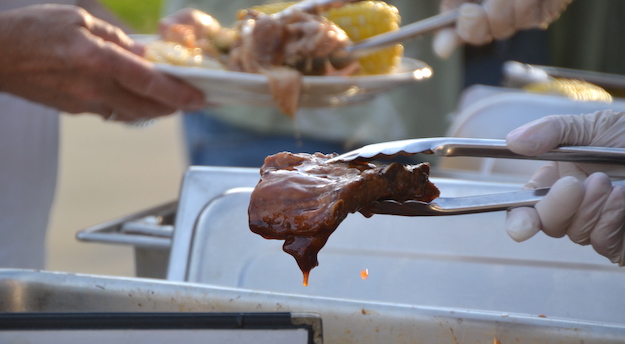 The Albion committee preferred barbecue over a fancier meal, and it proved popular with the guests. (Last Call Cocktail Co. also was at the event serving drinks.)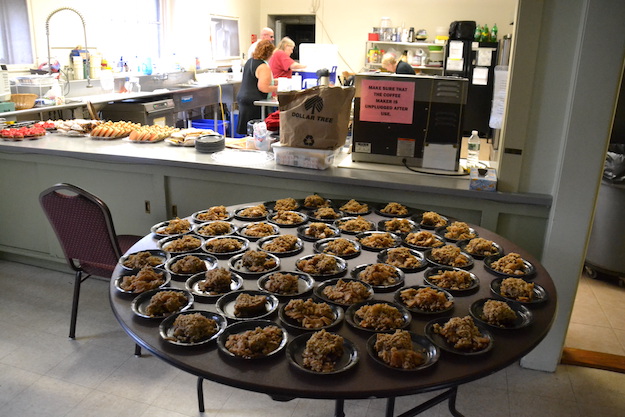 The desserts were prepared by three bakeries in Albion: Wild Flour Deli & Bakery, Pretty Sweet Bakery and SnL Sweet Escapes. They are in the kitchen area at the First Presbyterian Church of Albion.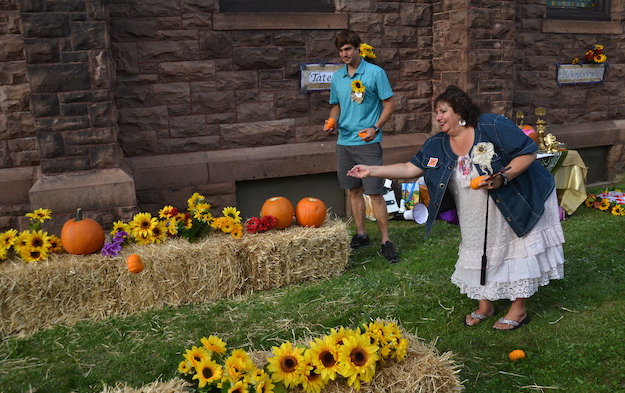 Michelle Hughson gives pumpkin bowling a try. Participants rolled a small pumpkin at pins. Hay bales served as bumpers on the lanes. Ryan Smith in back helped run the game.
Hughson said she enjoyed the fun and offbeat games, which had people mingling and socializing.
She liked the setting by the courthouse and several historic church buildings.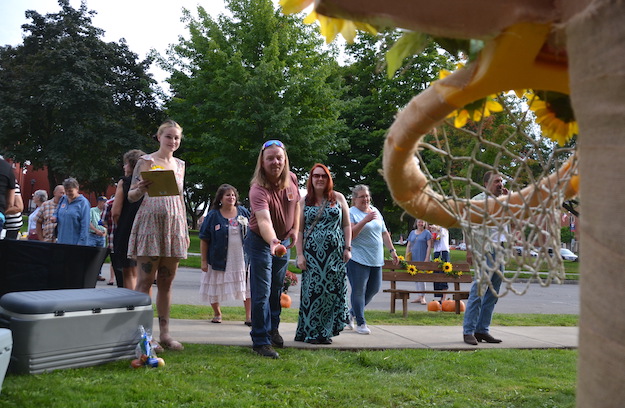 Butch Markee of Medina gives B'Apple Ball a try, where players attempted to shoot apples through a basketball hoop. Markee made both of his tries.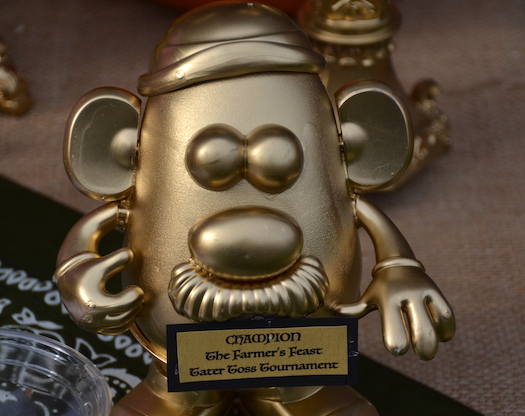 The winner of the tatter toss game won this trophy.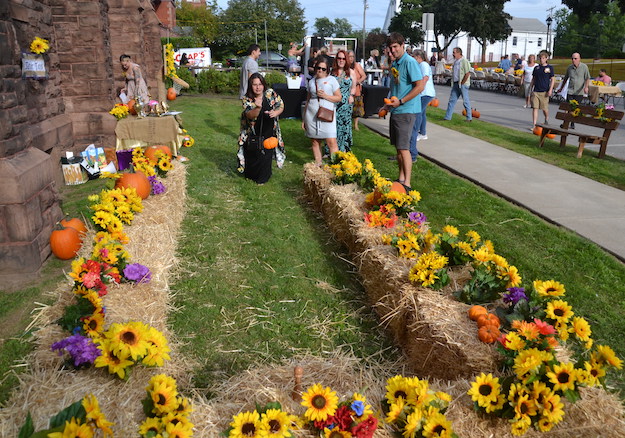 Dakota Marasco of Albion tries pumpkin bowling. She was glad to see a strong response from the community for the first-time event.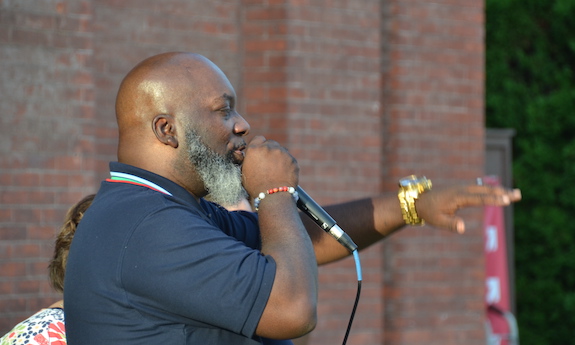 Pastor Albert Wilson of the Royal Body Shop Outreach Ministries offered the blessing before the meal.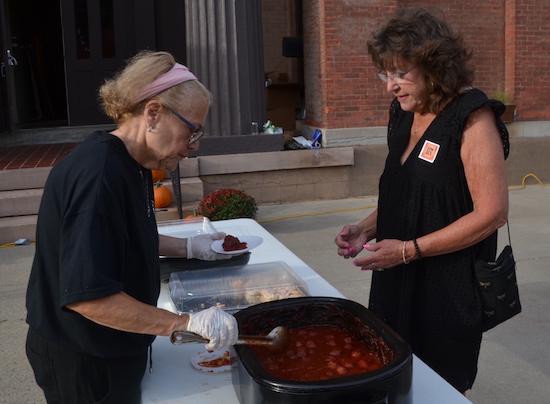 Sandy Chappius, left, owner of Chap's serves an appetizer to Jan Albanese.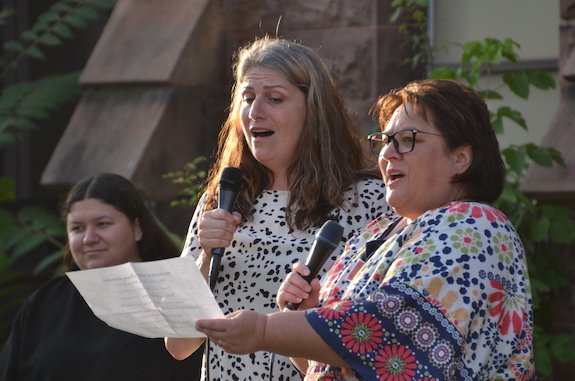 Two Albion High School graduates, Karen Conn and Sue Thaine (right), sang a song together set to Edelweiss. Instead the final line saying, "Bless my homeland forever" then changed the lyripcs to "Bless my hometown forever."
Conn's daughter Shannon Vanderlaan also sang during the event. Thaine is the pastor of the First Presbyterian Church in Albion.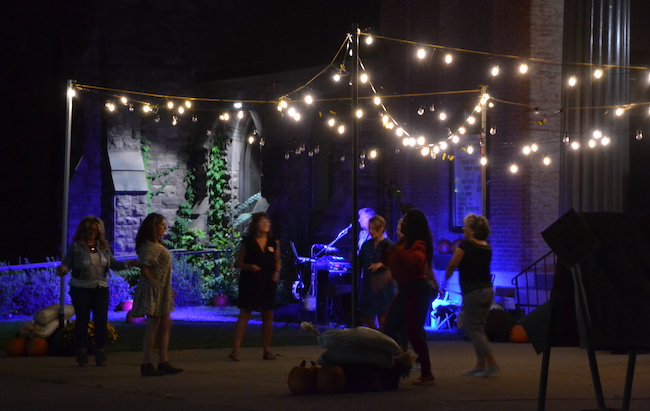 People dance to the music of Mike McCauley of Medina, the "One Man Band."
The event is expected to continue next year, and could be shifted to downtown on Main Street when the Main Street bridge will be closed due to an 18-month rehabilitation project.
Besides Linda Smith, the committee for the Farmer's Feast includes Kim Remley, Anne Beaty, Aric Albright, Karen Conn, Debbie Prest, Anita Finley, Mayor Angel Javier Jr. and his father, Angel Javier Sr.