First responders, DA team to send message about dangers of drunk driving
Simulation of crash at Albion school intended to help students make choices to stay safe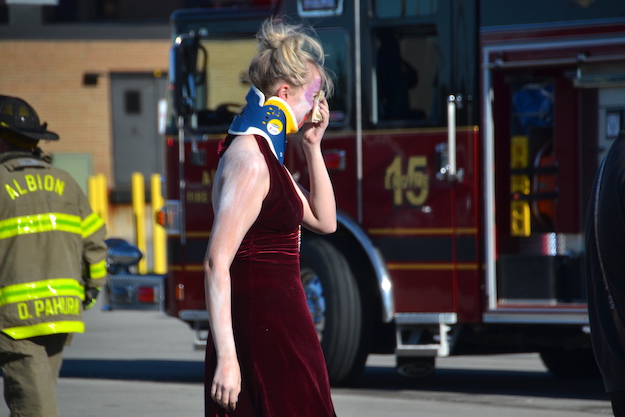 Photos by Tom Rivers
ALBION – Hannah Coolbaugh, an Albion High School senior, portrays an injured student during a crash simulation this morning at the Albion High School parking lot.
The Albion Police Department, Albion Fire Department, COVA Ambulance, County Coroner Scott Schmidt and the District Attorney's Office worked together to send a message about the dangers of driving drunk or impaired by drugs.
Albion has its prom tonight at Hickory Ridge Country Club with many graduation parties planned this summer.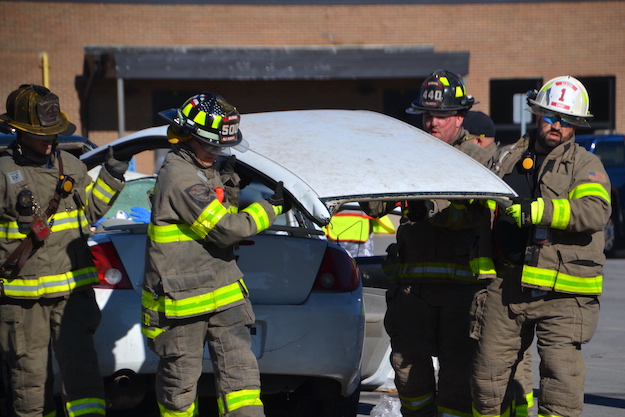 Albion firefighters removed the top of a car to extricate injured students in the crash. Gallo's Performance Auto in Brockport donated the cars for the crash simulation.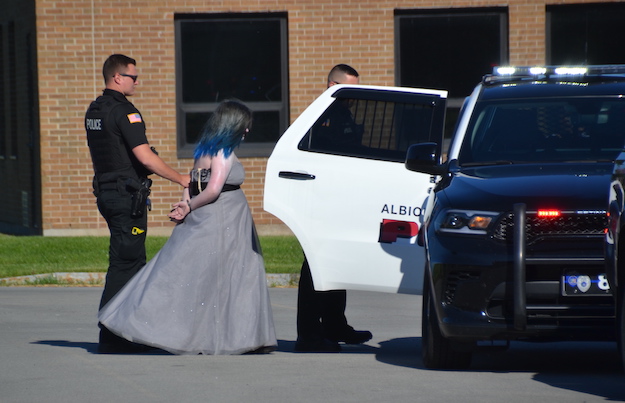 Myles Miller portrayed the drunk driver. After some field sobriety tests and a breathalyzer, she was led into an Albion patrol car by officers Dillon Black and Nathaniel Staines.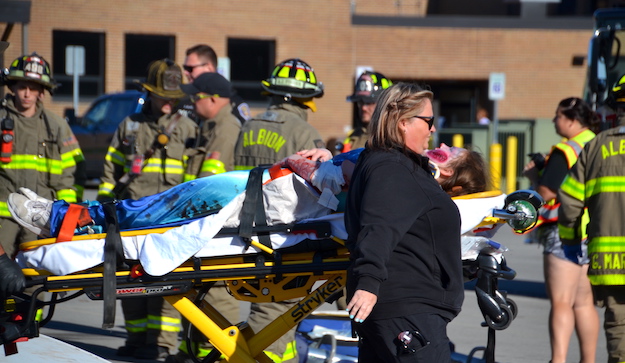 Leah Kania is on a stretcher and led to a COVA Ambulance.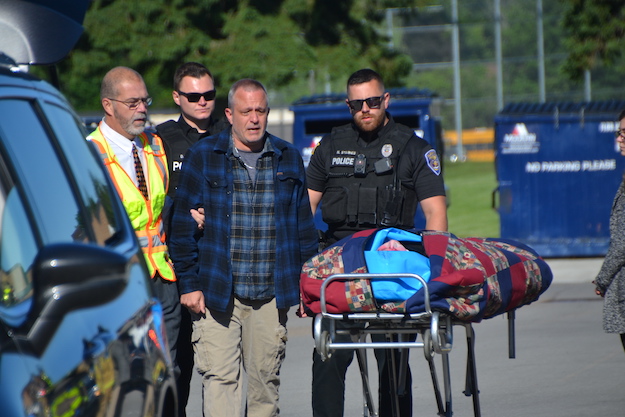 Tracy Ford is overcome after seeing his son Rowan in a body bag. Ford said after that he was "wobbly" trying to walk after seeing his son and hearing the other students screaming.
He said it has been an emotional few days since his son told him he would be portraying the student who dies in the simulation.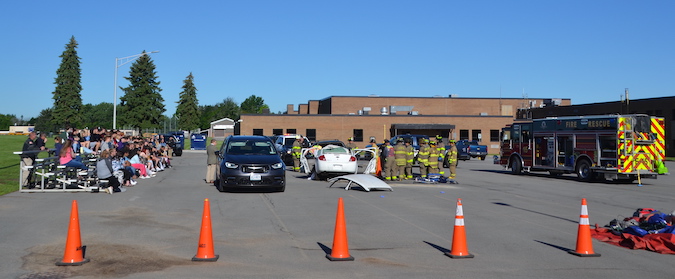 The school set up bleachers for members of the senior class to see the simulation in the parking lot this morning.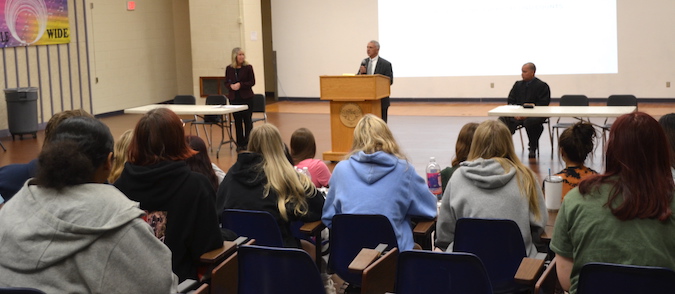 After the crash simulation, students were in the LGI were the saw a mock arraignment. District Attorney Joe Cardone, center, is joined by Assistant DA Susan Howard and Albion Town Justice Joe Fuller.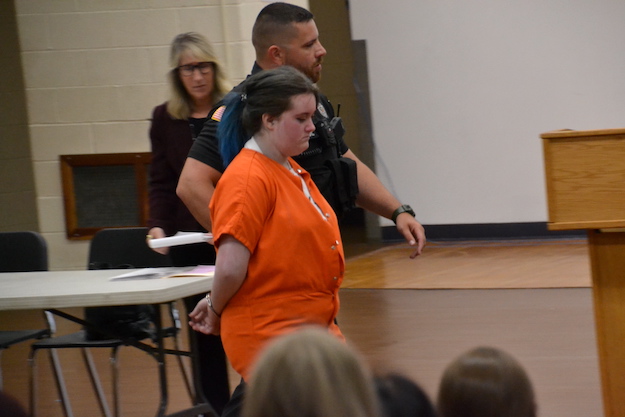 Myles Miller is led into the "courtroom" and is wearing jail-issued clothing. She was charged with DWI and aggravated vehicular homicide. Cardone said the vehicular homicide charge carries a maximum of 15 years in prison.
Fuller, the town judge, set bail at $50,000 in cash or $75,000 bond. Fuller also issued orders of protection for the surviving victims.
Cardone said the seniors have worked very hard in their lives to get to the point of being so close to graduation.
"You can often be defined in your life by a bad decision, something that happens over 5 minutes in your life," he said.
He cautioned the students from using alcohol and marijuana, which is illegal at their age. It can affect their judgement, and could lead to reckless actions out of their character.
Albion Police Chief David Mogle addressed the group and urged them to call 911 if they need a safe ride home.
"We're not there to get people in trouble," Mogle said about the police. "We're there to save a life."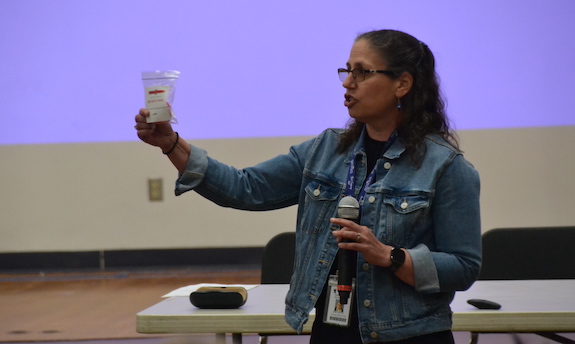 Mary Wright, a prevention educator for GCASA, holds a Red Watch banner. That encourages the students to watch out for each and help someone who has had too much to drink or if they are incapacitated from drugs or other substances.
Wright said students are entering a season of celebrations – prom, graduation, grad parties – and many people tend to drink too much at those events.
"We want you to have a good time at the prom but we want you to be safe and responsible," she said.
Students should pay close attention if a friend looks pale, blue-ish or losing consciousness. If that happens, they should get that person help and call 911.
"You need to respect their life and step up for them," she said.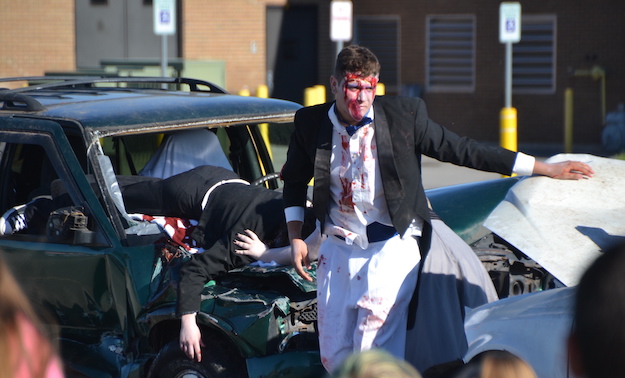 Jeffrey Brown portrays one of the students today who was injured in the drunken driving crash.