Firefighters stop fire in Carlton from spreading past porch, sunroom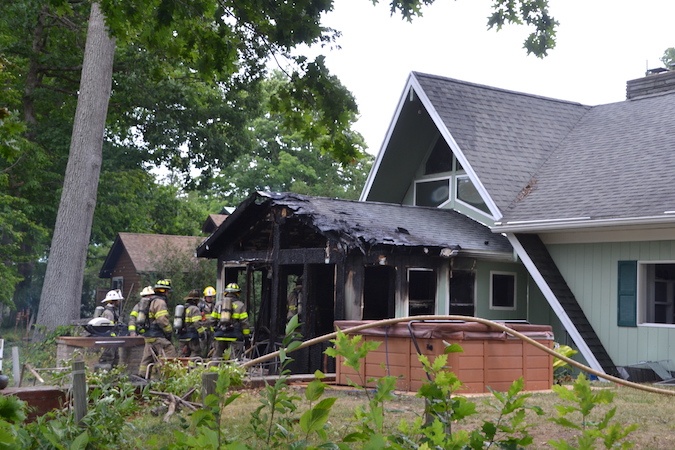 Photo by Tom Rivers
CARLTON – A fire at about 11 this morning destroyed a porch and the sunroom of a home at 1128 Point Breeze Rd. The back of the house, which was damaged, faces the Oak Orchard River.
Carlton firefighters Ryan Woolston and Andrew Niederhofer were on the scene soon after a 911 call. They emptied the 1,000 gallons of water from a pumper-tanker fire truck and that stopped the fire from spreading further into the house, which is owned by Natalie and Brian McCue. Their 15-year-old son was home and called 911 and was able to get the family's two dogs outside. No one was injured in the fire.
"We got water on it quick and the majority of the house was a good save," said Andrew Niederhofer.
He said there is water and smoke damage in the house.
Justin Niederhofer, a Carlton firefighter and Orleans County fire investigator, said an ember from a camp fire last night was likely blown by a breeze to the porch, causing the fire.
Carlton was assisted at the scene by firefighters from Kendall, Albion, Barre and Medina.