Firefighters pay tribute to staff at Medina Memorial Hospital
Caravan of fire trucks flash lights, beep horns in show of support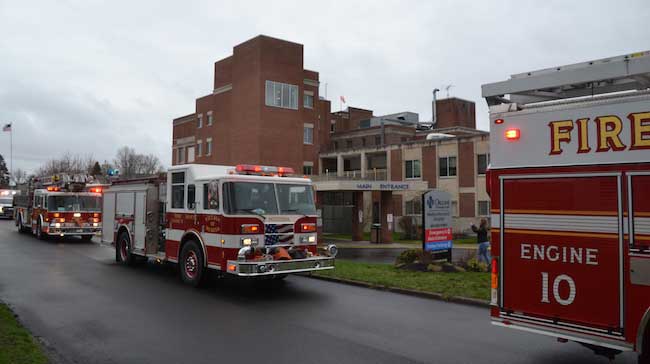 Photos by Tom Rivers
MEDINA – Firefighters from the Western Battalion in Orleans County – East Shelby, Shelby, Medina, Ridgeway and Lyndonville – brought fire trucks and parked outside Medina memorial Hospital this evening beginning at 6 p.m.
Firefighters flashed lights of on the trucks and drove through the parking lot, beeping the horns to show their appreciation for the doctors, nurses and staff at the hospital.
Click here to see a video of the fire trucks driving through the parking lot and past the hospital.
Click here to see the fire trucks lined up on Ohio Street outside Medina Memorial.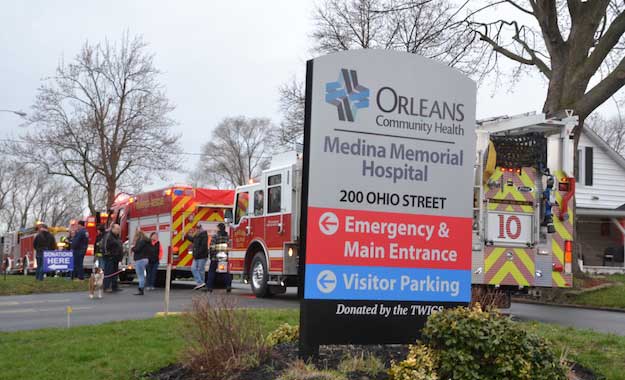 Steve Bane, the second assistant chief at Lyndonville, suggested the tribute and the other leaders of the five fire departments were quick to say yes.
"This is our closest medical facility," Bane said outside the hospital this evening. "They are getting fatigued. We just want to help get the morale up for everybody."
Bane has seen similar tributes for larger city hospitals. He said Medina deserves recognition from the community for the life-saving work of the staff.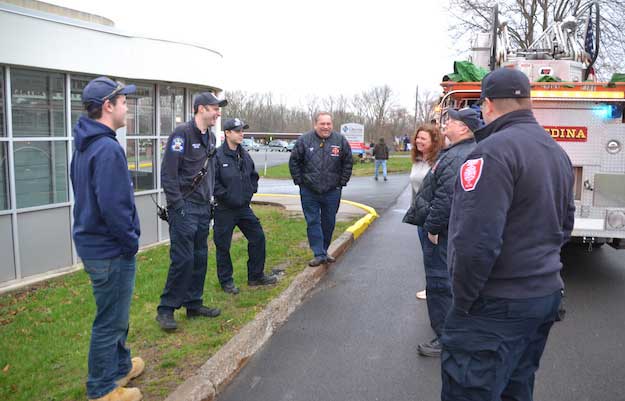 These firefighters chat outside the hospital. They include from left: Justin McAdoo of Ridgeway, Brad Mahke of Medina, Sergio DiCenso of Medina, Medina Mayor Mike Sidari, Kristin McAdoo of Ridgeway, Adam Fisher of Medina and Jacob Crooks of Medina.
Crooks, a lieutenant with the Medina Fire Department, said the Medina hospital provides critical healthcare services for the community.
"Without them the next closest hospital would be Batavia and Lockport," Crooks said. "We just wanted to show them that we support them and to keep up the good work."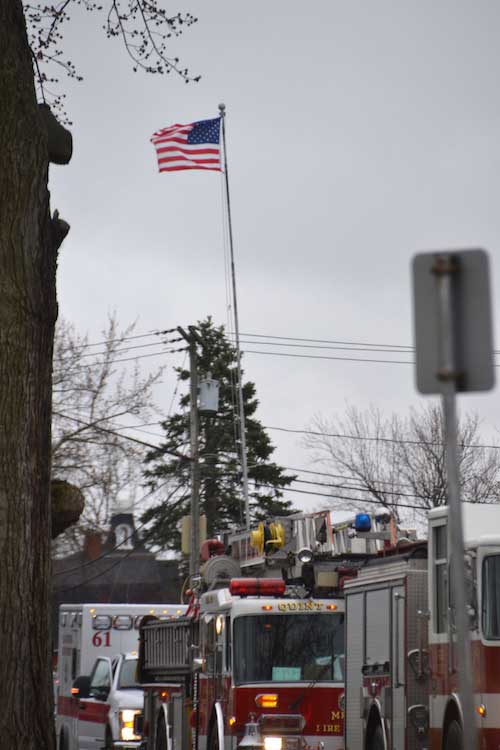 Dawn Petry, a certified nurse's aide at the hospital, said the staff is thankful for the community's outreach recently, with donated surgical masks, food and blankets.
"We appreciate everything the community has done for us," said Petry, whose husband Tim is president of the Shelby Volunteer Fire Company. "It's been helping us with the long hours."
Megan Perkins, another CNA, said her co-workers took photos from some of the hospital rooms of the display by the firefighters.
"It's appreciated that they would think of us," Perkins said.
She said the staff is committed to their patients and the residents.
"I come to do my job to make people feel they are cared about," she said.