Firefighters, police officer knock down porch fire in Albion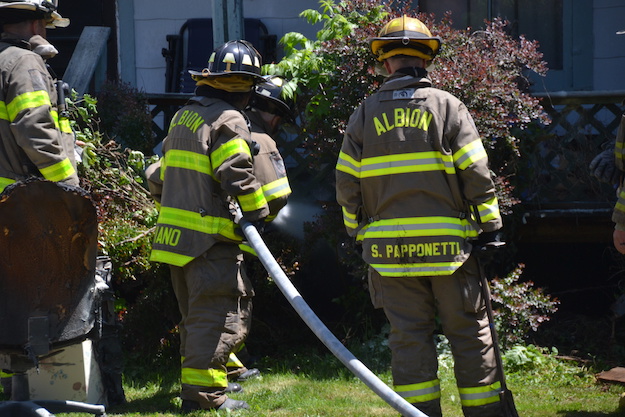 Photos by Tom Rivers
ALBION – Albion firefighters, with Stan Farone at the front of the hose, spray water under a porch that was burning at 113 Platt St. Firefighters were dispatched to the scene at 12:04 p.m. for reports of a structure fire.
A chair, small dresser and other contents were damaged on the porch. Firefighters pulled out some boards from below the porch that had caught on fire.
The residents of the home, including several dogs, are expected to be able to return soon.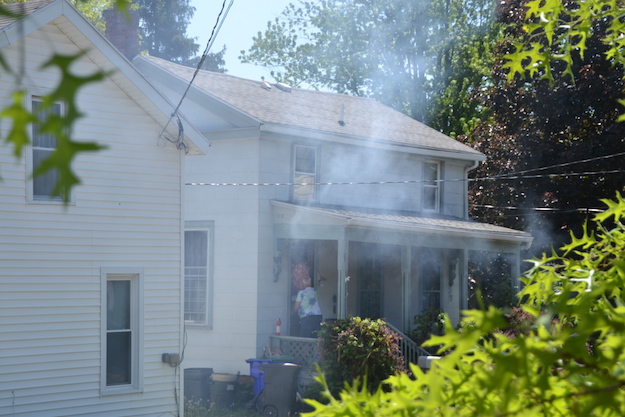 Albion police officer Robert Wagner was one of the first on the scene and used a fire extinguisher to knock down the fire.
Bill Francis, who lives next door and is a member of the AFD, also was quick to arrive on scene and used a fire extinguish to help stop the fire.
An Albion firefighter said the residents were fortunate the fire happened during the daylight where it was quickly spotted and firefighters were on scene right away. If it had happened at night the fire likely would have spread and become bigger.
An Orleans County fire investigator is at the scene to determine the cause. No other information is available.