Firefighters give new recruit a big surprise on 16th birthday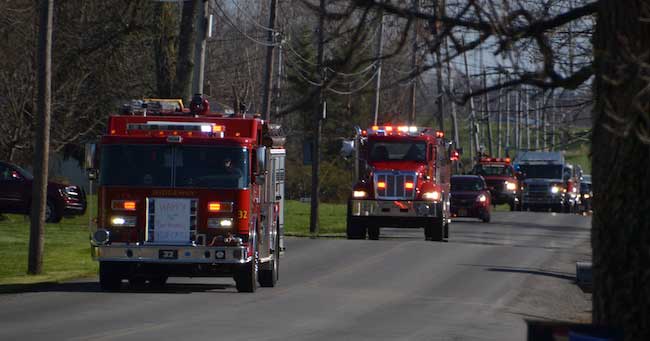 Photos by Tom Rivers
KNOWLESVILLE – A brigade of fire trucks heads down Knowlesville Road at about 5 p.m. today to surprise Justin McAdoo on his 16th birthday.
(Click here to see a video of the fire trucks going past McAdoo's home.)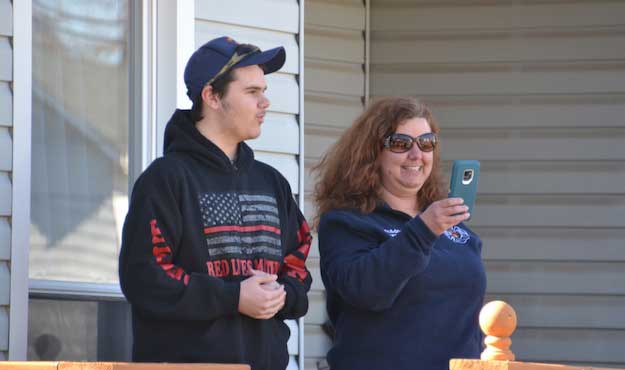 Justin McAdoo is surprised by the processional of fire trucks from Ridgeway, Lyndonville, Shelby and East Shelby. His mother, Kristin McAdoo, is the first assistant chief for the Ridgeway Volunteer Fire Company. Justin's father Ken and grandfather Don Marchner are both past chiefs for Ridgeway.
Justin has looked forward to joining the Ridgeway Volunteer Fire Company for many years. When he turned 16, he intended to fill out the application and join.
But the fire company has been on pause with no regular meetings, per orders from Gov. Andrew Cuomo, to attempt to avoid gatherings of people.
Justin also wanted to start driving today but the DMV is limited right now. Justin, like all students, also has been out of school for five weeks and counting due to the Covid-19 pandemic.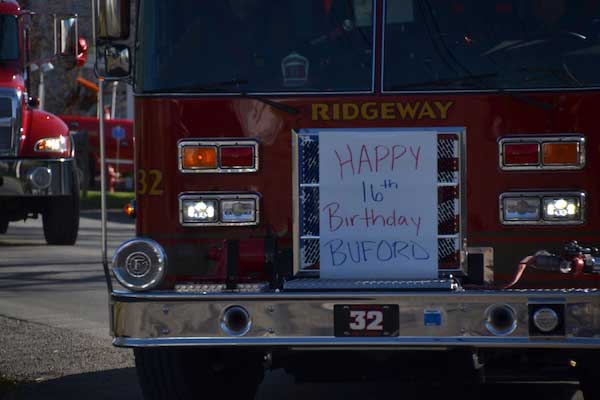 A fire truck has a birthday greeting for Justin, using his nickname Buford.
Pat Kelly, the Ridgeway fire chief, said Justin has been around the fire hall and firefighters for many years.
"He's been a diehard fire buff," Kelly said. "He wanted to join the fire department but couldn't. Everything is on hold. We wanted to help make the day special and give him some incentive to get through these tough times."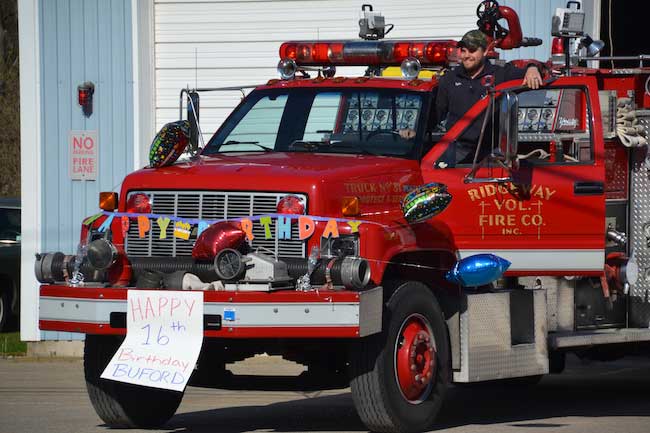 Tyler Luckman climbs out of a Ridgeway fire truck that included a birthday greeting for McAdoo.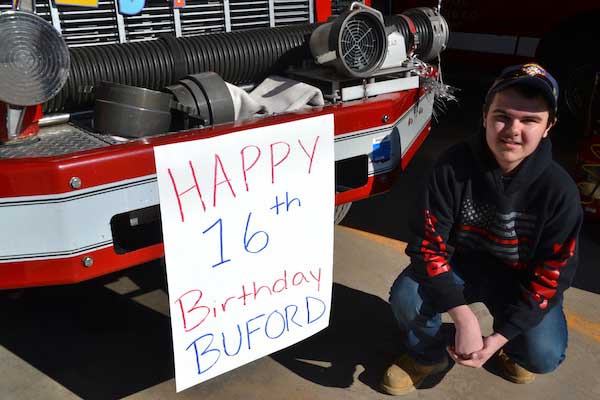 Justin McAdoo said he is appreciated the effort to give him a surprise on his birthday.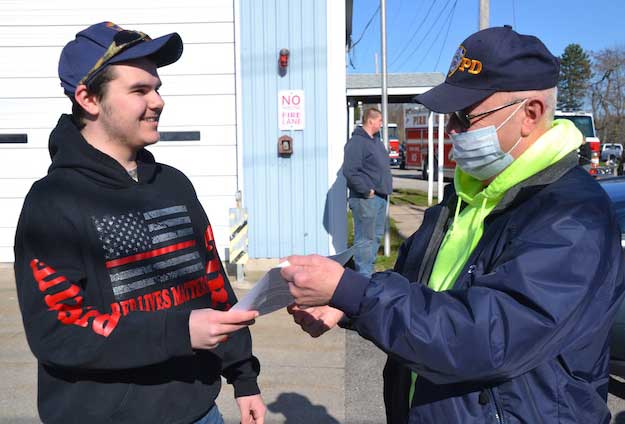 Don Marchner, Justin's grandfather, hands Justin an application to the join the Ridgeway Volunteer Fire Company.
Justin filled it out. He said he wants to be a career firefighter. He looks forward to taking the basic firefighting class once the classes start again.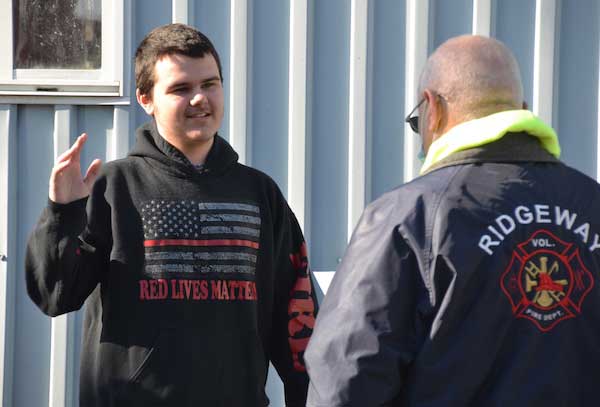 Don Marcher administers the oath of office to Justin. That was also a surprise for Justin. He was told he would have to wait until after the pandemic to be accepted into the department. But the fire company held a quick meeting outside the fire hall and accepted Justin as a member.
Marchner said he was thrilled to administer the oath to his grandson.
"I feel good to have three generations involved now," Marchner said. "He has had a love of fire trucks since he was a young shaver."