Fire destroys RV, damages home on East Oak Orchard in Medina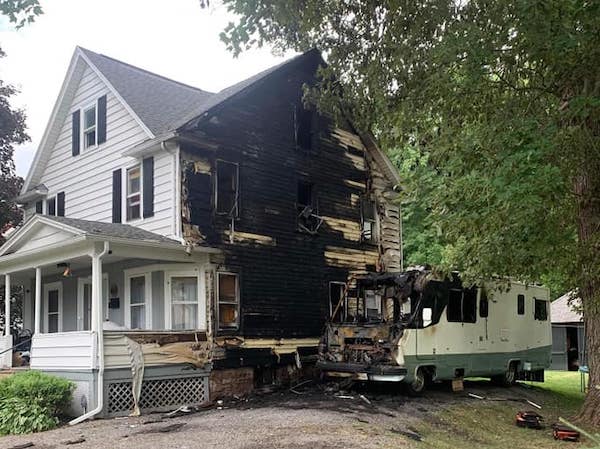 Photo from Medina Fire Department
MEDINA – A fire this afternoon caused about $50,000 in damages to a house and destroyed a recreational vehicle at East Oak Orchard Street, the Medina Fire Department reported.
Firefighters were dispatched to 403 East Oak Orchard at 1:32 p.m. for reports of a vehicle fire. The first platoon firefighters issued a structure fire assignment due to the proximity of the RV to the house and the amount of smoke visible to crews leaving the firehouse, the Medina FD reported. Firefighters from the Shelby and Albion Fire Departments were then dispatched.
Responding firefighters saw the fire rolling up the side of the house and into the attic and soffits.
Medina police officer Jacob Zangerle forced entry into the house and rescued the homeowner's dog. Zangerle confirmed to firefighters there were no occupants at home and closed the front door.
Firefighters knocked down the exterior fire as well as stretched a hose line inside the house to the attic. Shelby and Albion firefighters also assisted at the scene.
The Medina and Orleans County fire investigation units ruled the fire as accidental at this time.
The RV is a total loss and damage estimates to the structure are approximately $50,000. The family of four is being assisted by the Red Cross and other family members.
"We can not thank all our partners that assisted us today enough," Medina Fire Department officials said. "A quick response by all agencies with an aggressive attack helped limit the damage today. We are so grateful for all our partners."