Fire destroys Eagle Harbor home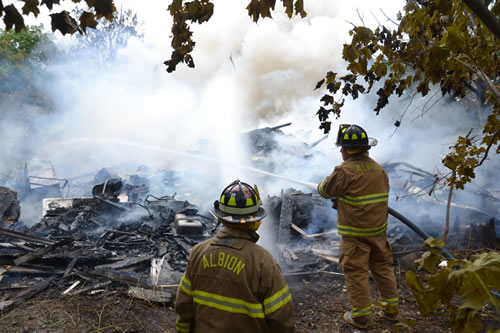 EAGLE HARBOR – Albion firefighters Chuck Prentice, right, and Mike Dalle spray water on the smoldering remains of a house in Eagle Harbor. Fire torn through the house this afternoon, leveling the structure at 3248 Eagle Harbor Rd.
Firefighters were dispatched to the home of Richard Clark at about 1:30 p.m. The house was engulfed in flames when firefighters arrived. Albion firefighters were close by at the Orleans County 4-H Fair. Many fire departments were there as part of a display of fire trucks.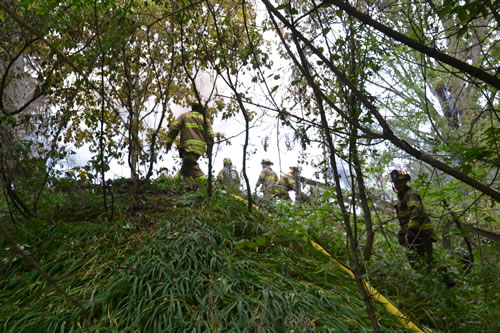 The quick response to Eagle Harbor wasn't enough to prevent the house from being a total loss. The structure was set back from the road in a wooded area. Live wires that were sparking added to the challenge.
Clark wasn't home at the time when the fire started. He thinks an animal could have started it or perhaps a sparking electric wire. The fire is under investigation.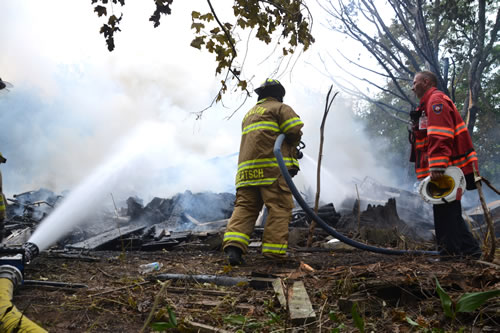 Carlton firefighter Dave Bertsch gets water on the fire. Dale Banker, the county's emergency management coordinator, is at right.