Fire destroys apartment house in Holley, displacing a dozen residents

Building with cupola was a landmark at corner of Rts. 31 & 237
Photos by Tom Rivers
HOLLEY – A landmark building at the corner of routes 237 and 31 was destroyed in a fire that broke out just before 11 p.m. on Sunday.
The fire displaced about a dozen residents in four apartments, where the address is 46 West Albion St. Several of the residents are children, including a baby.
All the people and two dogs made it out safely, but one resident said he feared three cats and a dog were killed in the fire.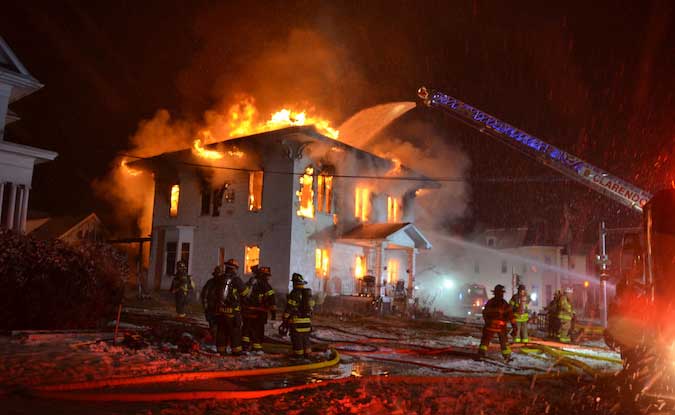 There were numerous fire departments at the scene, with many bringing tankers with water. A village water transmission line broke before the fire, which forced the Holley Fire Department to request as many tankers as possible. Those trucks were able to be refilled at a hydrant at Holley's Business Park.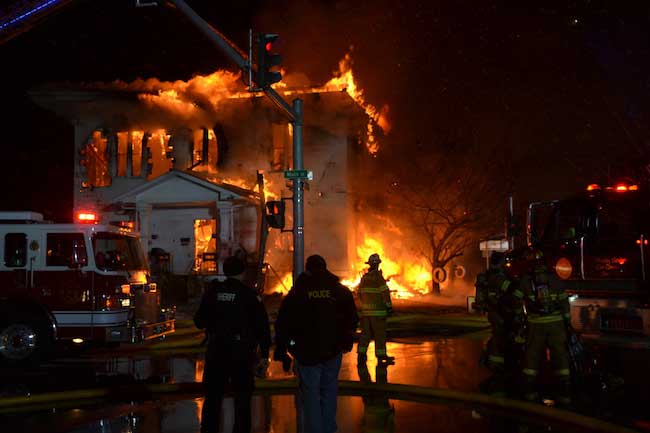 One of the tenants of the apartment building said the fire started in the back of the building and quickly spread. One of his neighbors pounded on the door, telling him to get out.
The resident said the building is owned by Stanley Passarell, who treated the residents well, giving them a nice place to live at an affordable price.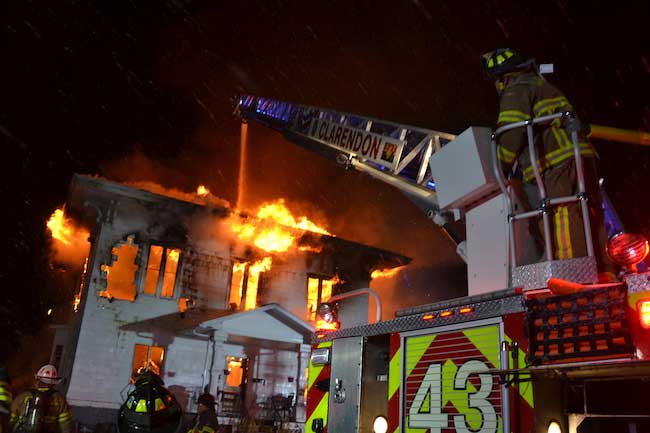 Earl Jenks of the Clarendon Fire Company operates the hose up high on Clarendon's ladder truck.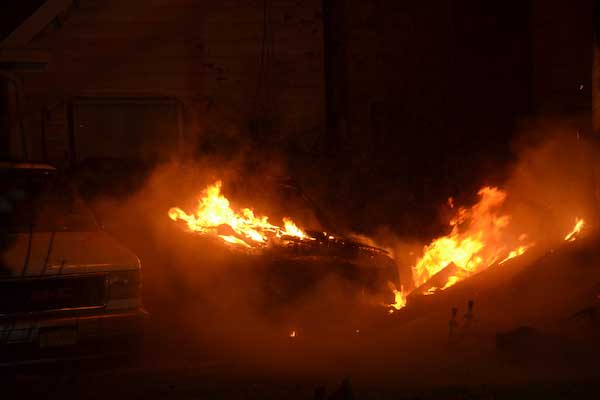 Two vehicles owned by the residents were also badly damaged by the fire.
The Red Cross is expected to help the displaced residents find short-term shelter.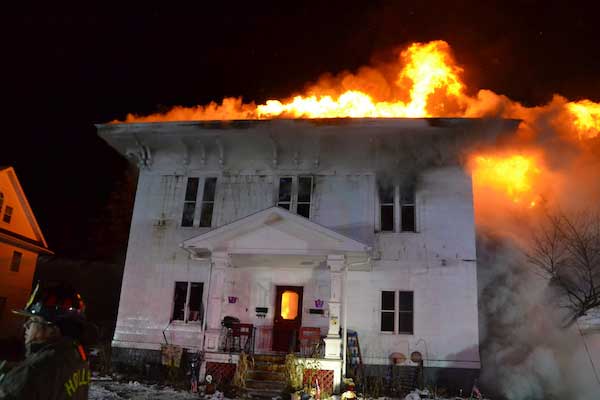 Orleans Hub has five videos from the fire.
Click here to see the first video.
Click here to see the second video.
Click here to see the third video.
Click here to see the fourth video.
Click here to see the fifth video.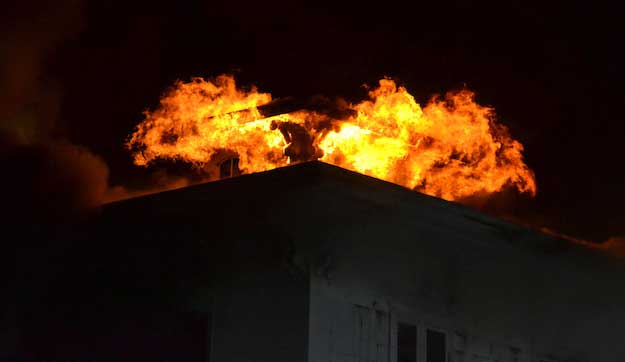 The cupola is engulfed in flames and would collapse within the building.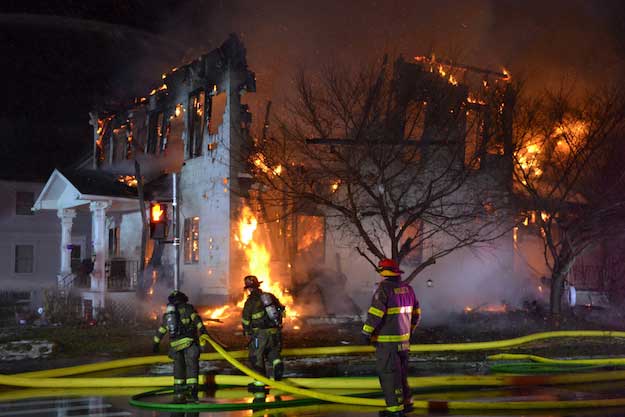 The building was breaking apart and collapsing not long after midnight.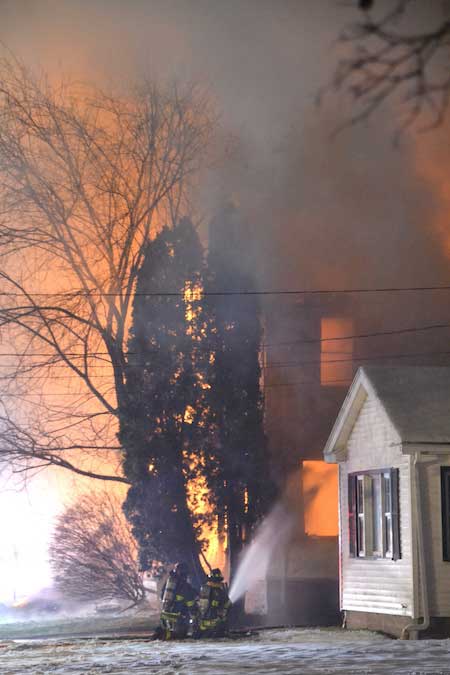 These firefighters get water on the back of the building, where a tenant said the fire started.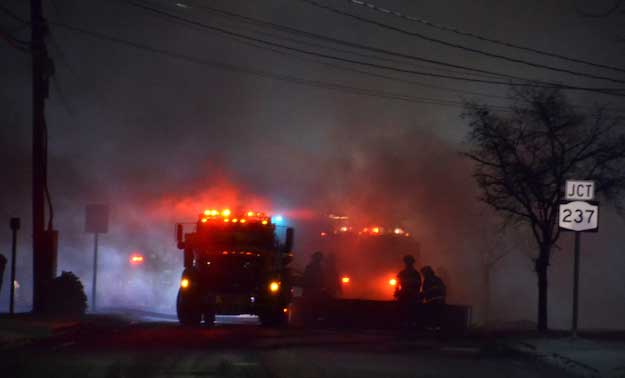 Several fire departments brought tankers full of water near the scene and folding water tanks were set up so firefighters had water to direct at the building. This photo is on Route 31, just west of the fire. A watermain break in the village cut the water flow to hydrants.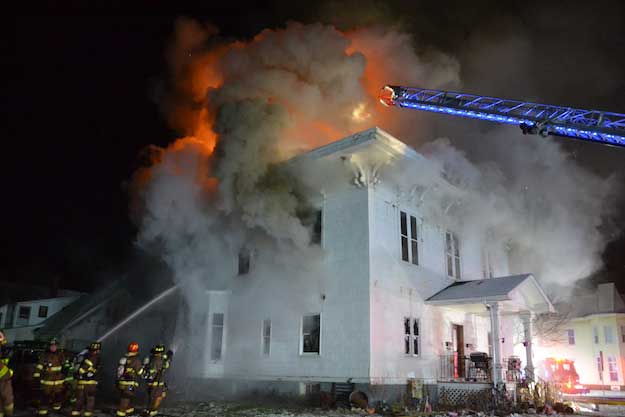 Firefighters had several hoses on the fire before the watermain break reduced the water pressure.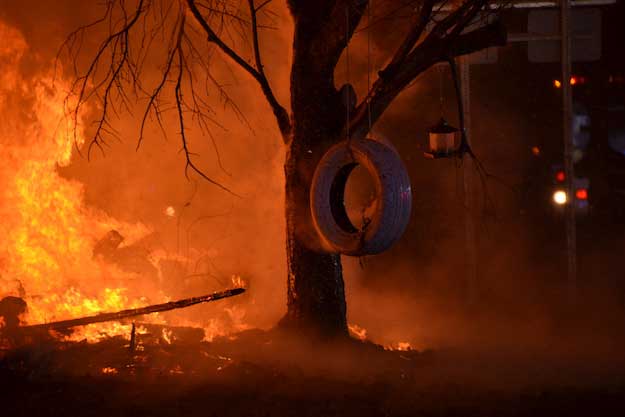 A tire swing hangs by the side of the house next to Route 31.