Fire contained to bedroom on South Main Street in Medina
Press Release, Medina Fire Department
MEDINA – At 5:10 pm on Wednesday evening while on routine patrol, police officers from the Medina Police Department noticed smoke coming from the roof at 1100 South Main St.
Orleans County Sheriff's Office dispatchers quickly alerted the Village of Medina Fire Department along with firefighters from the Shelby and Lyndonville. Crews from the 3rd and 4th Platoons arrived to find smoke coming from the second floor of a 2-story single family residence.
All five occupants were out of the house on arrival of firefighters. The family was alerted by several smoke detectors that activated as the Police Department spotted the smoke.
Fire Chief Matt Jackson arrived and was in command of the scene as crews made entry and discovered high heat and low visibility on the second floor. Crews found and extinguished the fire in a bedroom and were able to keep the fire damage contained to the room of origin. There is smoke damage throughout the second floor as well as water damage to the first story. The family is currently being assisted by the American Red Cross.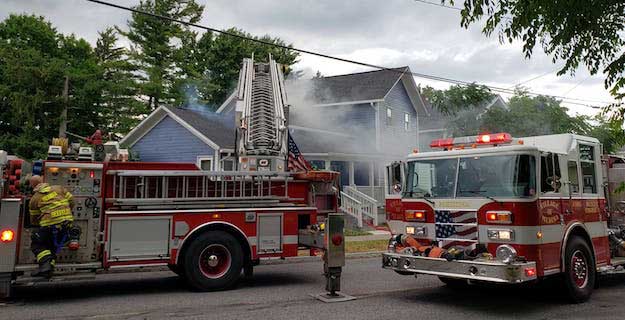 Also assisting at the scene were members from the East Shelby Fire Department along with Coordinators and Investigators from the Orleans County Emergency Management Office.
The Ridgeway Fire Department stood by at the Medina Fire house and handled a fire alarm at Medina Memorial Hospital while the units were still on scene at the South Main Street fire.
The cause of the fire is still under investigation at this time. One village firefighter received a lower body injury He was treated and released from Medina Memorial Hospital and remains off duty at this time.
We would like to thank all our Public Safety partners for their assistance and we would also like to remind everyone to please check your smoke detectors monthly to ensure they are in working order. Smoke detectors save lives!