Finished mural makes debut at Hoag Library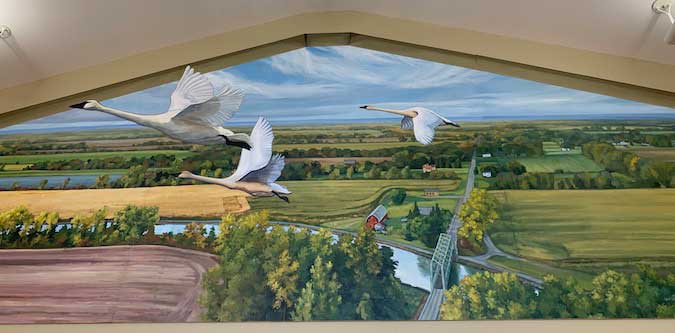 Photos by Tom Rivers
ALBION – A mural of three swans soaring over the Albion countryside was unveiled to the public for the first time today.
The mural is about 23 feet long. It is in the Curtis Room at Hoag Library. That is the main meeting room of the library, which is being used today as a polling site for a primary and special election. The library is closed to the public today except for people voting.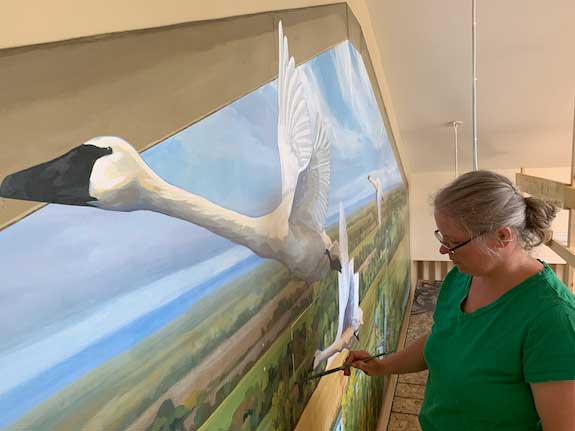 Stacey Kirby Steward, an Albion native, was up high on scaffolding in the Hoag Library on Saturday, working on the mural.
The family of the late Marion Moore paid the artist fee for the mural. Moore served as director of the Swan Library from 1961 to 1973. Albion's public library was known as Swan Library from 1900 to 2012. The new Hoag Library opened in July 2012.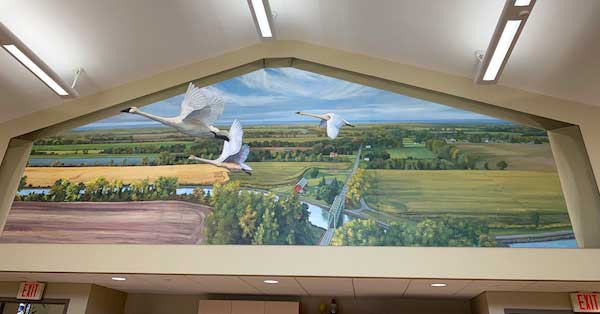 The mural shows three swans flying over the Erie Canal. The painting also highlights the farm fields, Lake Ontario and a cobblestone schoolhouse. Steward used a drone to get aerial views of Albion last fall, looking down on the area near the Gaines Basin Road canal bridge.