Finger Lakes sees drop in Covid positivity rate, hospitalizations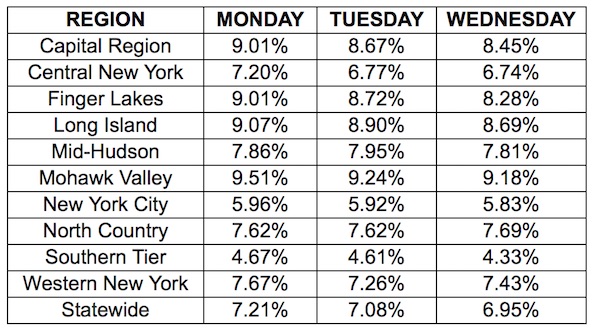 The Finger Lakes Region, which was the leading the state with the highest positivity rate and hospitalization rate, is seeing a drop in both.
The Region, which includes Orleans and eight other counties, is still above the statewide average for positive tests – 6.95 percent on Wednesday in the state compared to 8.28 percent in the Finger Lakes.
The Finger Lakes had the fourth highest percent on Wednesday, behind the 9.18 percent in the Mohawk Valley, 8.69 percent on Long Island and 8.45 percent on the Capital Region. The Finger Lakes was over 10 percent as recently as Jan. 7 when it was 10.22 percent.
Wyoming County has the highest positivity rates among the nine counties in the Finger Lakes Region in the past seven days (10.1 percent) and in the past 14 days (12.4 percent).
Positivity rate in Finger Lakes Region counties
Genesee, 8.2% last 7 days; 10.1% last 14 days
Livingston, 8.2% last 7 days; 9.6% last 14 days
Monroe, 8.1% last 7 days; 8.8% last 14 days
Ontario, 8.4% last 7 days; 9.4% last 14 days
Orleans, 9.3% last 7 days; 9.8% last 14 days
Seneca, 7.1% last 7 days; 8.5% last 14 days
Wayne, 8.0% last 7 days; 8.8% last 14 days
Wyoming, 10.1% last 7 days; 12.4% last 14 days
Yates, 9.7% last 7 days; 9.7% last 14 days
Among the 10 regions, the Finger Lakes has the fourth highest percent positive in last 7 days at 8.3 percent. That's less than the Mohawk Valley, 9.2 percent; Long Island, 8.7 percent; and the Capital Region, 8.4 percent. Western NY was at 7.4 percent. The Southern Tier is the lowest at 4.3 percent
Going back 14 days, the positivity rate in the Finger Lakes is 9.1 percent, which is lower than the Mohawk Valley, 9.8 percent; Capital Region, 9.2 percent; and the same as Long Island, 9.1 percent. Western NY is at 7.9 percent over the past 14 days and the Southern Tier, at 4.8 percent, is the lowest among the 10 regions.
Hospitalizations
The number of people hospitalized due to Covid in the Finger Lakes was 830 on Wednesday, which is down from 874 on Tuesday, 919 on Jan. 1 and a high of 964 on Dec. 28.
While hospitalizations are decreasing the Finger Lakes, they have been steadily rising statewide. The 8,929 hospitalizations on Jan. 12 was the most since 9,179 on May 5. The state reached a pandemic high with 18,825 on April 12.