Finger Lakes Region continues to have high Covid positivity, hospitalization rates
The Finger Lakes Region continues to have among the highest positivity rates for Covid-19 tests in the state, and the region also has the highest percent of Covid patients hospitalized in NY.
Gov. Andrew Cuomo provided an update on Saturday of the state's fight against the spread of Covid. The state on Friday set a new record high for Covid tests, with 258,031 results reported with 16,943 positive for a positivity rate of 6.57 percent.
The Mohawk Valley had the highest percent positive at 10.50 percent, followed by the Finger Lakes at 9.83 percent.
The nine-county Finger Lakes Region, which include Orleans County, has 887 people hospitalized with Covid, for 0.07 percent of the population, well above the state-wide percentage of 0.04 percent.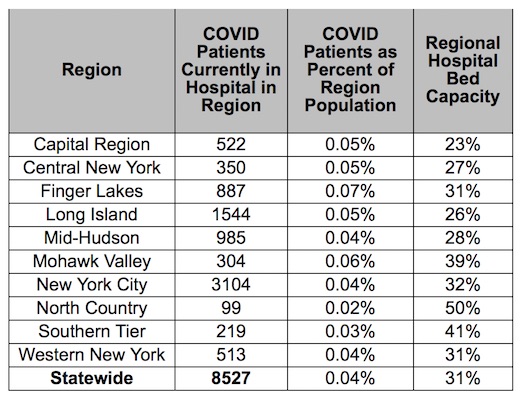 The number of people hospitalized with Covid in the state declined on Friday by 34 to 8,527. There were 188 Covid-related deaths for 31,519 confirmed Covid-related deaths in the state since March.
Cuomo on Saturday also announced three additional cases of the more contagious UK strain of the Covid-19 virus have been identified in New York. Two of the cases are connected to the initial discovery of the UK strain identified in Saratoga Springs, while a third case, unrelated to the Saratoga Springs exposures, has been traced back to an individual living in Massapequa, Nassau County.
The cases were sequenced through Department of Health's Wadsworth laboratory which has analyzed more than 2,200 viral sequences as part of the state's UK strain testing program.
"The UK strain is here, it is real, and the Usain Bolt-like speed through which it spreads is nothing short of frightening," Cuomo said. "There's no mystery as to how it got here – it got on a plane and flew here from Europe, just like the original strain did. Yet, the federal government continues to refuse to learn from the spring and mandate testing for all international travelers. Their failure to act means the rest of us need to be that much more vigilant in our work to stop the spread, as well as do all we can to accelerate the distribution of the vaccine."
The pace is increasing in administering vaccine doses of Covid-19. New York has administered 543,147 doses so far. In the first week (Dec. 14-Dec. 20) there were 33,709 doses administered, followed by 102,190 doses in the second week (Dec. 21-Dec.27), 148,165 doses in week three (Dec. 28-Jan. 3) and 259,083 doses so far in week four, which started Jan. 4.
"The good news – a new testing record has been set. The bad news – three more cases of the UK Covid strain have been found," Cuomo said. "If we are to beat Covid once and for all, we need to win the footrace between how fast the infection rate rises and how fast vaccinations are administered."