Finally Fridays concerts draw big crowd to Medina library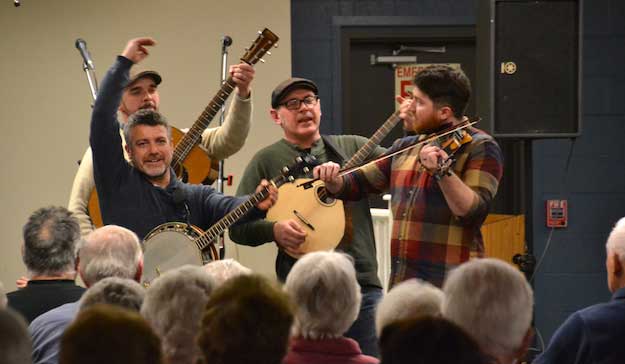 Photos by Tom Rivers
MEDINA – Crikwater, a band from South Buffalo, performed on Friday evening at Lee-Whedon Memorial Library in Medina for the Finally Fridays concert series during the winter. Finally Fridays is in its 19th season.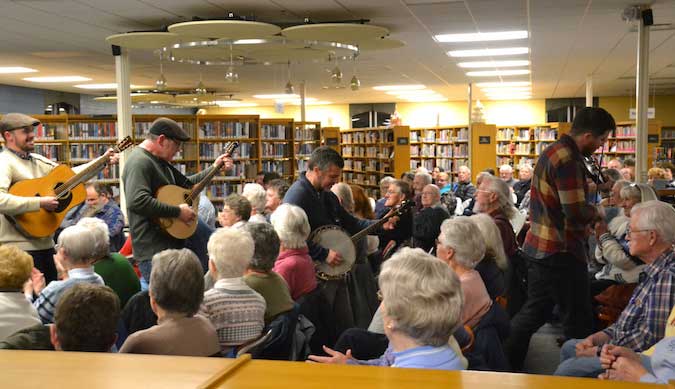 Crikwater made its debut in the series on Friday with about 200 people in the crowd. For its final song of the night, the band weaved through the crowd. Crikwater performs many Irish American traditional folk songs.
This year's Finally Fridays series started on Jan. 3 with Creek Bend Bluegrass followed by "A" Blues Band on Jan. 10.
The schedule for the rest of the season includes:
Jan. 24: A Moment in Time
Jan. 31: Outofar Trio Jug Band
Feb. 7: Serendipity Swings
Feb. 14: Mr. Mustard
Feb. 21: Lyin' Eyes Unplugged
Feb. 28: Hot Club of Buffalo
March 6: Dark Horse Run
The concerts all start at 7 p.m. and free to the public. The concerts are made possible through funding by Friends of the Library and state Council on the Arts funding through the Decentralization Program, which is administered by the Genesee-Orleans Regional Arts Council.