Fighting to save their land
Bald Eagle Marina, with help from community, tries to ward off waves
KENDALL – Bald Eagle Marina has lost more than 350 to 400 feet of beachfront property to Lake Ontario in the past two weeks.
The marina, which is working to open a restaurant and expand facilities for boaters and the community, is in survival mode from the devouring water.
"We've lost an immense amount of land," Susan Oschmann, Bald Eagle general manager, told a contingent of officials on Friday. "The docks could be next."
State Assemblyman Steve Hawley, State Sen. Robert Ortt, and representatives from U.S. Sen. Chuck Schumer and Congressman Chris Collins stopped by the marina on Friday, part of a tour of the shoreline damage in Niagara, Orleans and Monroe counties.
They were able to expedite a permit for Bald Eagle to put in a wall of rocks to help protect the docks.
The lake is nearly 2 feet above average, and has been pounding the shoreline, chewing away property.
Many southshore residents in the three counties have seen their backyards vanish.
Oschmann said the marina's neighbors have helped ward off waves. Bald Eagle and its friends placed one-ton sandbags along what used to be the start on a beach. A typical sandbag holds about 40-50 pounds of sand.
Local farmers donated large seed and fertilizer bags that hold about a ton of sand. Kludt Farms, Bob Wilson of Locust Grove Farm and others donated bags to hold the sand. Kludt was at the shoreline in the driving rain and with the crashing waves, setting the big tubs of sand in place on Friday.
Warren Kruger, the Kendall highway superintendent, is amassing photos of a chewed up shoreline.
Even residents who had breakwalls are losing land. The waves splash in the back yards and "back wash erosion" eats away the soil, Kruger said. Eventually, many of the breakwalls topple, after getting hit with water from both directions.
"Then it's open season," Kruger said about washed out stone walls.
The highway superintendent said it won't be a short-term fight. The lake hasn't crested yet and could stay high into the summer.
"This is going to be a couple month-long deal or longer," Kruger said. "We've already lost tons of property."
The town has delivered 21,000 sandbags to lakeshore property owners. Kruger said those sandbags can help preserve soil in the "splash zone."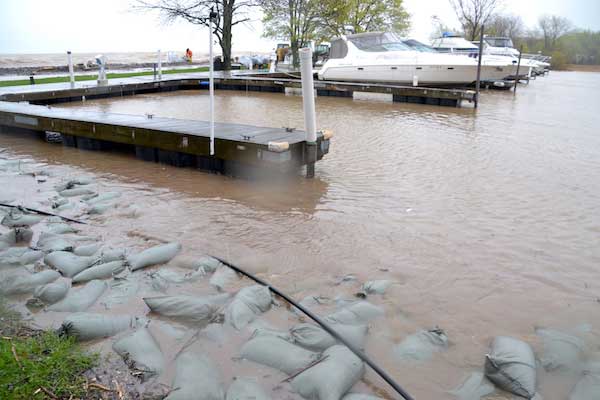 The marina has numerous sandbags in place along the edge of the water.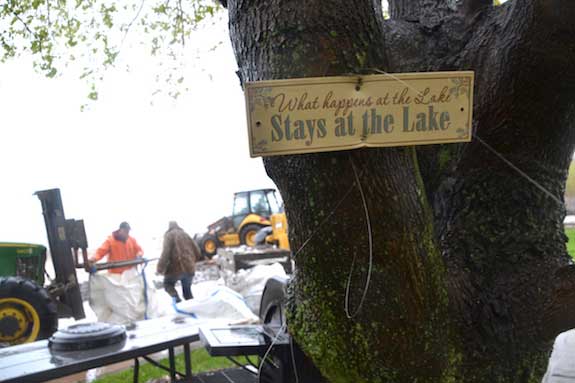 Crews worked feverishly to get larger sandbags in place in front of the marina's docks to try to preserve property.