Fifth group of dogs graduate from training program at Albion Correctional Facility
Tex is available for adoption at PAWS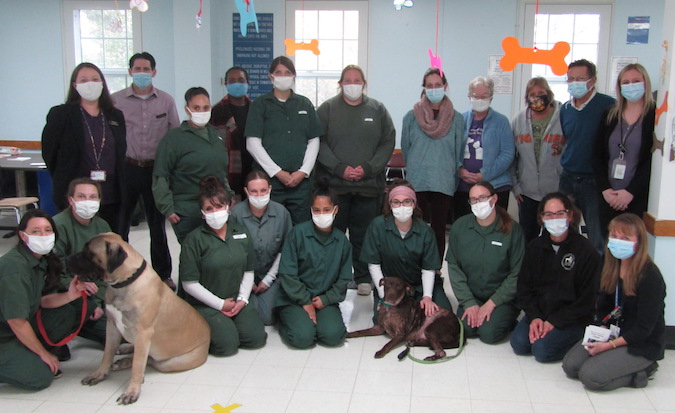 Photo and information courtesy of Albion Correctional Facility
ALBION – The Albion Correctional Facility recently celebrated their fifth canine training program graduation. Two rescue dogs from PAWS Animal Shelter, Moxie and Tex, completed the 12-week program.
Throughout the 12 weeks, two teams of three incarcerated individuals served as handlers for the dogs. A community volunteer trainer, Tom Ryan, visited the facility once or twice a week to instruct the incarcerated individuals on how to properly care for and train the dogs.
The dogs mastered a number of different training techniques and showed off their skills at graduation. Tom Ryan praised the handlers at graduation for their commitment to the dogs.
The program gives a second chance to the rescue dogs by strengthening the possibility of them getting adopted. It also provides secondary social/emotional benefits to the incarcerated individuals. It gives them an opportunity to return something positive to the community.
One of the dogs, Moxie, has already been adopted by her forever family. Tex is still waiting to find his forever home.  If you are interested in adopting Tex, applications are available at www.paws14411.com.
Since the graduation, two more dogs arrived to the facility for the handlers to work with and prepare for adoption to their forever homes.