Fiddlers pack Cobblestone Church for old-time concert
CHILDS – Doug Farley, director of the Cobblestone Museum, had one wish for Sunday's fiddlers' concert presented by the band Elderberry Jam.
That was to have standing room only, something which has never been done in the historic church, to his knowledge.
At the end of the day, Farley was smiling, the crowd was cheering and the band was promising to come back.
There were 167 people who filled the sanctuary and overflowed into the balconies to hear the band which included guitars, a banjo, hammered dulcimer, mountain dulcimer, fiddles, mandolin and bass. The eight musicians are part of the Fiddlers of the Genesee.
"I was so pleased to see the main floor completely filled and guests moving up to the balconies on each side of the church," Farley said. "It was great to see so many folks from Lockport and Brockport, too."
Farley also said the freewill offering exceeded his expectations, and he was very grateful to those who were so generous.
Members of the band were in awe of the historic church and have agreed to return to entertain during one of the Cobblestone's summer events.
Mary Hyder of Penfield learned to play the hammered dulcimer 15 years ago, she said. She already played piano, but wanted an instrument she could carry around.
Her instrument was a complete opposite of the mountain dulcimer which Mike Deniz of Fairport played.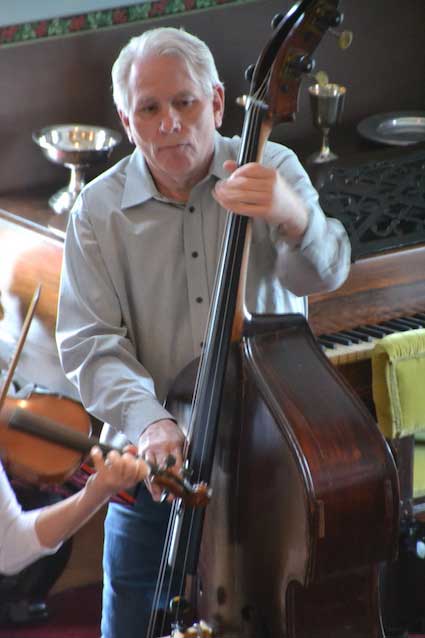 The band has a repertoire of more than 200 tunes, as members of the Fiddlers of the Genesee.
They chose a selection of 25 old-time favorites and some unheard of ones, which had the audience tapping their toes and clapping their hands. The program included traditional Irish, Scottish and American songs, jigs, waltzes, polkas and ragtime, to name a few.
Elderberry Jam gets together to play every Friday, but they still met several times to rehearse for their Cobblestone concert, said banjo player/guitarist Tom Bailey.
---
You're here checking the site, so you know: Orleans Hub is a vital resource for our community. Day in and day out, we share information and insights that matter to those who live and work in the towns, villages and hamlets of our county. Local advertisers help make the Hub possible, and so can you.

Donate today to keep Orleans Hub healthy and accessible to all. Thank you!
---