FFA in Albion, local farms deliver nearly 50,000 pounds of produce to Community Action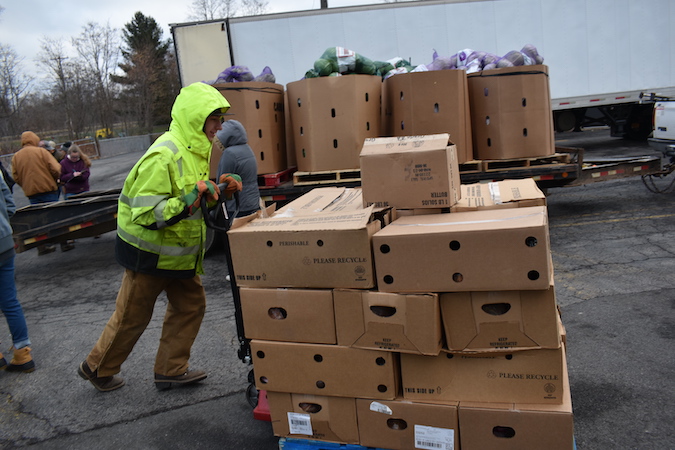 Photos by Tom Rivers
ALBION – Max Bentley, a member of the Albion FFA, moves boxes of ham that were donated by the Orleans County Farm Bureau for the Albion FFA's annual food drive.
The FFA delivered 47,236 pounds of food this morning to Community Action of Orleans and Genesee.
Community Action will share that produce with 10 local food pantries, as well as at least 200 families served by the agency for the annual holiday food boxes.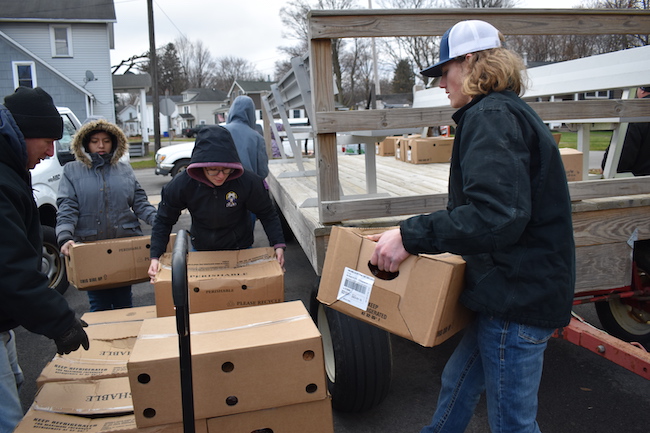 FFA members Bryce Wilson, right; FFA President Sam Basinait, second from right; Daisy Reyes, and FFA alumnus Barry Flansburg help unload the food this morning.
Basinait, a senior, has been part of the food drives since she was in sixth grade. The local chapter looks forward to working with the farm community each year to bring healthy food to people in need.
Basinait said many families feel the financial pinch during the holidays and the food will take some pressure off of them.
Scott Oldenburg, Albion FFA advisor, said the chapter has a dedicated team of leadership that made calls to local farms and organized the food drive. Two of the members, Thomas Bentley and Bryce Wilson, picked up many of the boxes from local farms.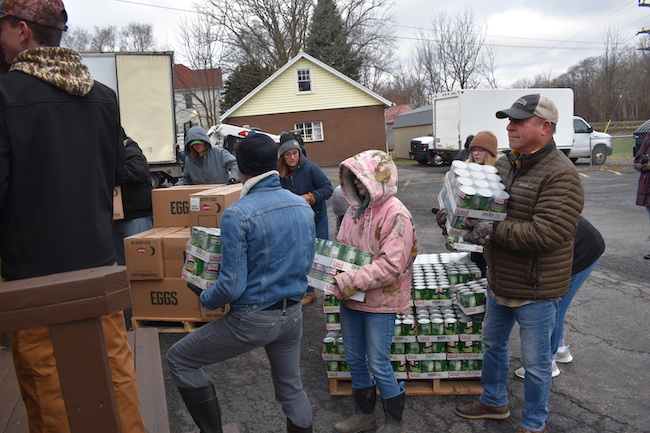 Assemblyman Steve Hawley, right, has been a reliable volunteer for many of the food drives. The FFA started the food drive in 2010 and there were 3,000 pounds the first year. In recent years, the total has consistently topped 40,000 pounds.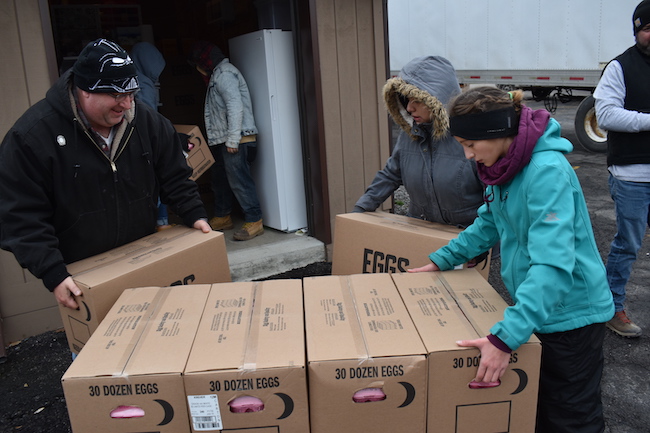 David Bertsch, parent of FFA member Natalie Bertsch, helps in lugging some of the heavy boxes of eggs donated by Kreher Farms. FFA members Daisy Reyes, center, and Adele Mathes.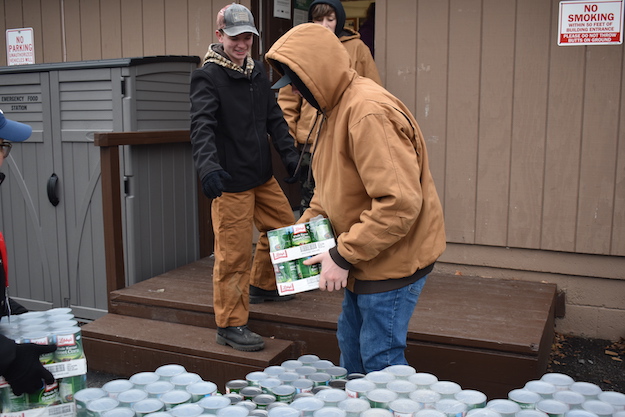 William Plummer, front, works with Oliver Beach to unload a pallet of canned vegetables.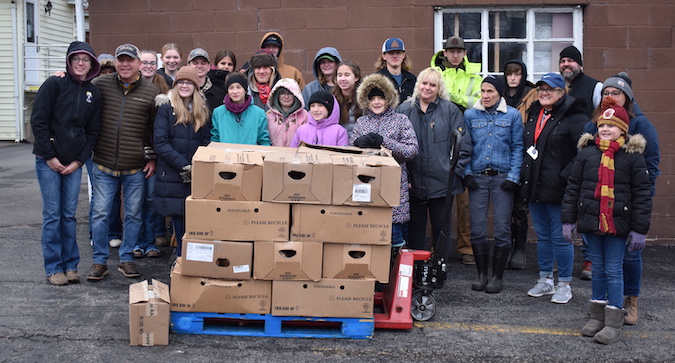 FFA members and Community Action staff and volunteers pose for a quick photo before unloading a truck and trailers of food.
The donations from local farms include:
Torrey Farms, 500 pounds of onions and potatoes
Intergrow Greenhouses, 1,600 pounds of tomatoes
My-T Acres, 3,500 pounds of cabbage and potatoes
Kludt Brothers Farm, 5,000 pounds of butternut squash
Orleans Poverty Hill Farm, 36 pounds of cheese
Starowitz Farms, 7,300 pounds of onions, potatoes, cabbage and squash
Orchard Dale Fruit Company, 5,000 pounds of apples
Kast Farms, 2,000 pounds of apples
Orleans County Farm Bureau/Save-A-Lot, 1,000 pounds of ham
Triple G Farms, 4,000 pounds of onions and potatoes
Nesbitt Farms, 4,000 pounds of apples
Lynn-Ette & Sons, 500 pounds of cabbage
Root Brothers, 4,000 pounds of cabbage
Panek Farms, 3,400 pounds of squash
Martin Farms, 3,000 pounds of squash
Kreher's, 1,350 pounds of eggs
Stymus Farms, 50 pounds of potatoes
Lake Ontario Fruit also donated boxes and plastic to wrap the boxes