Festival of Bands returns to Medina with 10 schools embracing pageantry of field bands
Mustangs have highest score on the night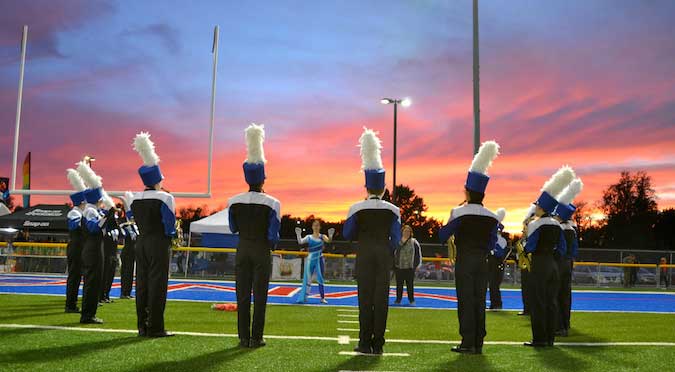 Photos by Tom Rivers
MEDINA – Anna Halpa, the drum major for the Webster High School Marching Band, practices with the band at halftime during Saturday's fall Festival of Bands at Medina.
A spectacular sunset appeared in the sky about 7:15.
Webster was one of 10 bands that performed at Veteran's Memorial Park in Medina. The bands performed for about three hours. Medina had the highest score on the night, although four of the bands were from larger schools.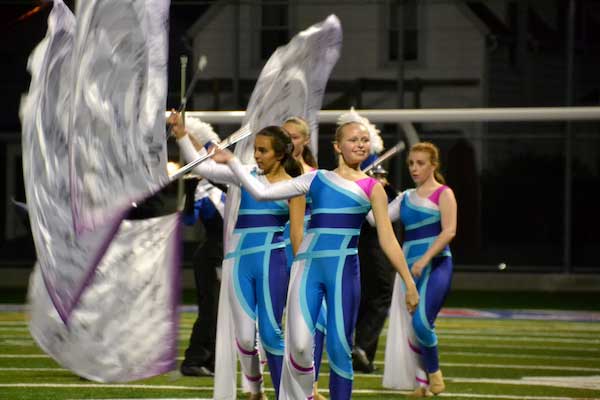 The color guard performs with the Webster band. Webster's show this year is called "Heart Strings."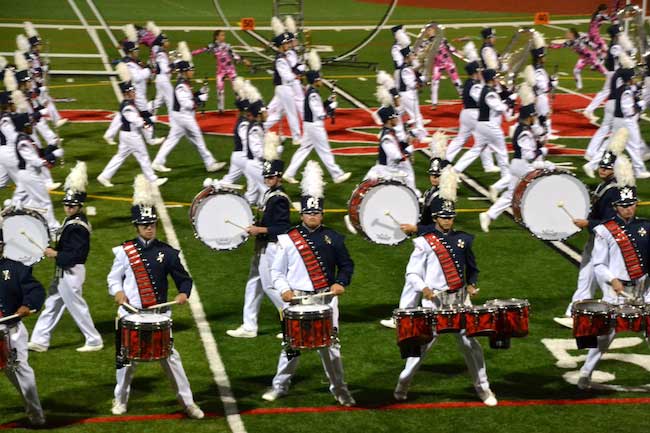 The Medina Mustang Band performs for the home crowd. Medina's show is called "Together As One." Medina had the top score at 79.30.
Here are the scores from Saturday:
Small School 3: 5th place – 60.40 – Falconer/Frewsburg; 4th place – 62.35 – Marcus Whitman; 3rd place – 63.80 – Girard; 2nd – 63.85 – Le Roy; 1st place – 65.00 – Pioneer.
Small School 1: 1st place – 79.30 – Medina.
Large School 2: 3rd place – 74.60 – Webster; 2nd place – 76.40 – Orchard Park; 1st place – 77.80 – Jamestown.
National: 1st place – 79.30 – Lancaster.
The color guard performs with the Medina Mustang Band.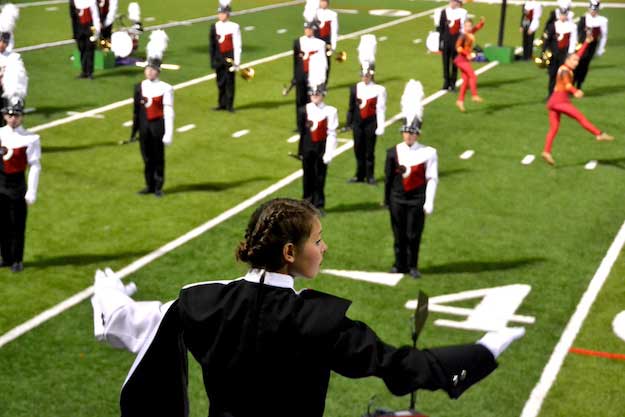 Abigail Brudz, drum major for the Lancaster High School Marching Band, leads the 102 members of the group in their performance of "Path of Totality."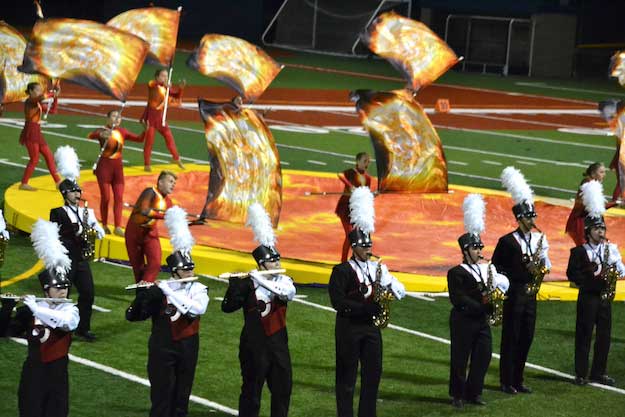 Lancaster and many of the bands had elaborate sets and choreography as part of their performance.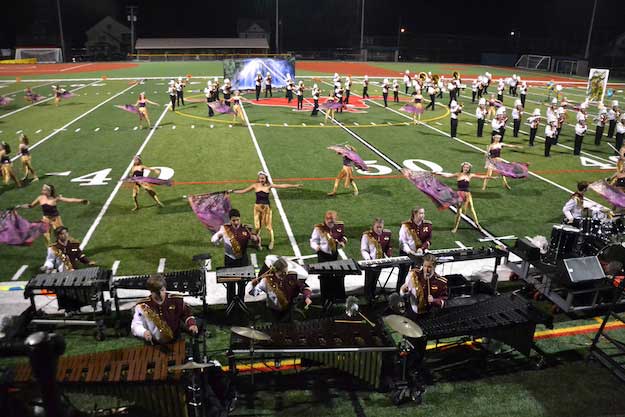 Orchard Park performed "Mother Nature" and with a message: "That all living organisms are connected on this Earth. We must take care before it is too late!"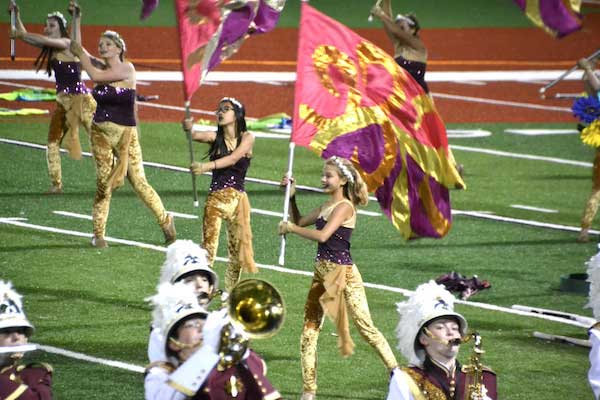 Orchard Park performs at Medina.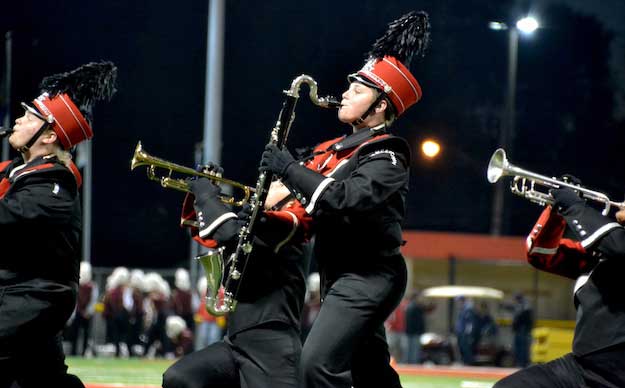 Jamestown's band performed "Canon" and won first place among the large schools.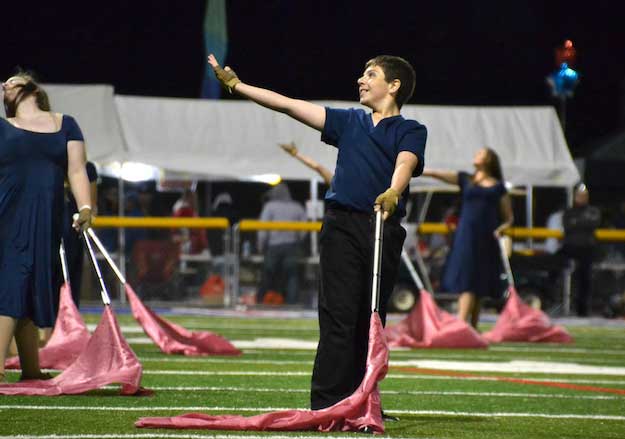 The color guard is a big part of the Jamestown band.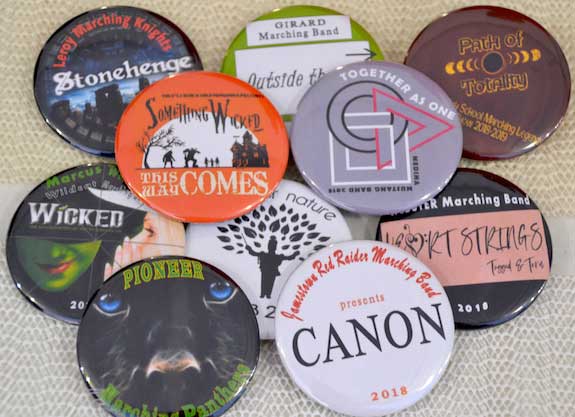 Each band had souvenir buttons for sale with the theme of the year's show.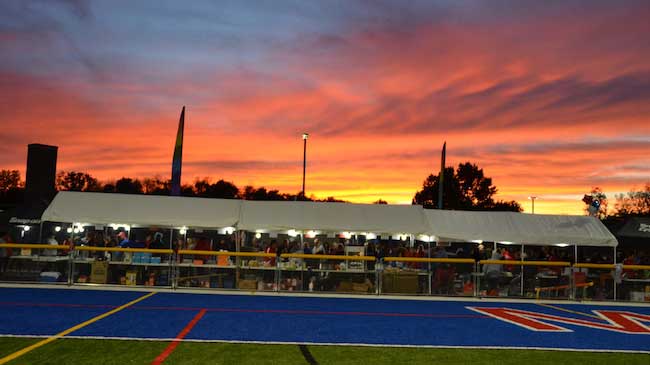 The Medina Band Booster Club sold refreshments by the field.
This is Medina's 52nd year as a marching ensemble. The season concludes with the state championships at Syracuse on Oct. 28.