Federal shutdown closes Farm Service Agency, parts of Wildlife Refuge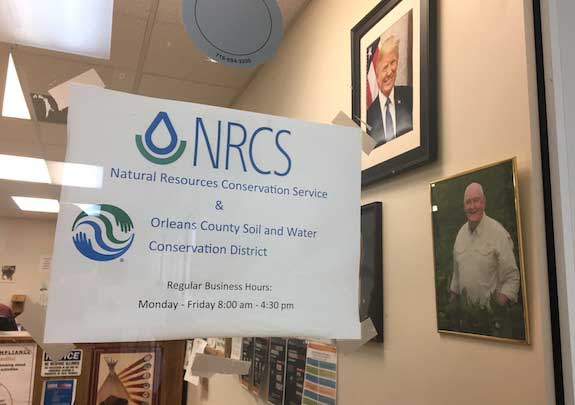 Photos by Tom Rivers
ALBION – The National Resources Conservation Service and Orleans County Soil & Water Conservation District are open today, but down the hall at 446 West Ave. the Farm Service Agency is closed due to the federal shutdown, which is now in its 17th day.
The NRCS office is shown with the portraits of President Donald Trump and Agriculture Secretary Sonny Perdue. The NRCS is picking up some of the work from the FSA. The NRCS has funding for about two more weeks if the shutdown isn't resolved.
The Iroquois Job Corps Center on Tibbits Road in Medina is open. That site is owned by the federal Department of Labor. However, the DOL contracts with a company to run the site. The employees aren't federal workers.
The Iroquois National Wildlife Center is staffed by federal employees and they aren't working right now. The offices are closed.
However, public access to the refuge remains open on lands that do not require the presence of a federal employee or contractor.
"Any entry onto Refuge System property during this period of federal government shutdown is at the visitor's sole risk," the Refuge states on its website.
The U.S. Labor Department, through the Quarterly Census of Employment and Wages, Bureau of Labor Statistics, reports that there are 78 federal employees in Orleans County who earn an average annual wage of $45,477. That is $3,559,000 in total wages for the 78 workers.