Feast is celebration of Orleans County bounty, culinary talent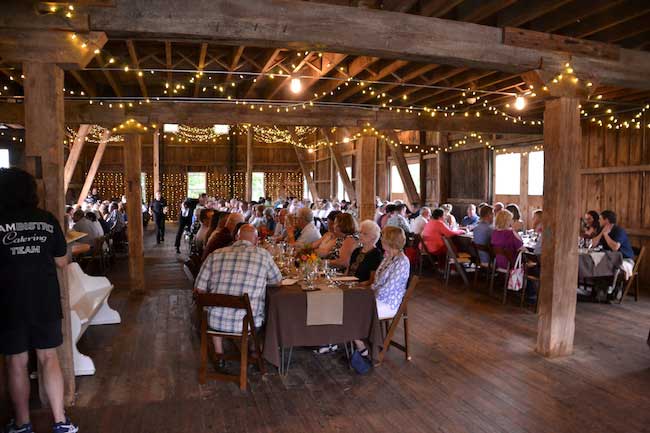 Photos by Tom Rivers
MEDINA – Two hundred people gather for dinner at The Gallagher, a barn that is an event center on North Gravel Road.
The second annual Farm-To-Table Dinner was moved from Main Street to The Gallagher due to threats of rain. The forecast proved accurate with a thunderstorm passing through the community this evening.
The dinner is a fund-raiser for the Canal Village Farmers' Market. The Orleans Renaissance Group runs the farmers' market and also organized the dinner.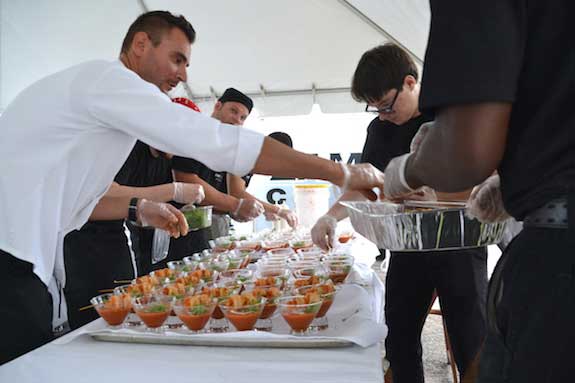 Michael Zambito of Zambistro catered the meal along with Leonel Rosario of Mariachi De Oro, Medina's popular Mexican restaurant. Here Zambito and his staff prepare the first tasting of the five-course meal – skewered shrimp with tomatoes, green onion, bell pepper, cucumber, salsa, sour cream, and micro cilantro.
Zambistro catered the first Farm-To-Table a year ago when Main Street was blocked off. The ORG had 100 tickets available but expanded it to 137 due to demand. This year, the event was expanded to 200 tickets and quickly sold out at $100 a ticket.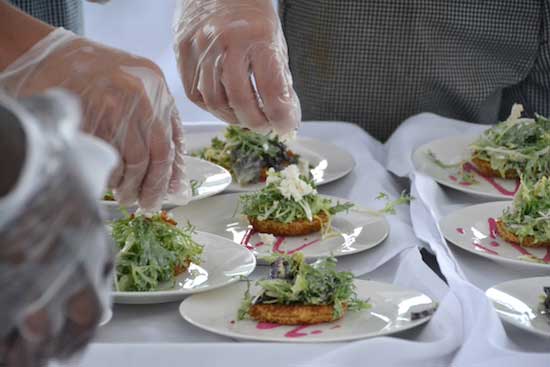 A Zambistro employee puts the finishing touch of crumbly goat cheese on a fried green tomato, which included roasted beet aioli, crispy bacon, and field greens.
The ingredients for the meals came from local farms, including many vendors from the farmers' market.
The meal was also served with locally produced wine from Schwenk Wine Cellars, Schulz Vineyards and Leonard Oakes Estate Winery, beer from RG Brewery, and mead from 810 Meadworks.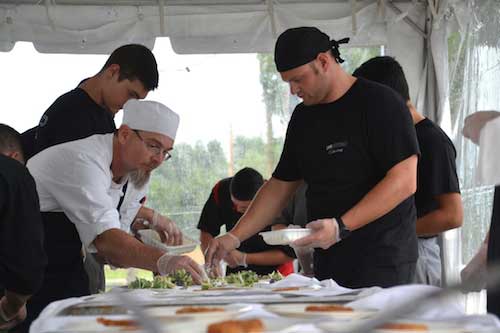 Zambistro staff work on course one of the meal. They include sous chef Eric Richmond, left, and Mark Zambito, Michael Zambito's brother who was volunteering at the event. Zambistro had 20 staff working on the meal.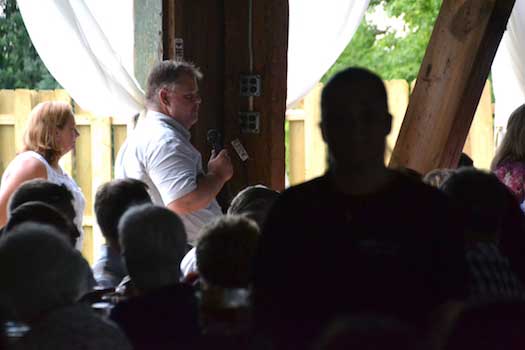 Chris Busch, president of ORG, welcomes the crowd to The Gallagher and thanked Jenna and Martin Bruning, owners of the site, for making it available for the dinner. Busch said the Brunings "are young visionary entrepreneurs" who have created an "incredible venue" for the community. Since the barn opened about a year ago as an event center, it has hosted 20 weddings.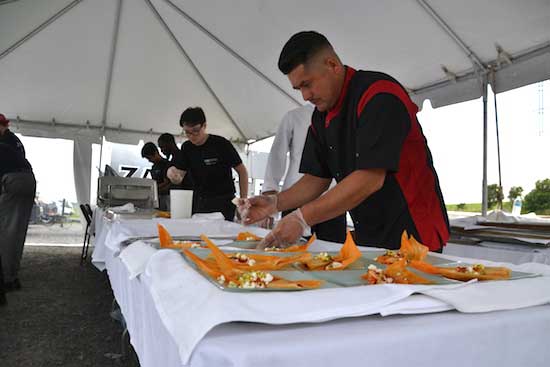 Leonel Rosario, chef at Mariachi De Oro, prepares plate of pork tamales. Rosario and Mariachi De Oro cooked the tamales, and the brisket for the main meal. Leonel's wife also shared the recipe for the honey flan that Rosario and Zambito made together. The two restaurant owners are friends and often have meals at each other's establishments.
"We have different restaurants and cultures coming together," Zambito said. "This dinner is a platform to showcase Orleans County talent. The wineries, breweries, the mead and the harvest – the majority came right from here."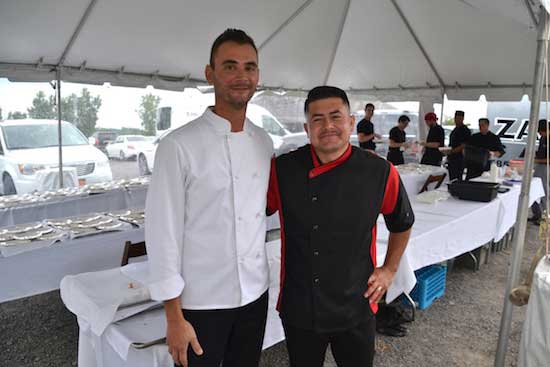 Michael Zambito and Leonel Rosario worked together to prepare the food for the dinner.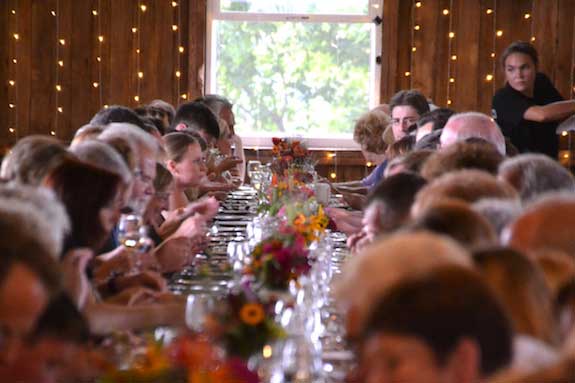 The diners enjoy a five-course meal and lots of conversation inside The Gallagher.