Father, son injured when concrete porch collapses in Holley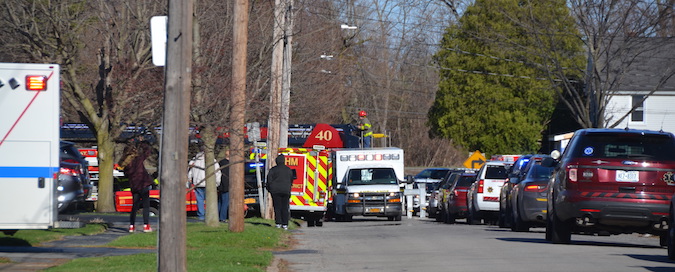 Photos by Tom Rivers
HOLLEY – The ladder truck for the Murray Fire District is used to carry a man in a stokes basket at 7 East Union St. He was badly injured when the concrete floor on his porch broke, and he and his son fell about 10 feet at 4:30 p.m.
The son suffered at least a broken ankle in the fall. His father suffered more serious injuries. He was trapped under a heavy chunk of concrete for about a half hour, said Harris Reed, chief of the Murray Joint Fire District.
Three firefighters were able to move the concrete piece off the father. Reed estimated the concrete weighed 1,000 pounds.
Murray and Clarendon firefighters used a rope rescue, putting the father in a stokes basket and lifting him out of the small room under the front steps.
He was taken by Mercy Flight to Strong Memorial Hospital. His son was taken by ambulance to Strong.
Long-time firefighters said they had never seen such an incident, with the concrete floor of a porch cracking, and collapsing below with a person trapped.
No additional information is available.