Father and daughter celebrate 40 years of Art Hill Excavating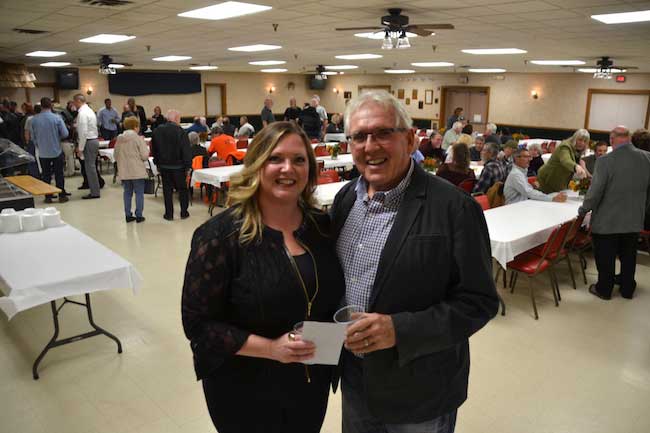 Photos by Tom Rivers
RIDGEWAY – Jennifer Hill-Young and her father Art Hill are pictured on Saturday evening at the Ridgeway Volunteer Fire Company. They threw a party to celebration 40 years of Art Hill Excavating.
The bash was attended by long-time customers, vendors and employees. Hill and his daughter wanted to express their appreciation for the people who have made the business a success for four decades.
"This is a celebration to thank everybody," said Hill-Young.
Art Hill was 33 when he started the business. It has diversified and grown to 14 employees. Art Hill specializes in excavation for residential and commercial properties. The company also does blacktop and paving, demolition, landscaping and other services, including storage units.
"It seems like the time has just flown by," Mr. Hill said. "It's been quite a ride."
Mr. Hill's daughter joined the business nine years ago after working a corporate job in Charlotte, NC. Hill-Young wanted to work in her hometown with her father.
"I told her she would be a woman in a man's world," Hill recalled. "She told me, 'I can do this.'"
Hill-Young has impressed her father, the employees and customers.
"She has brought a total coordination of the company, from bookkeeping to scheduling of clients," Hill said.
Jennifer Hill-Young is now the business's owner. Art Hill Excavating is a certified Women Business Enterprise.
Art Hill is now his daughter's employee. Art is still the first one to arrive at work, and he enjoys operating a bulldozer and managing crews, Hill-Young said.
"He still guides us," his daughter said.
Art said many of the workers have been with the business for 30 years or more. Their dedication and talent has been critical in Art Hill Excavating's success.
"We have many long-term dedicated employees," Art Hill said. "I love them all."