Farmworkers praised for 'outstanding achievement in English'
6 celebrated for earning American citizenship in program through BOCES, World Life Institute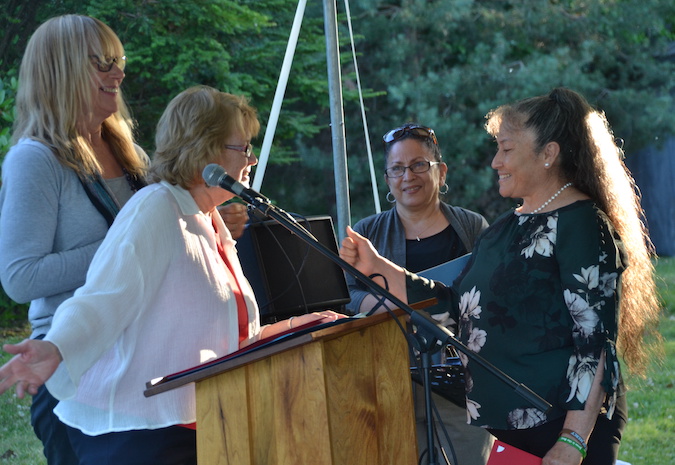 Photos by Tom Rivers
WATERPORT – Natalia Torres, right, is congratulated for earning her American citizenship. She was part of a recognition ceremony on Tuesday evening at the World Life Institute on Stillwater Road.
Torres is congratulated by WLI director Dr. Linda Redfield Shakoor, and ESL teachers Monica Beck, back left, and Malvy Rivera.
Six WLI students in the past year earned their American citizenship including Torres, Carina Diaz, Paula Hernandez, Damaris Olivaras, Silvia Rosario and Alejandro Marmelojo.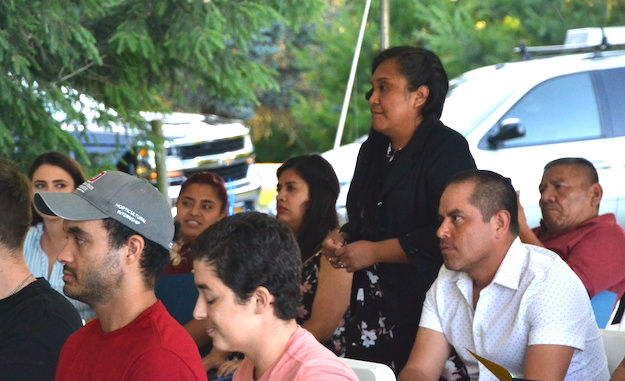 Carina Diaz walks up to be recognized as a new American citizen. WLI has now had 40 students earn their citizenship in the past two decades in a preparation program run through the Orleans/Niagara BOCES.
The citizenship ceremonies used to be held in the federal courthouse in Buffalo but they have been cancelled at that location since Covid-19. WLI leaders wanted to recognize the new citizens during the recognition program on Tuesday.
All of WLI students who have taken the citizenship test have passed. No one has ever failed from the program, Redfield said.
"It's your hard work," she told the students. "We're just guiding you."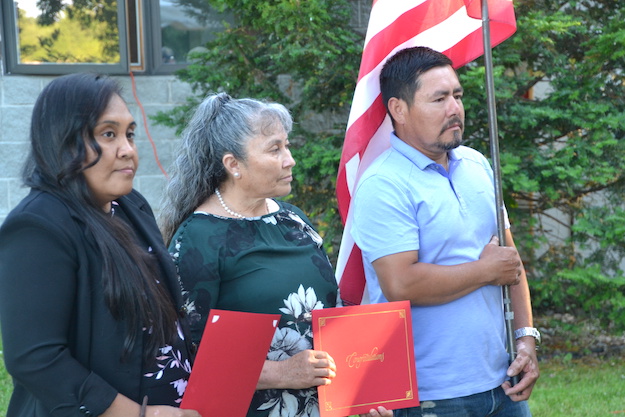 The new citizens – Carina Diaz and Natalia Torres – are recognized while Martin Rosario, an American citizen, serves as the flag bearer and holds the American flag.
The group recited the pledge of allegiance and sang, "America the Beautiful."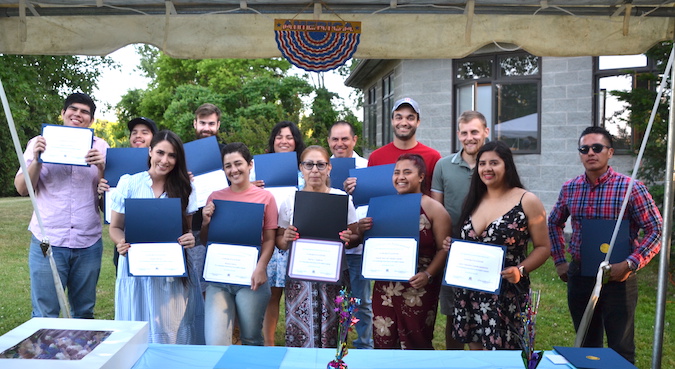 World Life Institute and O/N BOCES also presented certificates for "outstanding achievement in English" to students. Most of the students work at local farms and other agricultural businesses. The students recognized on Tuesday are from Brazil, Colombia, Ecuador, Italy and Mexico.
The students were praised for spending about 15 to 20 hours a week learning English while juggling full-time jobs and often young families.
"How they fit it all in is beyond me," said Deborah Wilson, one of the teachers in the program. "The students are so awesome to keep progressing every year."
Many of the students have been in the program for several years. Wilson said many couldn't read or write in English and have advanced to a high school level after a few years.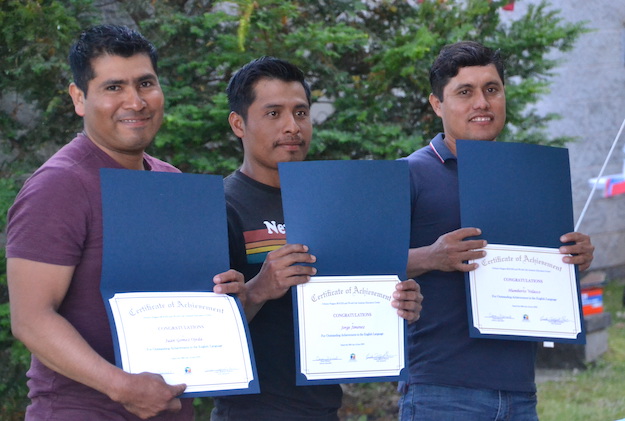 This trio – Juan Gomez-Ojeda, Jorge Jimenez and Humberto Velasco – was recognized for their achievement in English. The WLI runs several classes at the school. The program draws students from Waterport, Albion, Barker, Oakfield, Batavia and Elba.
Dr. Clark Godshall, BOCES superintendent, commended the group for their commitment to learning. He said "it's a continuing journey" to keep gaining skills.
"I am most proud of you," he told the students.
Susan Diemert, a BOCES literacy specialist, has been with the program for more than 20 years. She praised Redfield and the WLI staff for their dedication to the students. Diemert encouraged the group to consider other programs at BOCES, including nursing and any of the building trades.
"It could help you move along in a different direction in life if you so choose," she said.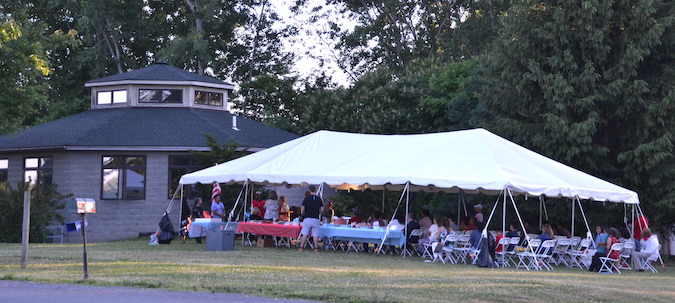 The students and new citizens were recognized in an outdoor ceremony next to the school on Stillwater Road. The WLI built the school in 1997. Besides ESL classes, the school hosts art and pottery programs for its students.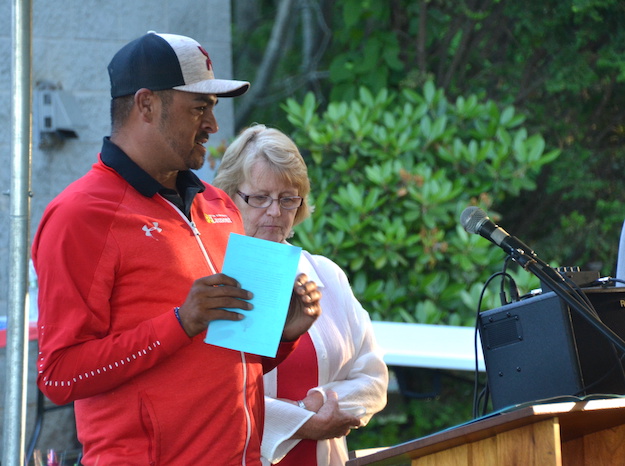 Jose Iniguez addresses the students and new citizens. He started as an apple picker at age 15. He remembers back in 1994 when Redfield would come to a labor camp on Densmore Road in Albion, teaching English. Iniguez took her classes, and eventually became an American citizen. He now is co-owner of a large apple farm based on Stillwater Road.
Iniguez, 47, urged the students to keep pushing themselves in advancing their English skills. He encouraged them to follow their dream. For him, the dream has been to be a farmer growing apples.
"Please keep doing this," he said about taking the English classes. "Don't stop."