Farmworkers praised for commitment to English classes during pandemic
WATERPORT – In March 2020, the World Life Institute had to cease in-person classes for about 40 farmworkers who were studying English. Some were also preparing for the test to become naturalized American citizens.
The WLI did what many local schools did. They distributed laptops to students and conducted classes as groups and one-on-one through Zoom video conferencing and the telephone.
On Tuesday, the WLI held a recognition program for the students, praising their commitment to keep up with course work despite the stress and sometime technological challenges.
"The amount of learning you did in the past 15 months is unbelievable," Deborah Wilson, one of the program teachers, told the students.
Internet access was an issue for some students so WLI created packets for those students with two weeks of work.
Wilson said the Zoom option actually worked better for some students, who didn't need to find transportation to the WLI education center on Stillwater Road or arrange for childcare.
WLI returned to in-person lessons in January and February. Wilson said she is hopeful the Zoom option will remain into the future as well.
"Sometimes we buck the trend," she said. "Distance learning didn't work at many schools. But here it worked better for many of our students."
Some of the students used Skype for English lessons while they were on break in an apple orchard, Wilson said.
"There were some silver linings in this," she said about the changes necessitated by the pandemic. "There are a lot of different ways to present material."
The program is one of 16 adult education and literacy programs through the Orleans-Niagara BOCES.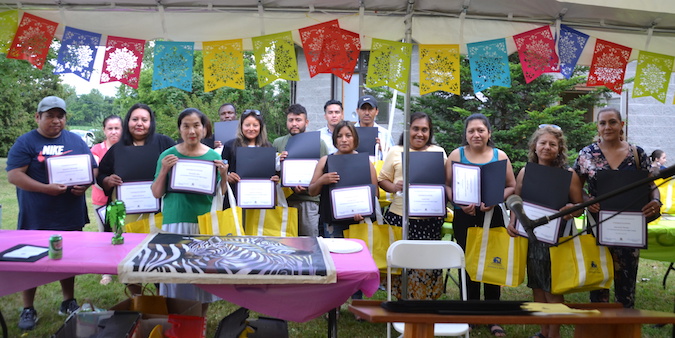 Some of the students who were recognized on Tuesday gather for a group photo. The program draws students from Waterport, Albion, Barker, Oakfield, Batavia and Elba.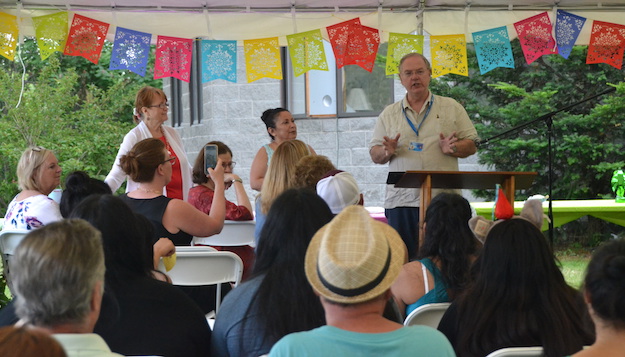 Dr. Clark Godshall, BOCES superintendent, attended the graduation and commended the students for their commitment to their education and for being role models for their children.
"This program is successful due to the quality staff with their consistency and dedication," Godshall said.
He also praised the students' families and friends for supporting the students in improving their English, especially after long days of working at their jobs.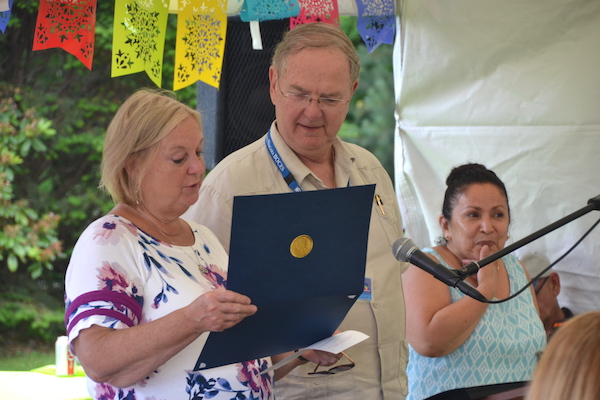 Susan Diemert, a BOCES literacy specialist, presents a certification of appreciation to Godshall for his support of the program. BOCES recently paid for air conditioning for the WLI education center.
Malvy Rivera, right, is one of the program's teachers.
Other teachers include Dr. Linda Redfield Shakoor, Monica Beck, Harris Lieberman, Gejlana Carter and Deborah Wilson.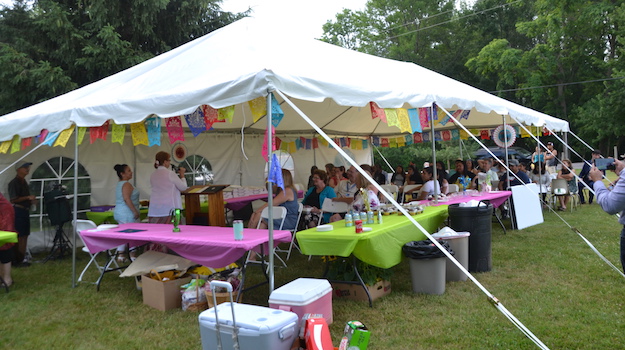 The program was held under this tent on Tuesday in case it rained and to provide some refuge from the intense heat.