Farmers' Market in Medina will go into winter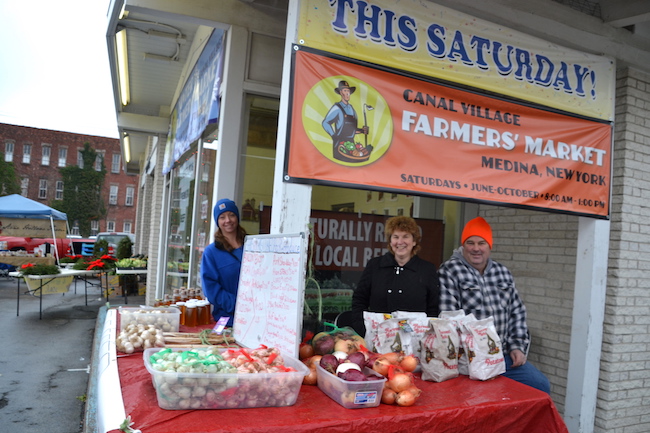 Photos by Tom Rivers
MEDINA – Ken and Rose Baker from Baker Farms in Medina, right, are pictured on Saturday with Kari Kasmier, a  beekeeper who sells honey.
The Canal Village Farmers' Market expected to call it a season at the end of October. But many vendors still have vegetables, beef, honey and other products from the farm.
So the farmers' market is staying open on Saturdays from 9 a.m. until 1 p.m. for the foreseeable future. That's good news for the vendors who appreciate the extended season.
"This is the only one that I know of that is staying open in the winter," said vendor Jo Marie Human of Human Farms and Greenhouses in Appleton.
She was selling wreaths, potatoes, winter squash, cauliflower, Brussels sprouts, cabbage and other vegetables n Saturday.
"We'll keep coming until it freezes," she said.
The farmers' market is at the old Bank of America drive-thru and parking lot, across from the Post Office on West Center Street. SK Herefords is selling beef products inside the former bank building.
Dawn Keppler of SK said the farm will be at the market every Saturday during the winter except for the month of January.
The market had at least five vendors each Saturday in November. This Saturday will include one new one: Nice Farms from Knowlesville.
Ken Baker of Medina is happy the market is staying open.
"We want to keep up our customer base," said Baker, who had bacon, eggs, garlic, garlic powder and other products for sale on Saturday.