Farmers Hall at Cobblestone Museum gets new foundation, other work
Building was Kendall Town Hall, moved to museum in '78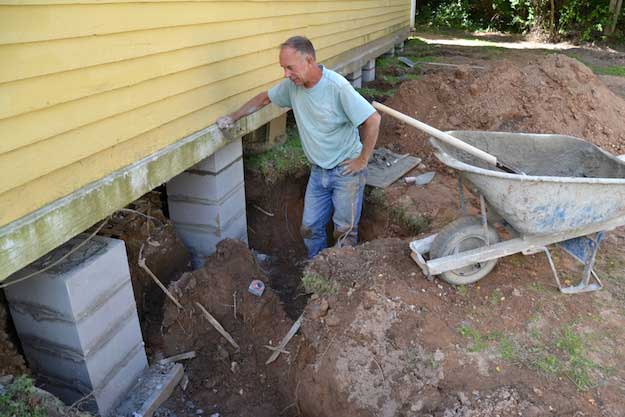 Photos by Tom Rivers
GAINES – Kevin Breiner, a mason from Brockport, works on one of 14 new concrete piers underneath Farmers Hall at the Cobblestone Museum.
The building was previously the Kendall Town Hall. It was taken apart and reassembled in 1978 at the Cobblestone Museum on Route 98, just south of Route 104.
A $12,000 grant from the Elizabeth Dye Curtis Foundation in Orleans County is paying for the work on the foundation, and also for collar ties to firm up the rafters.
The building was sagging. The additional foundation support will stop that, and the turnbuckles will keep the building from spreading apart.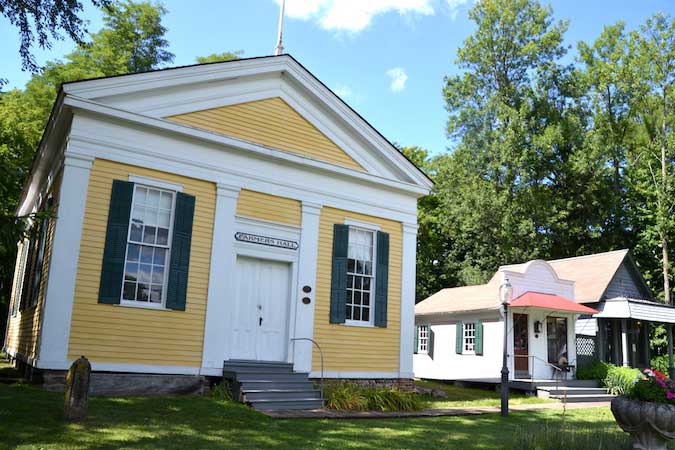 The Farmers Hall is among a row of buildings at the Route 98 section of the museum that includes several relocated structures, including a harness shop, print shop and several outhouses.
Farmers Hall was originally constructed in 1855, and served as a Universalist Church for several decades. In the 1870s, the German Lutherans became owners of the building and used it for services. It later became Kendall's Town Hall.
The building now functions as an exhibition hall for 19th and early 20th century farming implements.
The museum was recently notified it has been awarded a $17,810 grant from the Rochester Area Community Foundation for more preservation/restoration work at Farmers Hall.
The grant will pay for new gutters for the building and for repainting the trim.
This grant brings the total funding received from RACF in the past three years to about $62,000. The Rochester Area Community Foundation previously gave a grant for $23,000 that went towards restoring windows and some repointing on the Cobblestone Church, as well as work on the next-door Ward House, which was built around 1840. The stairs on the house had been crumbling and were fixed with the grant funds.
A grant for $21,000 last year focused on the schoolhouse from 1849, paying for a new roof, repairing masonry and a fresh paint on the window trim and soffits near the roof.