Farmer to Neighbor Night brings together the ag community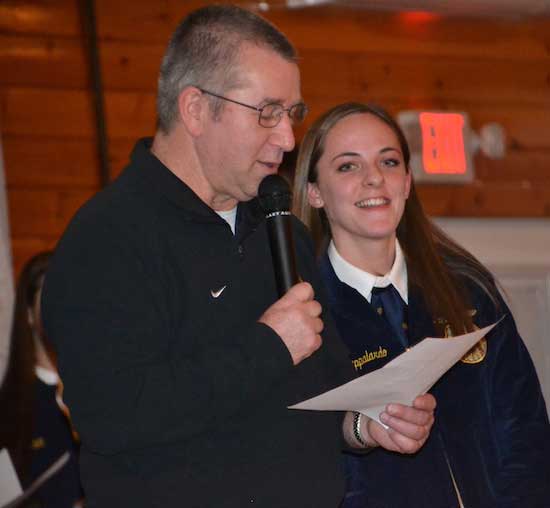 Photos by Tom Rivers
LYNDONVILLE – The 21st annual Orleans County Farmer to Neighbor Night was Saturday at the White Birch Golf Course and brought together about 150 members of the farming community.
The Albion FFA is one of the organizers of the event. The top photo shows emcee Barry Flansburg, president of the Albion FFA Alumni, and Abbie Pappalardo, a current member of the FFA. She said she enjoys making friends through the FFA.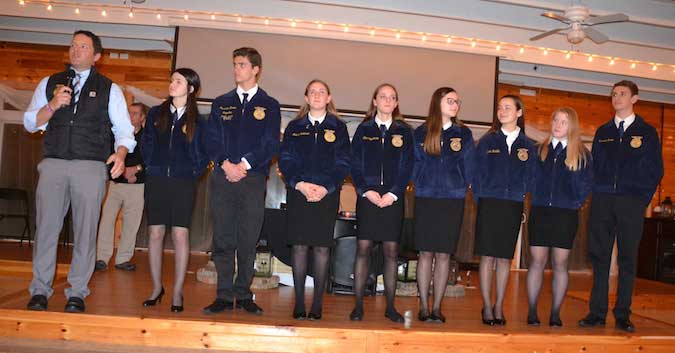 Adam Krenning, the Albion FFA advisor and agriculture teacher, thanks the crowd for supporting the FFA program. He said many local farms and organizations back the FFA throughout the year. He is joined by, from left: FFA President Bailey Nesbitt, Harrison Brown, Melissa Robinson, Abbie Pappalardo, Bryne Dysard, Faith Woody, Kendall Derisley and Jeffrey Brown.
The Farmer to Neighbor Night celebrates the county's leading industry. Agriculture generates more than $100 million in sales to the farms, and that doesn't count the spinoff economic impact with tractor dealerships, veterinarians and other businesses.
The event is sponsored by Orleans County Cornell Cooperative Extension, Farm Bureau, Soil & Water Conservation District, Chamber of Commerce and Albion FFA Alumni.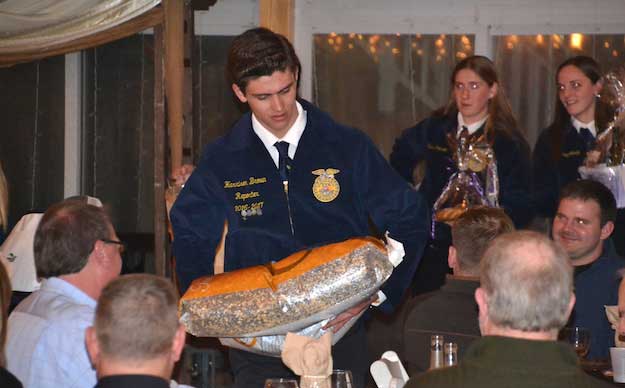 Harrison Brown, an FFA member, delivers one of the items that was up for bid. It was purchased by Tim Winters, CEO of Western New York Energy in Medina. An auction raised money to support the FFA program.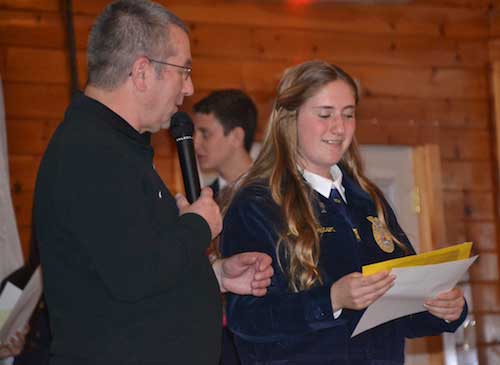 Melissa Robinson is introduced to the crowd. She said she enjoys meeting people through FFA and pushing herself in many of the FFA competitions.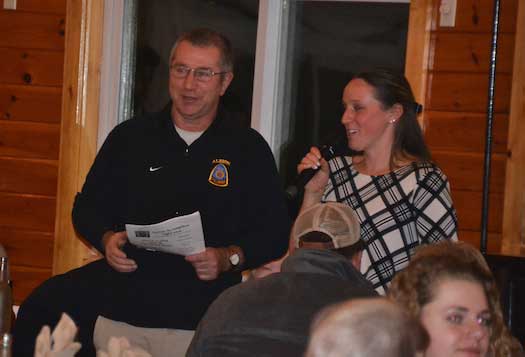 Barry Flansburg chats with Paige Levandowski, a former Albion FFA member who was vice president of the FFA in New York. Levandowski now works as a middle school teacher in Albion and helps with the FFA program at her alma mater.