Farm and artisan market opens on Main Street in Lyndonville
Market will be open Fridays through October at former Pennysaver site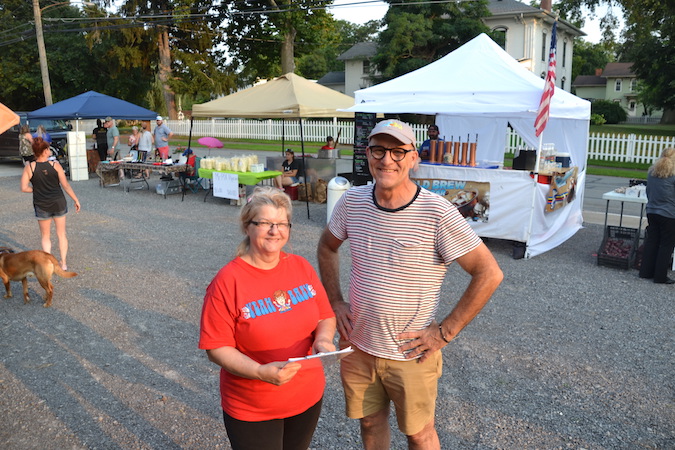 Photos by Tom Rivers
LYNDONVILLE – Friday was opening day for the new Lyndonville Farm & Artisan Market on South Main Street at the site of the former Pennysaver buiding, which was demolished in March after the roof collapsed due to heavy snow and ice on Feb. 22.
Robert Smith, right, is owner of the property and Deborah Loke, left, is the market manager. She also will be a vendor selling products made with laser-cut wood.
"We want Lyndonville to be a destination and not a pass-through," Loke said.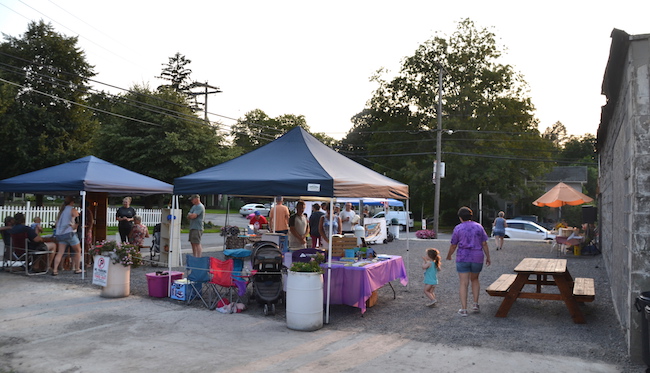 There were seven vendors for opening day of the market, which was from 4 to 8 p.m. There are three more vendors signed up and more are welcome, Loke said.
Smith said the loss of the Pennysaver building prompted him to look for other ways to utilize the site. A farmers and artisan market emerged as a great fit for the community, he said. There is room for 18 vendor booths in 10 by 10-foot locations, with space for three food trucks on the east end of the lot.
"It's created a different set of opportunities," Smith said at the market on Friday evening.
He would like to see an outdoor café with the space as well. He is renovating two buildings next door and is hopeful one of those buildings will be a café with "grab-and-go breakfasts."
The Webber Building, which is two doors down, is being renovated into retail space on the first floor and hotel rooms upstairs. Work starts Monday to put in the air-conditioning and heating system, with electric starting in September, and then the insulation and drywall. Smith expects that site to open the first quarter of 2022.
There is interest in the two buildings, Smith said, including from an insurance agent and for a collaborative kitchen with demonstrations.
He is pleased with the variety of the vendors at the new market, with coffee and other beverages, produce, books, pizza, kettle corn and an array of artisan creations.
He sees the market serving the Lyndonville community and also tapping into the group headed to the lake on Friday.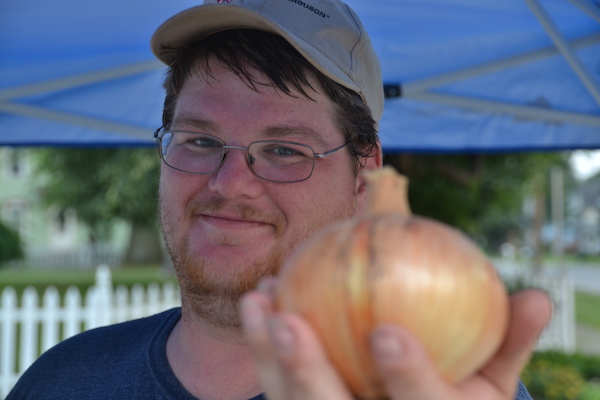 James Roberts, owner of Big Bulbs Garlic & Produce Farm in Medina, holds an onion he was selling Friday. Roberts, 36, was making his farm market debut. He has also sold his onions, garlic and other produce at flea markets.
He was pleased with the crowd on Friday. There were about 100 people who stopped by.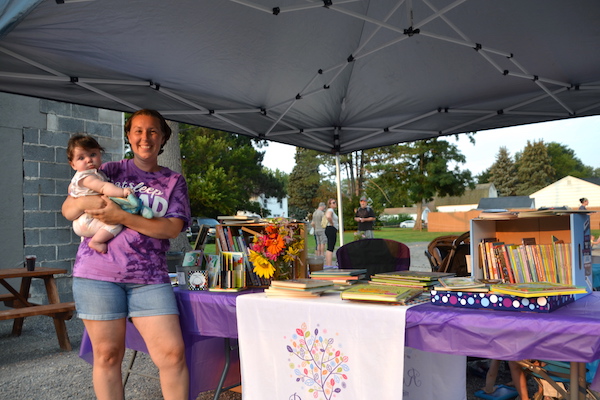 Katherine Diegelman of Lyndonville holds her daughter Willa. Diegelman sells products through Usborne Books & More. She sells books for children from birth through the teen years.
"I've done pretty well tonight," she said about the sales at the market. "I like to do events that are local and get these awesome books into homes."