Family of Steven Sills presented 'Honor and Remember' flag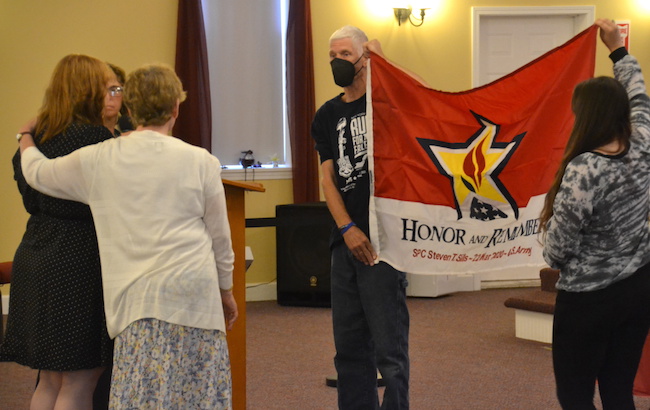 Photos by Tom Rivers
MEDINA – Brenda Sills and her daughter Laura are presented with an "Honor and Remember" flag on Saturday during a ceremony at Alabama Full Gospel Church in Shelby. The flag is in honor of Steven Sills, who passed away at age 50 on March 23, 2020. Sills served with the U.S Army, 82nd Airborne Division and served a tour of duty in Iraq during Desert Storm.
The flag on Saturday was presented by Kristi Mangine, assistant director of the Honor and Remember chapter in New York State. Dan Criswell of Lockport, left, is holding the flag. His late son Daniel Criswell served as Army Ranger and also was friends with Sills. The Honor and Remember organization previously presented the Criswell family with a flag. Dan Criswell made the Sills' family aware of the organization that seeks to honor soldiers who died in the line of duty or whose death is a result of their military service.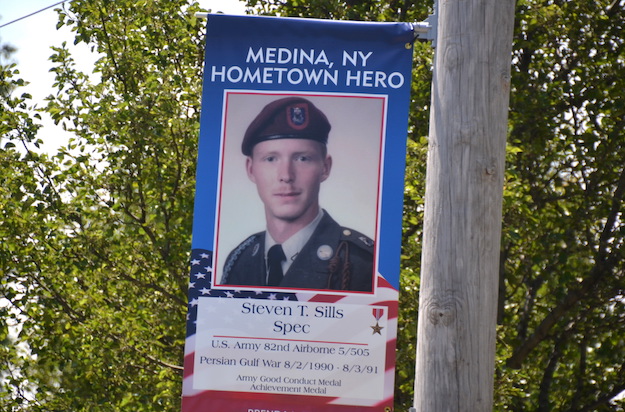 Steven Sills is honored in one of the hometown heroes banners in Medina. His portrait is shown on a banner on South Main Street, near Butts Park.
Sills is a 1987 Lyndonville graduate. After the Army, he earned two degrees at Fordham University in NYC.
Sills was known for a good heart and inquisitive mind. He was actively involved with WNY Mobile Overdose Prevention Services and Orleans Recovery Hope Begins Here.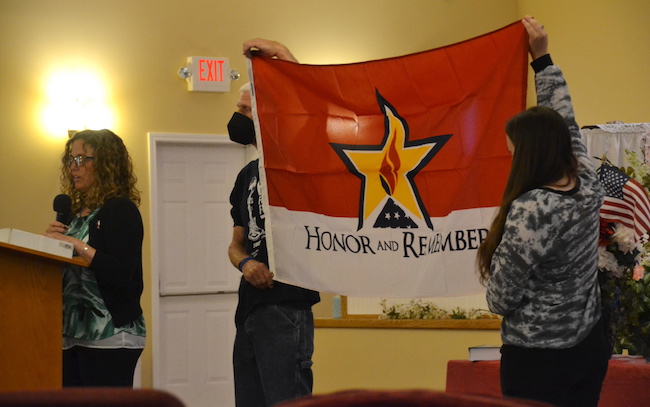 Kristi Mangine discusses the symbols on the "Honor and Remember" flag, which is held by Dan Criswell and Mangine's daughter, Cayna.
"This is our national symbol that reminds us that freedom comes at a high price and this flag is also a comfort to the families," Mangine said.
• The Red Field represents the blood spilled by brave men and women in America's military throughout our history, who willingly gave their lives so that we all would remain free.
• The Blue Star represents active service in military conflict. This symbol originated with World War I, but on this flag it signifies service through all generations from the American Revolution to present day.
• The White Border beneath and surrounding the gold star recognizes the purity of sacrifice. The Gold Star signifies the ultimate sacrifice of a solider in active service who will not return home. Gold reflects the value of the life that was given.
• The Folded Flag signifies the final tribute to an individual life that a family sacrificed and gave to the nation.
• The Flame is an eternal reminder of the spirit that has departed this life yet burns on in the memory of all who knew and loved the fallen hero.
Mangine has been active in the Honor and Remember organization the past five years. She said there are 1,026 soldiers and veterans in the state who are eligible for the "Honor and Remember" flags. Those soldiers either died in the War on Terror or as a result of their service, she said.
Mangine has been a part of about 300 ceremonies where the "Honor and Remember" flags were presented to families.
She also was part of a 150-mile run over three days on June 11-13. That Honor and Remember run went from Syracuse to Albany. At different stops along the way, the 1,026 names were read, including Sills' name for the first time as part of that event.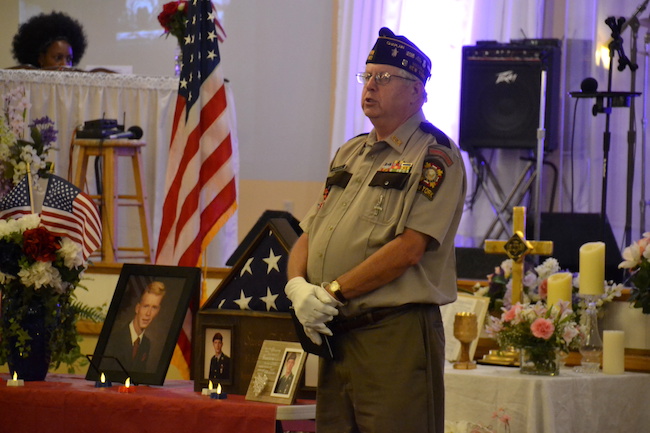 Dave Kusmierczak attended the service with other members of the Honor Guard from Medina. They did a three-volley salute and played Taps in honor of Sills.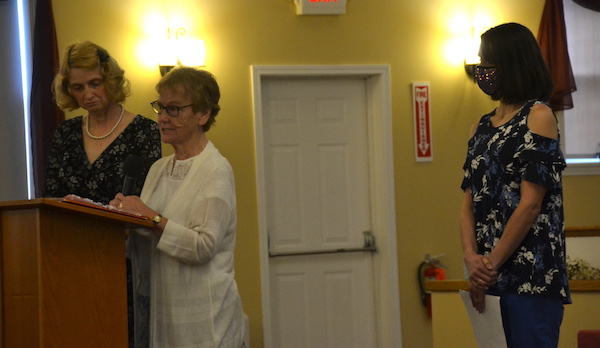 Brenda Sills thanked the community for its support since her son's death. She is joined at the ceremony on Saturday by Sills' aunt Nancy Horth and cousin Katie Smith.
Sills wants more families to be aware of the "Honor and Remember" flags.
"We want this honor to be made aware of for their fallen hero," she said. "So many die on the battlefield, others shortly after and others live with 100 percent disability but eventually pass because of it. It is a life-changing event for any family."
Sills said her son treasured his time in the military. But his service took a toll on his mental health.
"The greatest honor for him was to serve his country," she said.