Family makes sign thanking people for working onsite during pandemic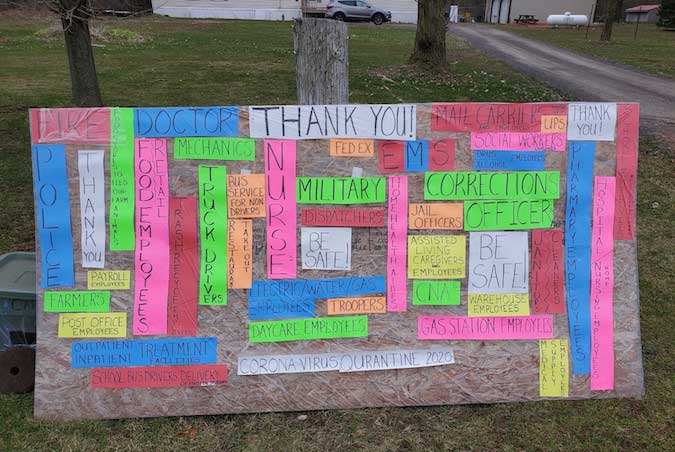 Provided photo
BARRE – Jodi Antsey and her family made this sign thanking people in different careers for continuing to go to work during the coronavirus pandemic.
The family displayed the sign in front of their house on Johnny Cake Lane in Barre on Wednesday.
Antsey said people are invited to drop thank you notes in a tote box by the sign for people in the different occupations. When the pandemic is over, she will deliver the cards.
Antsey is a school bus driver who currently isn't driving a bus because schools have been closed.
She asked her friends on Facebook to list some of the occupations where people still need to show up for work. So far, the sign includes firefighters, police officers, farmers, Postal Service employees and mail carriers, outpatient and inpatient treatment facilities, school bus drivers delivery food and schoolwork for students, grocery store workers, doctors and nurses, mechanics, retail store workers, garbage pick-up workers, nurses, military, dispatchers, Fed Ex and UPS delivery, electric/water/gas employees, daycare staff, state troopers, teachers and school employees, pharmacists and staff, hospital workers, corrections officers, social workers, drug and alcohol treatment staff, EMS staff, home health aides, assisted living caregivers, CNAs, gas station employees, warehouse employees, medical supply companies and restaurants providing takeout and delivery. (She also just added news reporters.)