Family donates late daughter's playground to Partyka Farms
Make-A-Wish originally had playground built for Elaina Dixie Webb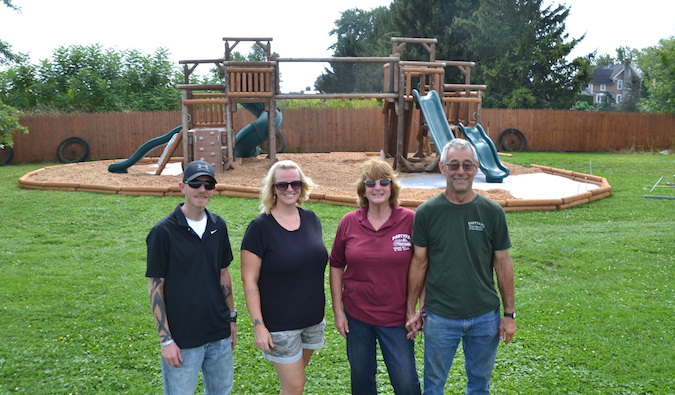 Photos by Tom Rivers
KENDALL – Kyle and Beth Webb are pictured with Lora and Jeff Partyka today at Partyka Farms in Kendall.
A playground built in January 2017 for the Webbs' daughter, Elaina Dixie Webb, has been relocated to Partyka Farms, 1420 County Line Road (Route 272).
Elaina was 2 ½ when she passed away on Feb. 7, 2017 from cancer – acute myeloid leukemia. The Make-A-Wish Foundation paid for Bears Playgrounds in Lima to construct the playground in January 2017.
The playground was in the family's backyard on Herrick Street. They no longer live there. The playground had been removed and in storage for nearly two years. Beth Webb said she is very appreciative to Bears Playgrounds for keeping the playground in storage and then reassembling it at Partyka's, with some changes to meet commercial regulations. Bears also replaced some pieces.
The Webb family initially offered the playground to the Village of Albion but that didn't move forward because the village's insurance company said the equipment wasn't up to municipal code. The playground was built to be used in a backyard by a family.
Beth Webb happened to be at Partyka's in June for ice cream with her 5-year-old twin sons. She thought the playground would fit in well with a play area by the farm market.
Lora and Jeff Partyka had been talking about adding a playground at the site in recent years and even visited Bears Playground. They paid some of the cost to have the playground relocated and modified.
Kyle Webb said the farm market and play area will be a draw for the playground.
"We wanted it to be used," he said. "We wanted it to be used by as many kids as possible."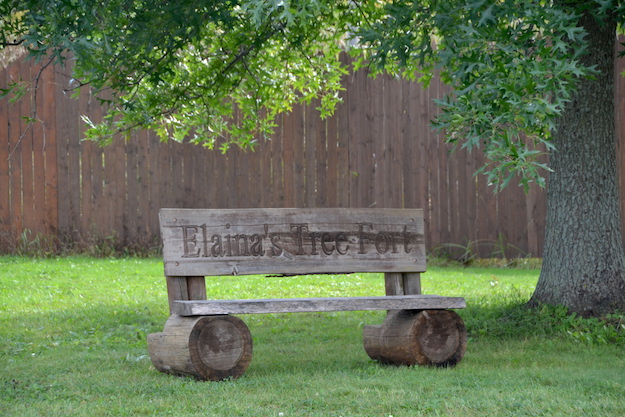 This bench with Elaina's name is next to a tree by the playground. Her parents said Elaina loved the outdoors.
"She was a nature girl," Beth said.
The playground has slides, a climbing wall and a bridge.
"It fits perfectly," Lora Partyka said.
She said the farm will add picnic tables nearby and will stain some of the new wood.
There will also be a plaque noting the playground was given in honor of Elaina Dixie Webb.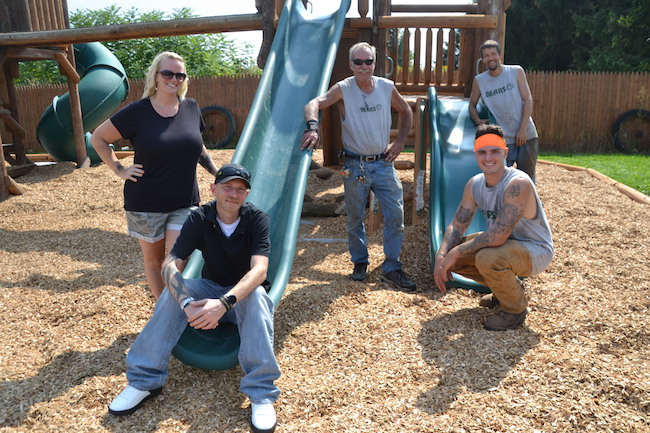 Kyle and Beth Webb are pictured with the playground crew from Bears – Lenny Yokes, Curtis Northrop and Brett Otto (with orange head band).