Fair food is popular in return to Knowlesville for holiday weekend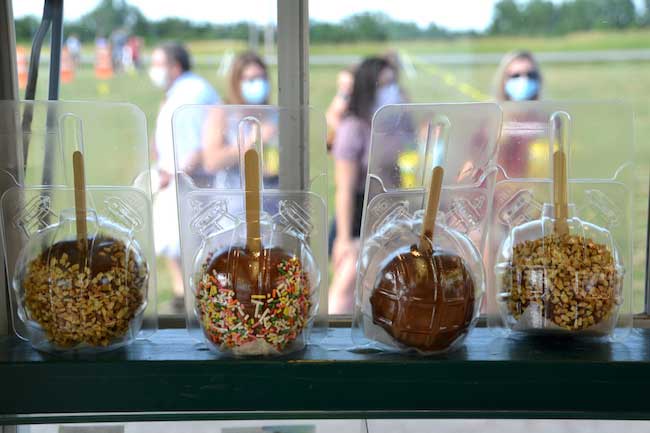 Photos by Tom Rivers
KNOWLESVILLE – Some candy apples are lined up in a food booth at the Orleans County 4-H Fairgrounds. They were prepared by Scott Kolassa of Churchville, who runs a taffy, candy apple, cotton candy and fudge booth, as well as a lemonade stand.
The fairgrounds is hosting a fair food fest today, Saturday and Sunday. There are eight vendors for the food fest.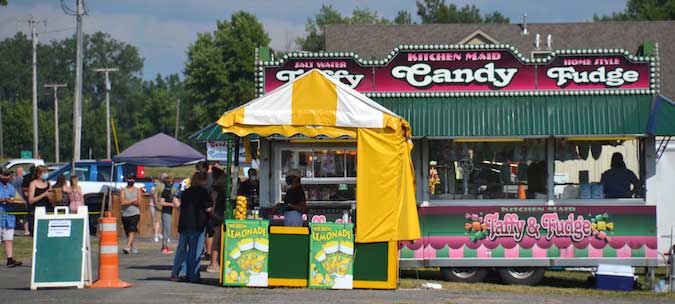 The event was popular today, with 200 people in the first hour, despite temperatures in the mid-80s.
Karen Spierdowis and her son Cole of Albion were among the customers. Spierdowis said she missed taffy from the fair. She also wanted to show support for the vendors who are an important part of the fair experience.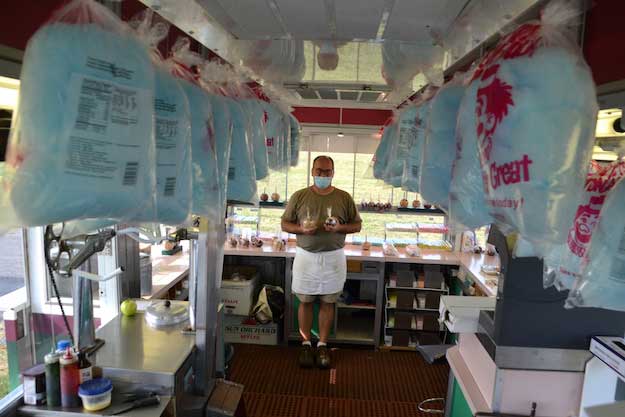 Scott Kolassa has lots of classic fair foods ready in his booth.
The event went from 4 to 8 p.m. today and will return from 11 a.m. to 7 p.m. on Saturday and Sunday.
Kolassa's late father Sy started the family business about 65 years ago. Kolassa and the other fair food venders have seen nearly all of the fairs and festivals be cancelled this summer due to the Covid-19 pandemic.
The Cornell Cooperative Extension in Orleans County agreed to host the three-day event, with social distancing in place and people wearing masks.
Robert Batt, the Extension director, said the fair has long relationships with many of the vendors and wanted to help them during a tough time when so many of their events had been cancelled.
The week-long Orleans County 4-H Fair is among the popular events that is cancelled this year. Batt knows people are missing the festivals and fairs. He thought the food fest would give people a taste of the fair, and also help the vendors.
People are given takeout containers and need to return to their vehicles after getting served. (They are to enter and exit from the west side of the fairgrounds on Taylor Hill Road.)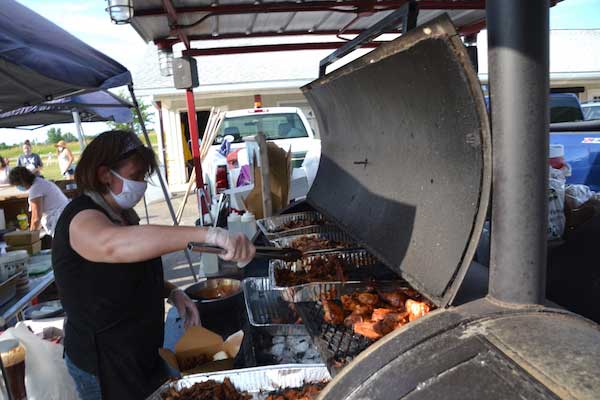 Jennifer Pontillo, owner of Divine Swine, is serving pulled pork, brisket, fries, and a smoked chicken dinner with watermelon salad and corn bread.
The Elba resident also owns an Italian restaurant in Geneseo. She appreciated the chance to return to the fairgrounds, even on three hot days.
"These are very uncertain times if you're in the restaurant and food business," Pontillo said. "I'll take the opportunity to make money."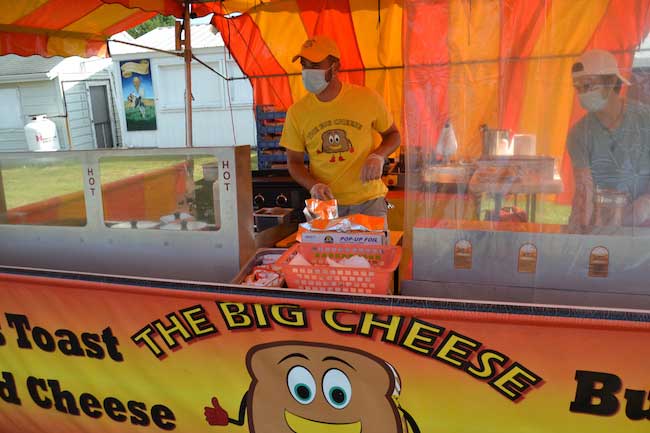 Jack Kolassa, owner of The Big Cheese, prepares a grilled cheese sandwich. Jack is a third generation fair food vendor. His father is Scott and his grandfather is Sy. Jack is assisted in the booth today by Connor Starr at right.
The Big Cheese also sells Buffalo chicken grilled cheese, corn dogs, hamburgers and cheeseburgers.
Jack said the fair and festival season has been busy time for his family for more than a half century – until this year.
"This is something I never could have imagined," he said about so many cancelled events. "But we're a resilient bunch."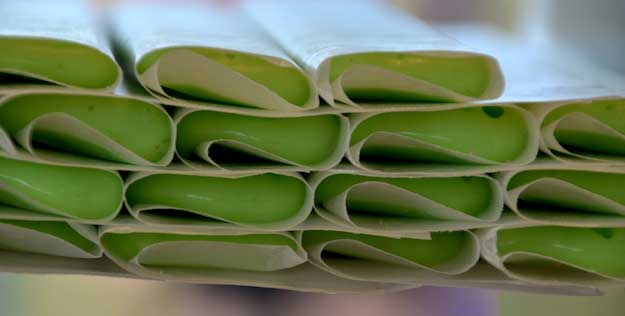 Taffy is ready at Scott Kolassa's booth.