Exhibit at Hoag Library features art by farmworkers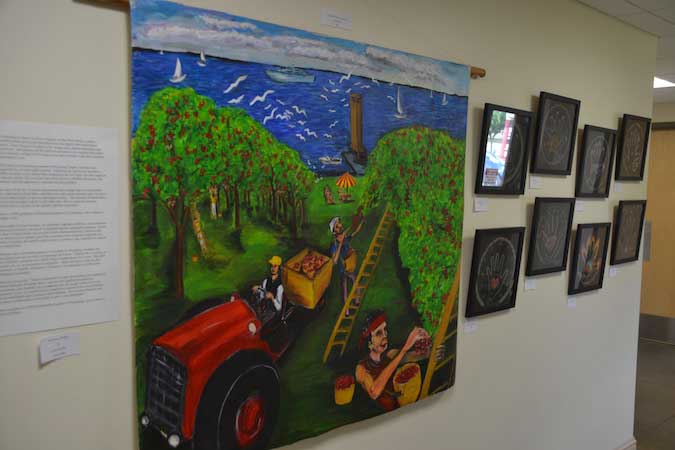 Photos by Tom Rivers
ALBION – This painting – "The Cherry Pickers" by Juan Cavasos in 1989 – is part of an art show at Hoag Library in Albion. The artwork has been on display since early August and will continue to be in the library until Saturday.
Canvasos worked as a migrant worker from Mexico before going to the Rochester Institute of Technology, where he completed a degree in graphic arts in 1996. His artwork has been featured in national traveling exhibits.
"I want to demonstrate the courage that we farmworkers have dedicated to hard labor, and that it not only means financial gain, bit also a reward which helps us survive and keeps us alive," Cavasos said in an artist statement. "The majority of farmworkers lack the knowledge or skills to get other jobs. But we make an immense contribution to society, to the country and the community."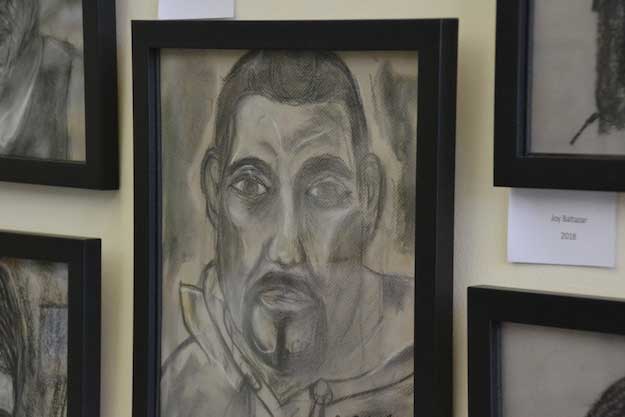 Farmworkers last year did portraits of each other that are on display in the exhibit. This one is by Omar Lopez Cruz.
The Geneseo Migrant Center and Hoag Library are teaming to put on the exhibit, "Hand Picked: Art Expression of Farmworkers Who Feed Us."
Funded in part by the National Endowment for the Arts and the New York State Council on the Arts, the traveling exhibit features 30 drawings by migrant workers of their hands, faces, stories (retablos), and poetry. The art show is designed to raise awareness of the inner and outer lives of migrant farmworkers in eight counties of Western New York.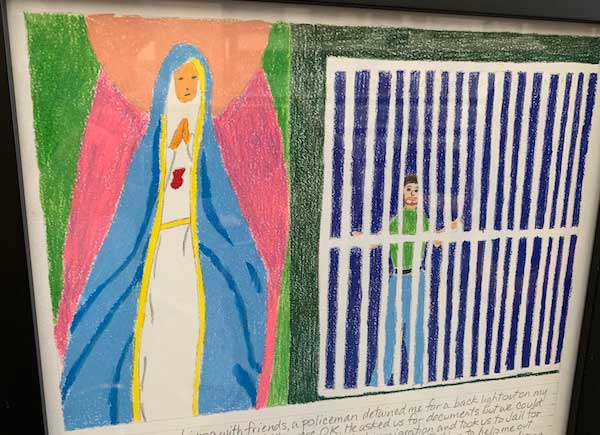 This artwork from Javier in 2018 shares his experience being detained in an immigration facility after he said he was stopped by law enforcement who he said falsely claimed his back twilight was out.
Javier chose to take a voluntary departure and went to Mexico. He said he was grateful to be free and not behind bars.
"I am not a criminal!!" he writes. "Every night I prayed and gave thanks to God and the Virgin of Fatima because she gave me a chance to get free. Whenever you pray to a saint with the heart, it is very likely that she will grant you the wish."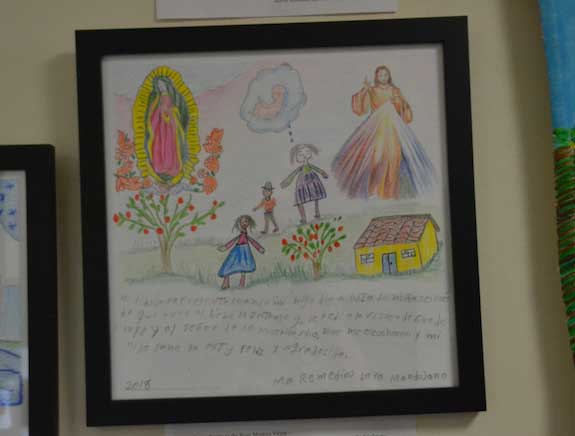 Maria in 2018 made this drawing after her daughter gave birth to a son.
"After the baby was born then I prayed to the Virgin of Guadalupe and to the Divine Mercy. They listened to me and my daughter healed. I am happy and thankful."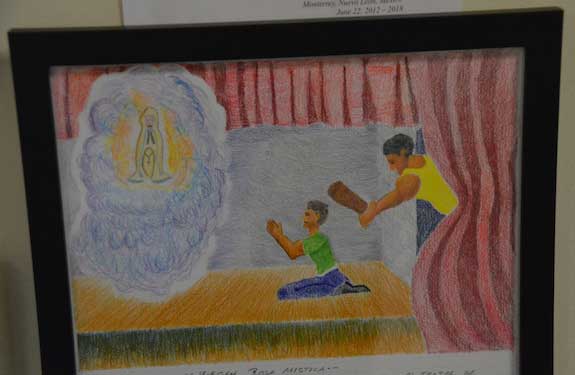 This drawing is by Filbert and Nestor. They give thanks to the Rosa Mystica Virgin. "My nephew and I were in grave danger … while trying to cross the border we were kidnapped, and while we were being tortured I commended myself to the Rosa Mystica. In those moments are kidnappers stopped torturing us and understood that we were just trying to reach the United States, and we were freed. Thank you to the Rosa Mystica for giving us another opportunity in life."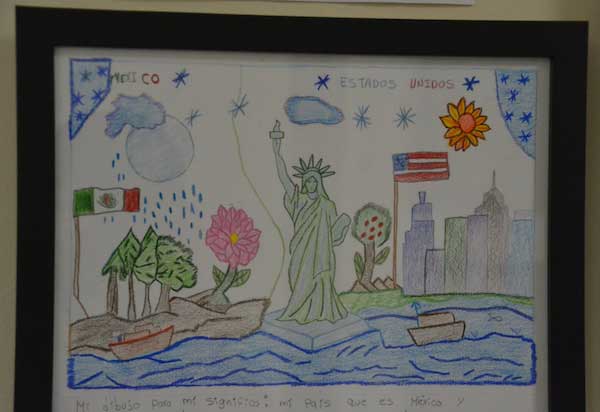 Maria made this drawing of Estados Unidos
"This is what this picture means to me: My country is Mexico and the United States is where I am living now with all my family," she writes. "When we were coming to this country I was very excited ti get to see more places, but I was also sad to leave my country, my friends and everything I used to know. Now that I am here, I have seen many beautiful places and I feel very good because, thank God, we have done very well and, hopefully, it will always be like that."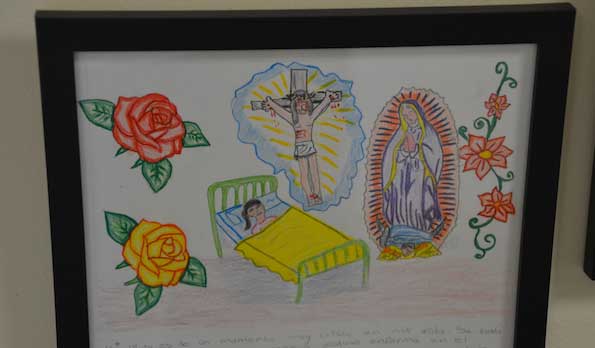 Maribel created this drawing last year.
"My drawing is about a very sad time in my life. It is about my Mother," she writes. "A few months ago, she was sick in the hospital because she was working, she hurt one of her toes. It had to be amputated and she was doing badly. Christ represents the strength to keep going forward because they day she went in the surgery room, she just thought about Christ. The Virgin represents the faith of all our family, and the flowers represent happiness because everything went very well, thank God. Also, the flowers represent all the support we have in our family. My Mother is fine now and we are very happy."
Among the displays in the artwork are several poems, including this one by Ana Rio:
I miss touching
I miss touching my kids and my grandchildren
And my great-grandchildren that are far away
I miss touching my island Puerto Rico
I miss touching my doggies
I miss touching my friends from childhood
I miss touching my mother who I no longer
Have
I miss touching my father his soft face
I miss my childhood with friends
I miss touching my siblings
I miss touching coffee beans recently
Roasted