Evan Valentine gets strong show of community support as he prepares for bone marrow transplant
Fire trucks provide escort through Holley on way to hospital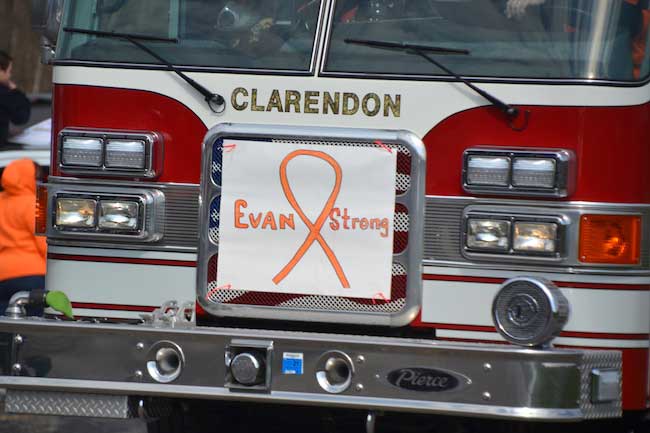 Photos by Tom Rivers
HOLLEY – A Clarendon fire truck has an "Evan Strong" sign in front of the truck during a processional today, when several fire trucks provided an escort through Holley, Clarendon and to Route 531 in Spencerport for Evan Valentine.
Evan, a Holley High School junior battling leukemia, left this morning to go to Golisano Children's Hospital in Rochester. He is preparing for a final treatment of chemo and then a bone marrow transplant.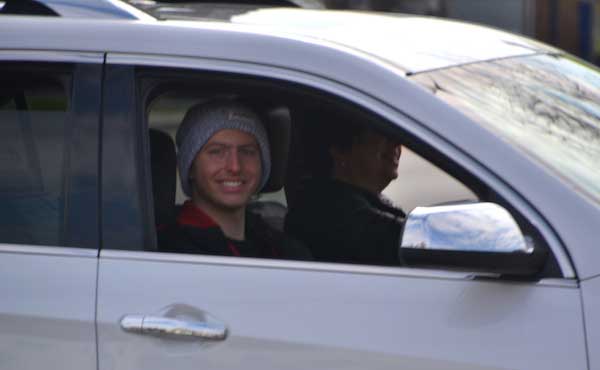 Evan Valentine smiles while on a ride through Holley this morning. Many community wore orange shirts in his honor and held up signs with messages of support.
Evan was first diagnosed with leukemia in Oct. 19, 2018. He completed four rounds of chemotherapy and returned to school on April 22, 2019. In January, he received the news the leukemia had returned.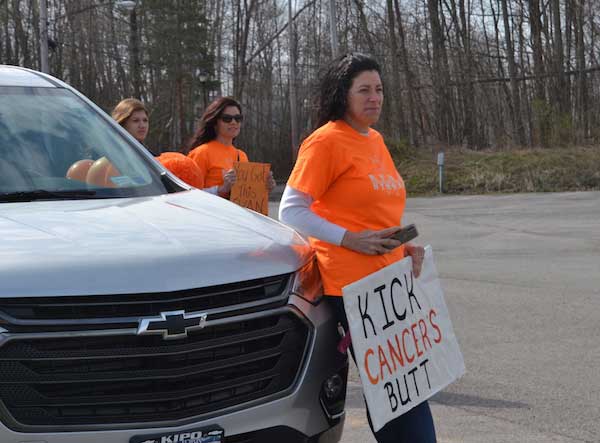 This group stands in the parking lot for the soccer field on High Street. Evan plays soccer and golf for the school, and also performs in the musicals and with the chorus. He also is active with the Boy Scouts and is an altar server at St. Mary's Catholic Church.
"He is an inspiration to not only all the students and staff at Holley High School, but to the entire Holley community," said Brian Bartalo, the Holley school district superintendent. "He is an incredible young man with an engaging personality and unwavering spirit that encourages all of us."
Bartalo was set up on Route 31 near the entrance of Northampton Park in Brockport, to wave to Evan and his family.
"I'm so proud of the response of the Holley Central School District, the Holley, Clarendon and Brockport Fire Departments and the entire Holley community for pulling together, especially during these trying times, to show their support for one of our own," Bartalo said. "Holley is an incredible community that has a lot of heart, even when faced with challenges, like we're all dealing with now."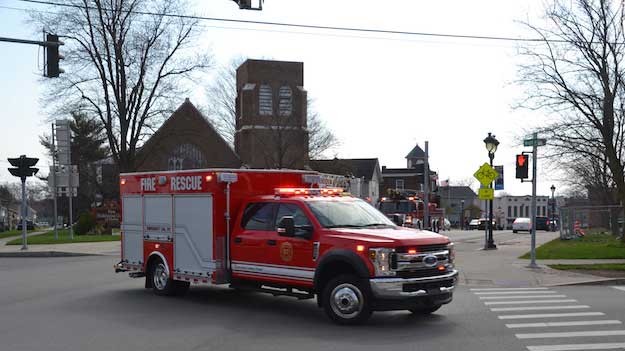 There were fire trucks from Holley, Clarendon, Fancher-Hulberton-Murray and Brockport in the escort for Valentine.
The community organized the sendoff for Evan this morning at 10 a.m. Due to the restrictions on visitors at the hospital, many of Evan's friends haven't been able to visit him while he recovered from chemo and now as he prepares for his bone marrow transplant. Evan's classmates, teachers and the firefighters wanted to give him a show of support and strength as he prepares for the transplant.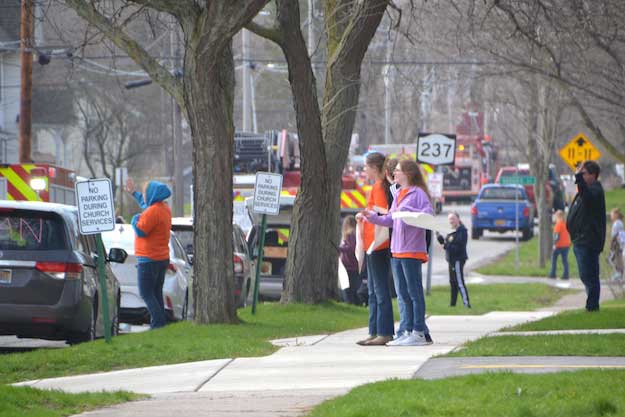 Some classmates and friends stand in front of St. Mary's Catholic Church and hold up signs and wave to Evan as he rides by this morning.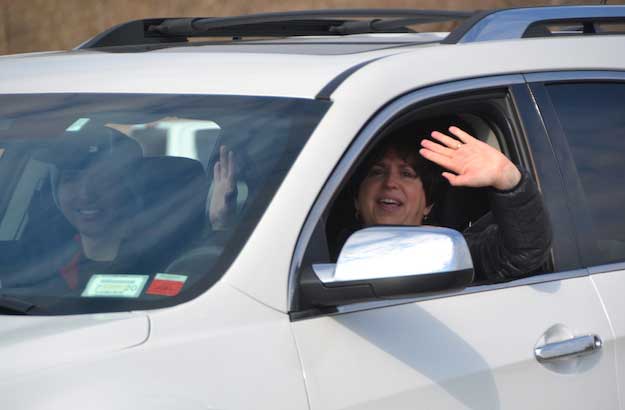 Evan's mother Diane Valentine and her son wave to the people gathered in the parking lot on High Street for the soccer field.
To see a video of the fire trucks and Evan passing through the intersection of routes 237 and 31, click here.