Enterprising man ran general store in Carlton, at site that later became Narby's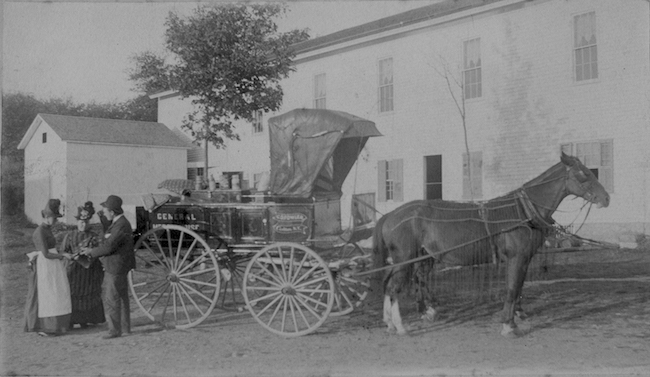 "Overlooked Orleans" – Volume 2, Issue 49
CARLTON – At a time when trips into town took hours instead of minutes, the rural grocery and dry goods stores provided an essential and efficient service to those living in the country.
This image shows the wagon belonging to Gifford D. Fowler, the owner of a general store at Two Bridges in Carlton. A native of Parma, Fowler was brought to Carlton as a young man by his father Benjamin who purchased the store in 1877 from Lemuel Palmer.
For nearly ten years, Benjamin operated the store and it is extremely likely that Gifford worked for his father in various capacities during the late 1870s and into the early 1880s. After his marriage to Belle Simpson of Carlton, Gifford purchased his father's interest in the store in 1886 and took sole ownership of the business. This photograph was taken in September of 1888, just a short while after buying out his father.
The store was joined together with the Two Bridges Hotel, which is pictured here; this photograph is looking at the west side of the building now known as Narby's Superette and Tackle. Situated on the east side of this building, the store doubled as a post office prior to the days of rural delivery. The store owner usually served as the postmaster for the area, simply out of convenience.
At the time, this would have served as one of the few locations locally to purchase dry goods and medicines, using a delivery service to make the whole process easier. A traveler from Two Bridges may expect to take a one- to two-hour trip by horse and buggy to the business district in Albion, so a local outlet was far more opportune.
In the photograph we see A. J. Small, a store clerk, showing two local women some samples of linens carried by the store. Situated on top of the wagon are assorted jars and cans of food and other merchandise. The side of the wagon reads "General Merchandise" and "G. D. Fowler – Carlton, N.Y."
Fowler's ownership of the business was short-lived, selling his interest to his father-in-law, John C. Simpson, in 1890. The family relocated to Niagara Falls where Gifford was later appointed as a farm manager for the Erie County Preserving Company. A later stint as a vegetable and fruit buyer for the Curtis Brothers Company in Rochester was concluded by his retirement to Albion in 1923, where he and his wife purchased a nice home on South Main Street. Following their golden wedding anniversary, the couple relocated back to their first home – Two Bridges.