Empty sanctuaries, but many churches held services today – online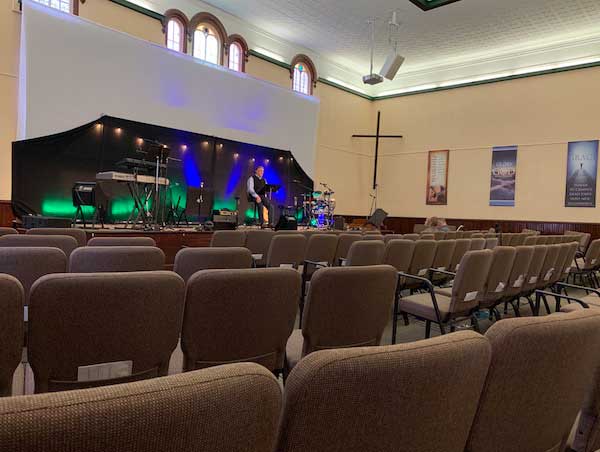 Photos by Tom Rivers
ALBION – Pastor Tom Stroup of the Albion Free Methodist Church shares his sermon today to nearly empty sanctuary.
The church and nearly all others in the region did not allow the public inside their buildings today after the state capped crowd sizes to 10 people.
Albion Free Methodist, and many other churches, still held services and broadcast them online. Albion Free Methodist did Facebook live and the service had about 750 views at 9 p.m.
The church normally posts its service on Facebook. Last Sunday's service, which was open to the public, had 150 views on Facebook.
"You need to reach people where they are at," Stroup said about Facebook live.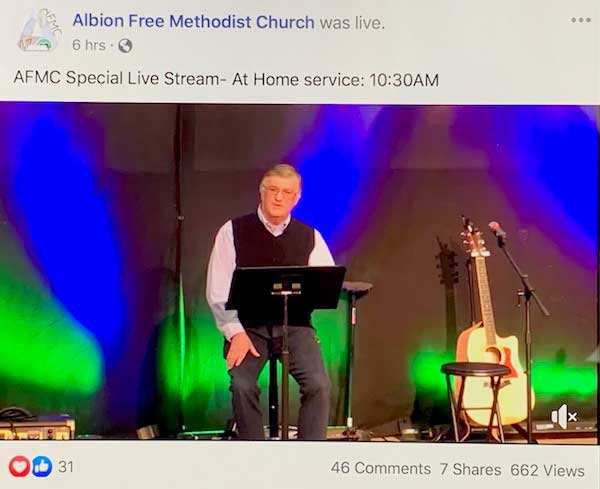 Pastor Stroup is shown giving his message through Facebook. Stroup has been a pastor for 40 years. He changed his planned sermon to focus on the issue at everyone's attention: the coronavirus pandemic.
Stroup acknowledged the virus is worrisome, and it's OK to feel anxiety about the situation. He urged people to bring their concerns to God in prayer. He urged them to know the facts behind the virus, how senior citizens and immune-compromised people are especially vulnerable.
Many people will likely get sick by the virus and will be scared, Stroup said.
Others will be housebound and will feel isolated.
The pastor urged them to turn to God during these times. He shared Psalm 23:4:
"Yea, though I walk through the valley of the shadow of death, I will fear no evil; For You are with me; Your rod and Your staff, they comfort me."
Stroup said the non-stop news coverage of the virus only adds to people's sense of worry and fear. He urged people to spend less time watching TV and reading the internet, "and more time listening to God."
The virus is an opportunity for Christians and the church to reach out to the community. It might be phone calls or it might be going to the grocery store for shut-ins and senior citizens. He urged people to call the church if they need assistance at (585) 589-9115.
There may be a silver lining with the virus.
"This experience will force us to depend on each other, it will force us to love each other and it will force us to serve each other," he said.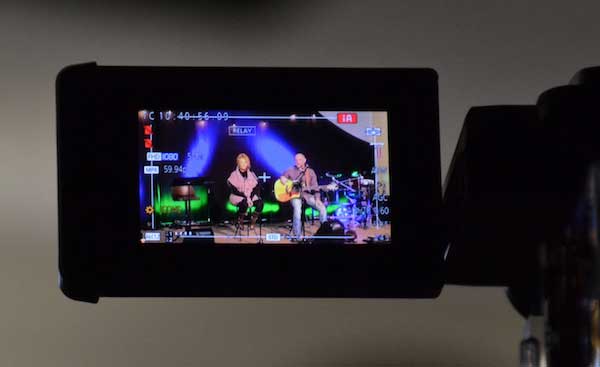 The church has a camera and audiovisual system and has been broadcasting its services live on Facebook for several years. Other churches in the community did their first online service today. The West Barre United Methodist Church was among the first to try it today (click here).
Dee Hansel is the children's pastor at the church. The church's leadership was determined to have a service today, even though only a few people were allowed inside the building.
"There is a lot of fear right now and anxiety," Hansel said. "This is when the church really needs to be there for everyone."
---
You're here checking the site, so you know: Orleans Hub is a vital resource for our community. Day in and day out, we share information and insights that matter to those who live and work in the towns, villages and hamlets of our county. Local advertisers help make the Hub possible, and so can you.

Donate today to keep Orleans Hub healthy and accessible to all. Thank you!
---